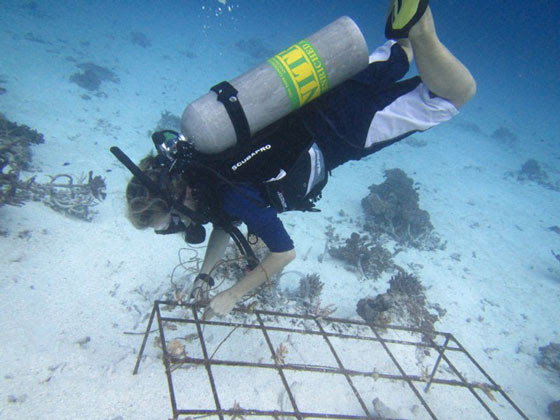 Coral regeneration initiative underway at Outrigger Resort in Maldives
Guests at the Outrigger Konotta Maldives Resort recently joined the Best Dives Konotta marine biologist and staff to relaunch a coral regeneration project.
According to the resort, the previous initiative launched in December 2015 was doing well until the El Nino effect in April raised water temperatures and negatively impacted new growth.
On 19 August, the resort's Marine biologist Caterina Fattori gave a presentation on global warming and its impact on corals in the Maldives to the guests.
"The next day, guests joined Ms Fattori to connect living coral fragments that had been displaced by waves to coconut ropes. They were then attached on laces to metal frames in two areas at about 7 metres and 13 metres depth, while the round concrete bases were placed in the sandy sea floor at about 7 metres deep," the resort said.
Additional follow-up restoration work was scheduled for 26 and 27 August, the resort said.
The coral restoration project initiated by Best Dives Konotta is part of the Outrigger OZONE (Outrigger's Zone) global marine conservation program.
The award-winning Outrigger Konotta Maldives Resort is located 211 miles to the south of Male' and conveniently accessible via a 55-minute flight to Kaadedhdhoo Airport, followed by a scenic 30-minute journey on a private speedboat.
Outrigger Enterprises Group is one of the largest and fastest growing privately-held leisure lodging, retail and hospitality companies operating in the Asia Pacific, Oceania and Indian Ocean regions.
Guided by more than 69 years of family leadership, Outrigger runs a highly-successful, multi-branded portfolio of hotels, condominiums and vacation resort properties, including Outrigger® Resorts, OHANA Hotels by Outrigger®, Hawaii Vacation Condos by Outrigger®, Embassy Suites®, Holiday Inn®, Best Western®, Wyndham Vacation Ownership® and Hilton Grand VacationsTM. Currently, Outrigger operates and/or has under development 38 properties with approximately 8,000 rooms located in Hawaii (Oahu, Maui, Kauai, Hawaii Island); Guam; Fiji; Thailand; Mauritius; and the Maldives.
Visit www.outrigger.com for more information.