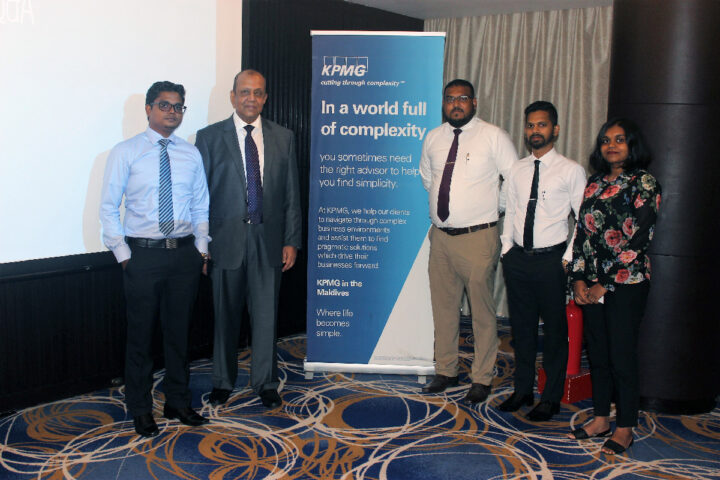 Crafting Sustainable Hospitality Management with KPMG
KPMG Maldives hosted an interactive workshop on hospitality management on the topic of "Crafting Sustainable Hospitality Management" on 20th March 2018 at Hotel Jen Male'. The workshop was conducted by Mr. Nirmalan Nagendra, a veteran hotelier with over 33 years of experience with prominent hotel chains around the globe. He currently serves as a consultant with the Hotel Advisory practice of KPMG Sri Lanka, providing consultancy services to leading hospitality establishments in Sri Lanka.
KPMG Maldives organized this interactive and educational workshop with the purpose of enlightening the participants on effectively managing hotel functions while increasing service standards and optimizing profitability.The workshop was well received by the participants from various disciplines which comprised of General Managers, Resort Managers, Financial Controllers, etc. from leading resorts in the Maldives including Resorts from Universal Group, Adaaran Group, John Keells Group, Sun Siyam Group, etc.Hotelier Maldives sat down with Nirmalan to discuss the event.
HM: What was the purpose of the workshop on hospitality management?
The purpose of the workshop was to educate and to pass down what we know to the hoteliers of Maldives, thereby creating an interactive platform for participants to discuss their current positions and learn strategies on improving their positions in the tourism industry of the Maldives.
HM: What were the areas of discussion at the workshop and what were the techniques and strategies discussed at the workshop?
The workshop was focused on finance, but through the other functions of running a hotel. The most important aspect we covered was the staff. Staff is everything. I am a strong believer in people. If you take care of your staff, they will give their all to the job and the guests will come back. And when the guests come back, automatically, the revenue will improve. So although we touched on finance, we also touched on other areas such as working as a team to achieve profits, and being proactive. We also delved into other areas such as banking and revenue management.
HM: Which areas of the hospitality industry was the workshop focused on?
We covered areas such as management of sales and front office function, F&B function, housekeeping function, managing receivables and inventory, etc.
HM: What were some of the issues and ideas that were highlighted during the workshop?
One of the issues highlighted were budget. Budget changes due to weather, political situations, economic conditions, etc. While some costs of running a hotel are fixed, others are more variable. What I always suggest is to sit with your team, not as an accountant or GM, but as one of them, and discuss where you could cut costs. The team knows everything. Get ideas from your staff and save money in different areas. You cannot be a winner by being dictatorial.Another area we highlighted is the importance of having a proper credit policy. Credit limits must not be exceeded. You have to have proper documentation. We also touched on other areas such as ethics, good governance, honesty, transparency and the importance of having a good internal audit report.HM: You've been engaged in the hotel industry for the past thirty three years. What is your perspective of the hospitality industry of the Maldives?
Maldives is a premium destination and the industry has shown stable growth throughout history. I have to admit, my perception of the Maldives as a country was different when I came here, mostly due to ignorance, but the experience I had here completely changed my mind. I had a most seamless experience from the airport to the hotel.
HM: What are some of the areas hoteliers in the Maldives should focus on improving / enhancing and how do you propose hoteliers address the issues?
My advice would be, and we discussed this in the workshop; do not drop rates for short-term gains, because you cannot increase rates once you drop it. Instead look to save money elsewhere and come to the same bottom line. Come up with innovative ways to save money during the low season.Don't try drastic promotions as that will be detrimental to the name. Instead, keep the perception as a high-end destination. The Maldives has a lot of potential, but also has to continue to attract business. The Maldives has to continue having that market edge, that competitive edge. You absolutely always have to train new ideas and come up with new innovations.HM: Is there anything you would like to add?
I have to reiterate the experience I had in the Maldives. I had a very seamless experience throughout. Everything is perception. First impressions are everything, and that is something you should work on maintaining. Giving a good experience from the time the guests arrive, all the way to when they leave. You have to work together with the government to improve and regulate the airport experience. Word of mouth is the best advertisement. I'm going back with good memories. I will go back and talk to two, three people, about my time here and they, in turn, will talk to two or three more people. Everything is word of mouth.
Nirmalan has more than 20 years of strong financial administration experience at five-star hotels in various regions of the world such as USA, Caribbean, Middle East and Singapore. Prior to joining KPMG, Nirmalan worked as the Director of Finance at Park Hyatt Jeddah-Marina Saudi Arabia.
Nirmalan is currently a member of the British Association of Hospitality Accountants, the Institute of Management UK, and the Hotel & Catering International Management Association.