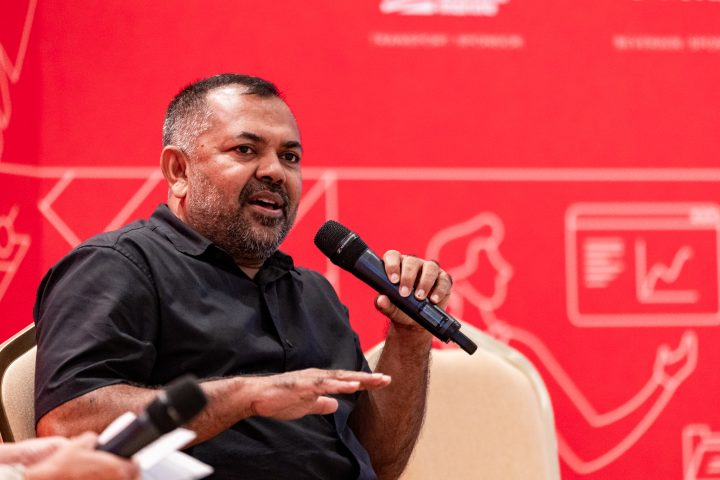 Hotelier Maldives GM Forum 2023: Fireside chat explores challenges, opportunities for tourism industry
The Hotelier Maldives GM Forum 2023, held at Bandos Maldives on October 19, 2023, was a platform for resort managers, industry experts, and government officials to exchange insights and ideas on the current trends, challenges, and opportunities in the Maldives' tourism and hospitality industry. One of the highlights of the event was a fireside chat moderated by Sarah Walker Kerr, the Vice President of Communications at Atmosphere Core, featuring Moosa Zameer, former Minister of Tourism and a tourism expert.
The fireside chat covered a range of topics, from the impact of COVID-19 and the global economic downturn on the tourism sector, to the policy priorities and strategies for enhancing the competitiveness, resilience, and sustainability of the industry. Here are some of the key takeaways from the conversation:
Tourism vital for economy, but faces significant challenges
Zameer began by acknowledging the importance of tourism for the Maldivian economy, noting that it accounts for one-third of GDP and 60% of foreign exchange earnings. He also highlighted that tourism is a major source of employment, income, and livelihoods for many Maldivians. He praised the government and the industry stakeholders for their efforts to revive tourism amid COVID-19, which resulted in tourist arrivals reaching 1.68 million in 2022, only 1.6% lower than the pre-pandemic high. He attributed this success to the strong demand from key markets such as India, China, Russia, and Europe, as well as the effective health and safety measures implemented by the authorities and the operators.
However, Zameer also warned that there are significant challenges and risks facing the tourism sector in the Maldives, especially in light of the global economic downturn, inflationary pressures, and high debt levels. He explained that these factors could reduce the disposable income and travel spending of potential tourists, increase the cost of living and doing business in the Maldives and major source markets, constrain the fiscal space and limit investment in infrastructure and social services, and limit credit availability for the private sector. He stressed that there is an urgent need for a comprehensive and coordinated policy response to ensure that tourism remains competitive, resilient, and inclusive in the long run.
Fiscal consolidation, debt management are essential
One of the key policy areas that Zameer identified as a priority for the government and the industry stakeholders is fiscal consolidation and debt management. He pointed out that Maldives has one of the highest public debt-to-GDP ratios in South Asia, estimated at over 115%, which poses a serious threat to macroeconomic stability and fiscal sustainability. He urged the government to implement a credible medium-term fiscal consolidation plan that reduces the fiscal deficit, stabilises the debt level, and creates fiscal buffers. He suggested that this would require enhancing revenue mobilisation through broadening the tax base, rationalising tax exemptions and incentives, strengthening tax administration and compliance, and tapping into new sources of income. He also recommended rationalising expenditure through prioritising capital spending based on cost-benefit analysis and strategic planning, and reducing contingent liabilities from SOEs.
Diversification, innovation crucial
Another key policy area that Zameer emphasised as a priority for the government and the industry stakeholders is diversification and innovation. He noted that Maldives has a very high dependence on tourism as its main economic activity, which makes it vulnerable to external shocks such as pandemics, natural disasters, or geopolitical tensions. He argued that the government and the industry stakeholders need to diversify their products, markets, and sources of income to reduce this vulnerability and enhance their competitiveness. He proposed that this would require promoting new segments of tourism such as eco-tourism, cultural tourism, sports tourism, or medical tourism; expanding into new markets such as Africa or Latin America; developing new sources of income such as digital services or e-commerce; fostering innovation and digitalisation in tourism operations; enhancing skills development and human capital formation; facilitating access to finance and technology for SMEs; creating an enabling business environment that supports entrepreneurship and investment; strengthening linkages between tourism and other sectors such as agriculture or fisheries; and enhancing regional cooperation and integration with other Indian Ocean countries.
Environmental, social sustainability vital
The third key policy area that Zameer highlighted as a priority for the government and the industry stakeholders is environmental and social sustainability. He remarked that Maldives is one of the most vulnerable countries to climate change impacts such as sea level rise, coral bleaching, coastal erosion, or extreme weather events. He advocated that the government and the industry stakeholders need to adopt a proactive and holistic approach to mitigate and adapt to these impacts while promoting investments and expansion. He suggested that this would require implementing low-carbon and green tourism practices; investing in renewable energy and energy efficiency; enhancing disaster risk management and resilience; protecting biodiversity and marine ecosystems; promoting waste management and recycling; supporting community-based tourism initiatives; and empowering women and youth in the tourism sector.
Change in government will not affect industry 
The third question that Kerr asked Zameer was about the impact of the change in government on the tourism industry in the Maldives, given that India is one of the largest source markets for tourists. Zameer responded by saying that he does not expect any major changes or disruptions in the tourism sector, as long as the new government pursues an independent and pragmatic foreign policy that serves its national interests and values, without compromising its sovereignty or security. He said that Maldives has historically maintained close and friendly relations with both India and China, as well as other regional and global partners, and that it should seek to maintain cordial and constructive relations with all countries, based on mutual respect, trust, cooperation, and dialogue.
Zameer also said that Maldives should seek to benefit from the opportunities offered by both India and China in terms of trade, investment, development assistance, tourism, education, health, culture, etc. He pointed out that both India and China are and will continue to be some of the most important partners for the Maldives in terms of tourism as well as other areas. He cited some statistics to illustrate this point: China was the single biggest source market for Maldives tourism before COVID-19; in less than a year since China reopened its borders, the country is now the second biggest source market for Maldives tourism; India is one of the fastest growing outbound tourism markets in the world, second only to China; India is also the closest neighbour of the Maldives, geographically and culturally; India has been a reliable source of tourists for the Maldives during times of crisis or uncertainty; both India and China have also been a provider of financial and technical assistance to support various development projects in the Maldives, including those related to infrastructure or human resource development.
Zameer argued that there is enough space for both countries to coexist peacefully and prosperously in the Indian Ocean region, and that there is also enough potential for both countries to collaborate on various issues of common concern or interest such as climate change mitigation or adaptation, maritime security or safety, and regional integration or connectivity. He said that he hopes that the new government will continue to foster good relations with both India and China, as well as other countries.
Nothing more important than airport expansion
The fourth and final question that Kerr asked Zameer was about some of the projects or initiatives that have been or should be undertaken to support or expand tourism in the Maldives. Zameer mentioned several projects or initiatives that are either ongoing or planned, such as developing new resorts or hotels, upgrading existing facilities or services, promoting domestic tourism or community-based tourism, enhancing digital marketing or branding strategies, etc. However, he singled out one project that he considers to be the most important and urgent: the expansion of Velana International Airport (VIA).
Zameer explained that VIA is the main gateway to the Maldives for international and domestic tourists, as well as for goods and services. He said that VIA currently has a capacity of 2.6 million passengers per year, which is insufficient to meet the growing demand for tourism in the Maldives. He said that the expansion project aims to increase VIA's capacity to 7.5 million passengers per year by 2025. He said that this involves building a new runway, a new terminal building, a new seaplane terminal, a new cargo terminal, a new fuel farm, and other related facilities.
Zameer emphasised that it is important to expedite the completion of this project for several reasons: it would enhance the competitiveness and attractiveness of the Maldives as a tourism destination, by meeting the expectations and demands of the tourists; it would support the recovery and growth of the tourism industry in the Maldives, by increasing its capacity and resilience to cope with future shocks; it would contribute to the diversification and innovation of the tourism industry in the Maldives, by creating new opportunities for product development, market expansion, and income generation; this would not only benefit the tourism industry but also the overall economy and society of the Maldives.
The Hotelier Maldives GM Forum 2023, which is the most anticipated event for hoteliers in the Maldives, was held at Bandos Maldives resort on October 19, 2023. The forum attracted over 100 hoteliers from various resorts and hotels in the Maldives. This year's forum was sponsored by several leading companies in the hospitality sector, such as Ooredoo Maldives, Fuel Supplies Maldives, Far Horizon, Bestbuy Maldives, Manta Air, Coca-Cola Maldives, Alia Investments, Villa Hakatha, Swimsol, Souvenir Marine, and more.