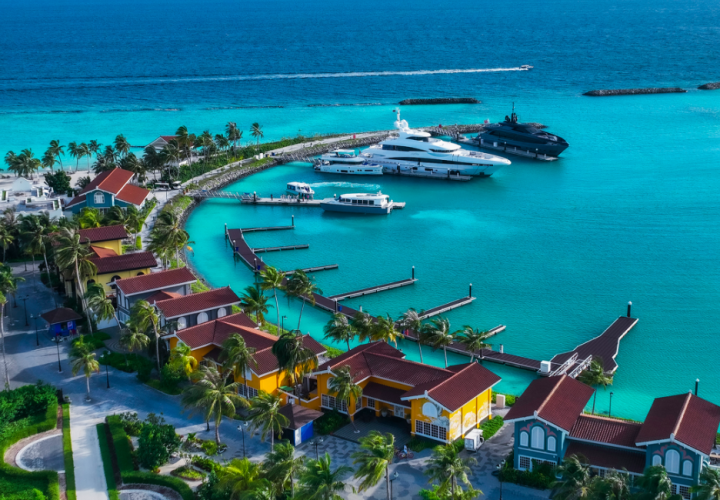 CROSSROADS Maldives Offering Free Transfers for Valentine's Day Week
CROSSROADS Maldives announced it is offering complimentary boat transfers from February 9th to 15th. For the week of Valentines Day, CROSSROADS is offering many exciting activities including music performances, pool parties, a traffic light party, magician shows, DJ dance parties and romantic dinner packages. The complimentary transfer will allow visitors to take advantage of the festivities at the Marina.
The transfers from Male' will depart 19 times a day, starting at 10:45 AM. The last transfer to CROSSROADS from Male' is at 7:45 PM. There are 16 scheduled return trips to Male' between 2:00 PM and 11:45 PM. Fridays follow the same schedule but there are no ferries between 12:30 PM and 1:00 PM. On Thursdays to Saturdays there are three transfers from Hulhumale' at 11:00 AM, 12:00 PM and 5:30 PM. The transfer from CROSSROADS back to Hulhumale' is at 5:00 PM, 7PM and 8:30 PM.
Departures from Male' leave from the new ticketing lounge in collaboration with Art Gallery Malé, on Boduthakurufaanu Magu. Departure from Hulhumale' to CROSSROADS Maldives is from Lakudi Jetty 1 & 2.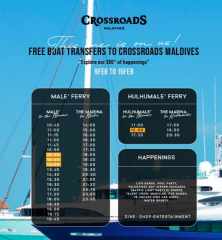 Transfer Schedule from @crossroadsmaldives Instagram
Featured Image: CROSSROADS Maldives