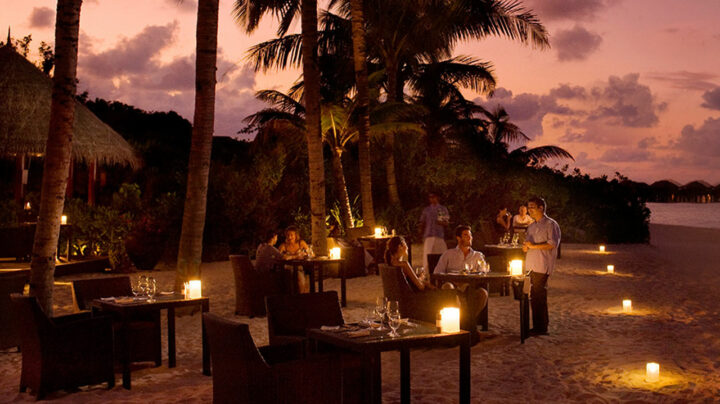 A Day in the Life Of: Ahmad Nasath
Ahmad Nasath joined Sun Aqua Vilu Reef in 2014. He started his career as a waiter and was promoted to Restaurant Captain within a year. Nasath is a hardworking, dedicated staff, and when he is not on duty, he enjoys his time watching/playing football. Nasath is regarded as one of the friendliest staff at the resort and has won 'Staff of the Month' twice in 2015. Here, we take a look at what a typical day at work might look like for Ahmad Nasath.
0700  This is when I start off my day. I go to The Aqua and The Nautilus restaurants where I set up the tables and label the food. It is my responsibility to finish these tasks before the restaurant opens at 8 AM.
0800  Both restaurants open at this time. During this time, I help with the servicing and make sure everything goes smooth at both the restaurants.
1030  After spending a few hours here, I go have a quick breakfast, which is usually milk and cereal.
1100  My morning duty finishes at this time. After this duty I always hand over the guests bills from that morning to the restaurant manager before I go to my room. I don't get much time in between my morning and afternoon shift, so I just spend my time browsing the internet and educating myself about different things, and usually on social media.
1230  We have our daily briefing at this time. During the half an hour of briefing we discuss what needs to be done on a particular day.  If there are any issues or complaints from the previous day, we address them and discuss on how we can avoid these from happening again.
1300  I head over to the Aqua Restaurant for the afternoon buffet.
1430  I head over to have lunch with my colleagues and hand over the bills to the manager before going to my room for my break.
1530  I take a nap for about an hour and then go play football with my colleagues. Football is my favorite sport and these days I am practicing for the resorts Interdepartmental Tournament.
1830  I come back from playing football and get ready to go to my next duty which starts at about 7 pm. I get a little time to get ready for this but I try to come back sooner so I'll have more time to get ready for the duty.
1900  My last duty for the day starts at this hour. This is also the busiest time of the day. Buffet at The Aqua starts at 19:30 and I am already there with my team to serve the guests. Dinner lasts till about 1030 pm.
2230  My duty for the day ends at this time, and I hand over the bills to the restaurant manager, and head over to my room to freshen up. After that I usually spend my time with my colleagues and we go have a coffee to catch up. My friends think it's funny, but when we hangout I end up drinking milo a lot.
0000  After hanging out with my friends I head back to my room and go to sleep as I have to wake up early the next day.
Nasath is passionate footballer, a very enthusiastic bodu beru singer. He sings every Friday night at the resorts Maldivian Night. Nasath was also awarded the best footballer award in the Interdepartmental Football tournament held at 2014 in the resort. He  is one of the most well credited waiters of the resort, and this, he says is because of  his hard-work and determination to keep a positive attitude. Nasath says," While working in this industry you are bound to get negative comments, they but I always know to not take those negative comments to heart. I always look at the comments as a learning opportunity." Nasath continued, "I would like to thank everyone who helped me get where I am today, especially the management at Sun Aqua Vilu Reef." Nasath says that with a positive mind and attitude, he plans to keep working in the tourism industry.
Save