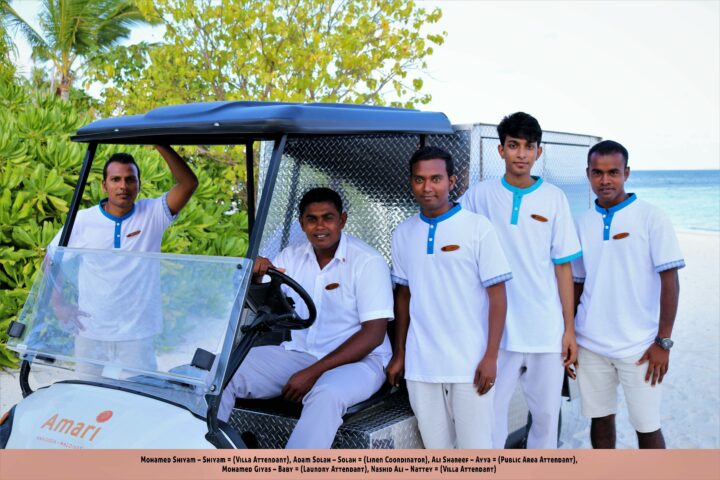 A day in the life of Amari's housekeeping team
Amari Havodda Maldives' housekeepers are Maldivian and not all of them are from Gaafu Dhaalu atoll, where the resort is situated. One is from Addu, down south, another from Alif Alif, the middle of the Maldives yet another comes from even further afield, Haa Dhaalu, one of the northernmost atolls. Despite the short time they've been together on the island, there is an almost tangible camaraderie among them, they crack jokes, cover each other's shifts; there's no discrimination based on where they come from. They are a brotherhood.
Hotelier Maldives sits down with them and lets them describe a typical day in their life.
0730: We wake up and get ready for the morning briefing. We have a quick breakfast before meeting the executive housekeeper.
0800: Time for the daily briefing. We are in our attire, prepared for the day. Executive housekeeper briefs us and gives a rundown of daily duties, VIPs and other things of note.
0915: We start work and go to the rooms. Guests don't like to be disturbed too early in the morning. We replace towels, change sheets if they're dirty. We change sheets every two nights normally or upon request of the guest.
1200: Sandwich break. We're too busy most of the time to have lunch because departures happen around this time.
1430: It's time for a break. There's food in the cafeteria for those of us who've missed lunch. We have a little rest prior to the afternoon football match.
1630: Football time for some of us. Others relax a bit more or watch the TV.
1800: It's time to grab dinner before the evening briefing.
1830: Evening briefing happens. We discuss pending issues, arrivals for the next day, guest requests for items to be placed in the rooms.
1845: We do the turndown service. This goes on for the next couple of hours.
2030: It's time to call it a day and head off to our living quarters. Some of us watch the TV, play cards or have a movie night. Others go to the gym.
2100: Sometimes some of us go on evening fishing trips during the turndown service, handing over their duties to others. They'd come back with their catch around this time. Then we have a BBQ dinner of fresh fish.
2330: We typically go to sleep. It's lights out, time to get some much needed rest for another day's work.