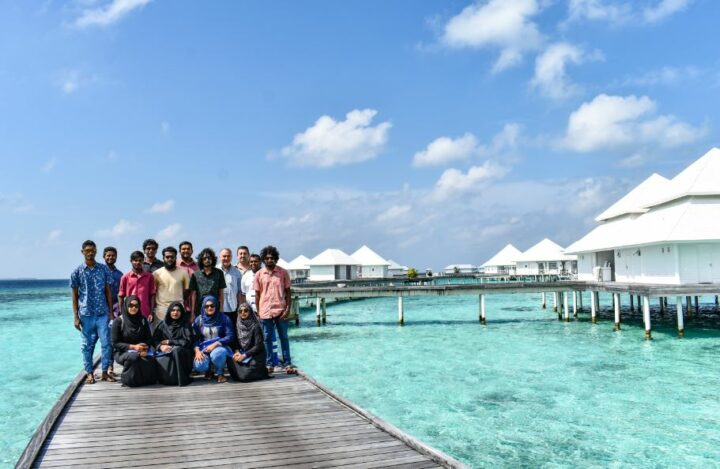 Diamonds Resorts Maldives teaches young Maldivians the art of hospitality
Under Switzerland based PlanHotel Hospitality Group's CSR initiatives, their Maldivian properties, Diamonds Resort Thudufushi & Athuruga introduced an international high school in collaboration with the Amelia Rosso Foundation in 2017. The one week program, now in its second year, is designed to introduce the fundamentals of hospitality to young Maldivians.
In 2018, 12 students were fortunate to learn from two renowned hospitality teachers from Switzerland; Paolo Zanga, about the Food & Beverage department and Aleandro Zaccheo, about hygiene measures in a hotel or resort. The subjects covered in the program range from table setting to how to conduct yourself in a service environment.
On February 24th 2018, the students visited the luxurious Diamonds Thudufushi Beach & Water Villas, accompanied by the teachers, and had the chance to explore the resort and meet the employees and derive information from them about the experience of working in a resort. The resident Executive Chef Giacomo Gaspari and the invited chef Thomas Dorfer from Jeunes Restaurants (JRE), shared their expertise about working in the industry and the opportunities it has to offer.
Though the level of experience varied among the students, they were grateful for the chance to learn. The most important thing they noticed was that to provide good service, one must always smile and be pleasant. And the art of setting a table was the most interesting subject they learned. The Maldivian students showed a keen interest to work in the hospitality industry upon completion of the course, especially in resorts.
PlanHotel Hospitality Group plans to host the program for a total of four years and hopes to welcome more students in 2019, the third year. For those who are interested, gm.thudufushi@diamonds-resorts.com for further information.