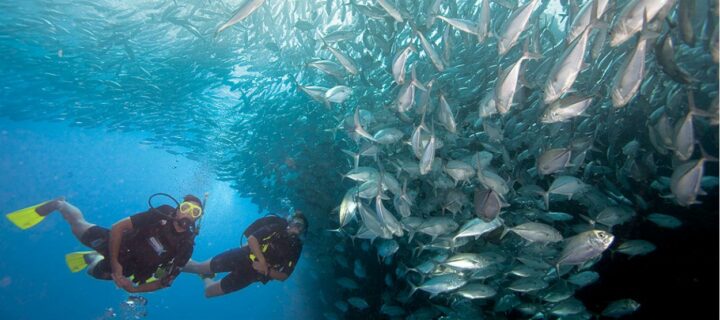 Dive Against Debris – at Jumeirah Vittaveli
Best Dives Vittaveli in collaboration with Jumeirah Vittaveli, organized by Best Dives Dive Instructor/ Marine Biologist Emily Armstrong is conducting a Dives Against Debris on the Vittaveli House Reef, as part of their 'Adopt a Dive Site' commitment with Project Aware
The dive aims to keep the Vittaveli House Reef and its local environment free of rubbish and litter.
PADI have generously offered to support this venture by way of the 'Dive Against Debris Specialty Course', which Best Dive Vittaveli is able to offer to all participants at no extra charge.
Speaking to Hotelier Maldives, the resort noted that, "We believe by training and certifying more people in rubbish removal techniques and strategies, we can help to promote and develop a healthier marine environment for all.  This is an ongoing project where we will visit our dedicated 'Dive Against Debris' sites a minimum of once a month – on each dive we also collect data and over a longer time scale we hope to track local movement of marine trash, which will help us to better understand and handle marine debris in The Maldives."
The Event is to be held on December 17 at 1400hrs, where participants in buddy teams are to dive alongside the Vittaveli House reef.  Buddy teams to be formed and allocated to cover different depths. Maximum dive time will be 60 minutes. Maximum depth 30m. Maximum EANx allowance 32%.
All divers to have SMB, following any separation please search for one minute, then surface (abandon safety stop but maintain a safe ascent rate), inflate the SMB to ensure you are visible to other divers/boats. Buoys with dive flag to be placed in the water at all times when diving to alert boats/individuals on the surface to keep a safe distance.
The resort welcomes all in house divers to show their appreciation for their help in caring for the local environment. Also looking to get as many colleagues as possible to join this dive – at minimum 1 new WS team member, 1 new Boat Crew member. Must be a certified PADI Open Water Diver to participate. All participants much sign the Dive Against Debris Liability before diving.
Following the dive, each buddy team must independently verify their debris collected and input the data into the relevant form. This is a requirement for certification.
An in-depth briefing will be given before the dive by the certifying instructor on what rubbish to collect and what to leave, for example it is recommended to leave any organic materials that will naturally decay. All participants must be present for this briefing and should give this their full attention, as it will contain information important to the dive, including environmental considerations specific for that day.
Equipment needed: At minimum, all buddy teams should have between then 1 cutting tool, 1 gurney sack, 2 SMB, 2 gloves, 1 camera, and all other required equipment for a certified diver as listed in the PADI Instructor Manual. Also available within the group will be tongs, buckets, lifting device, paddle boat, first aid kit, oxygen tank.