Dr. Rui Loureiro Offers Chinese Medicine Treatments at The Standard Huruvalhi
The Standard Huruvalhi Maldives has announced a Wellness Star Program with Dr. Rui Pedro Loureiro, offering traditional Chinese Medicine Treatments from 15th December till 30th January 2023. The renowned specialist in traditional Chinese Medicine, Dr. Rui Pedro Loureiro will bring the island alternative healing therapies from acupuncture to epigenetics.
Dr. Rui Loureiro is an expert in diagnosis with over two decades of clinical practice, he is very passionate about and dedicated to Chinese Medicine. After completing his Bachelor's Degree from Chengdu's University of Chinese Medicine in China, he then finished his postgraduate in Cosmetic Acupuncture from CMIR/ACUMEDIC at London and Beijing's University of Chinese Medicine.
Dr. Rui has worked in a hospital in China and clinics in London and Portugal. He is currently responsible for the Chinese Medicine Department of St.Louis Hospital in Lisbon and is also the Clinical Director of Clinica Cura Pura in Aveiro, Portugal. His primary treatments include acupuncture, helping clients quit smoking with auricular therapy, holistic facial rejuvenation program, anti-cellulite treatment, and a full epigenetic test. Each of the treatments come with a complimentary lifestyle consultation.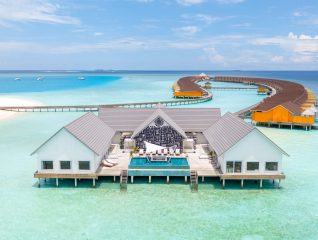 Featured Image: The Standard Spa, The Standard Huruvalhi Maldives
Dr. Rui's treatments will take place at The Standard Spa. Sitting over the waters of the island, the spa features nine private rooms with views of the ocean, an indoor hydrotherapy playground with a traditional communal Hamman, a steam room, a contract plunge shower, an adults-only pool and swim-up bar.