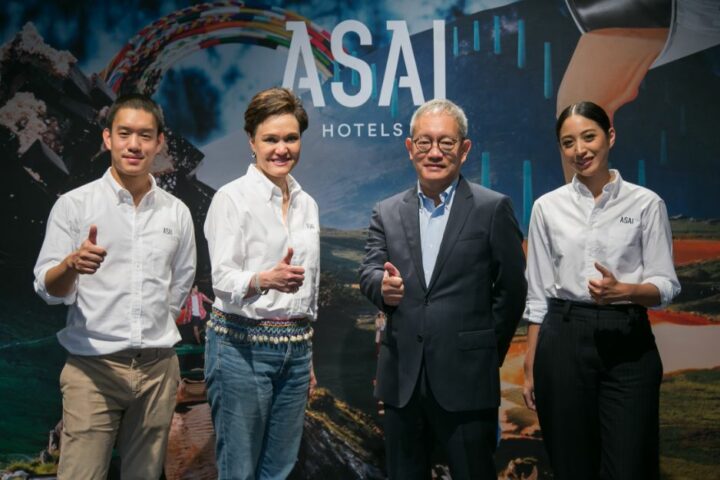 Dusit International's new hotel brand for "millennial-minded" travellers
Dusit International, one of Thailand's foremost hotel and property development companies, has introduced ASAI Hotels, a distinctive new brand designed to link curious, millennial-minded travellers with authentic local experiences in vibrant cities and resort destinations worldwide.
Set to officially launch in Q1 2019 with its first hotel in Bangkok's renowned Chatuchak Market, ASAI Hotels embraces a sustainable, community-focused concept, with each property designed to reflect the culture and heritage of its location through collaborations with local artisans.According to the hotel brand, each hotel will feature compact rooms (approximately 15 m2), whose contemporary design will emphasize key features like superior quality beds and high pressure rain showers. A large mixed-use space, meanwhile, will include a cosy and efficient work space, a leisure area, and a restaurant concept curated by local chefs who champion sustainability.In the upcoming Chatuchak hotel, which is the only hotel to be located within the world-famous market, this includes an eatery developed by Bangkok-based chefs and restaurateurs, Jarrett Wrisley and Paolo Vitaletti, whose own restaurants, Soul Food Mahanakorn and Appia, are renowned for their sustainable approach to cooking. Their menu at ASAI Chatuchak will highlight produce from Thailand's Royal Projects.Alongside ASAI Chatuchak, five more properties are already confirmed in the pipeline. This includes three ASAI Hotels in Cebu, Philippines (in Lapu-Lapu, Oslob, and the city centre); one hotel in Yangon, Myanmar (in the historic Yankin Township); and a second hotel in Bangkok (in the stylish Sathorn district). All are expected to open throughout 2019.ASAI Hotels' management team hopes to secure over 10 properties in the pipeline by the end of the year across Southeast Asia and Japan. This includes owned and joint venture properties as well as properties under Hotel Management Agreements. Australia, Europe and Central America are also on the radar for potential projects."Inspired by community, and driven by sustainability, ASAI is an exciting new concept for Dusit that will leverage the company's 70 years of hospitality heritage to deliver a new kind of stay experience in vibrant neighbourhoods worldwide," says Siradej Donavanik, Managing Director of Asai Holdings Co. Ltd., Dusit International.Dusit International is currently in a significant growth phase which will see the company's current portfolio of 27 hotels surpass 70 worldwide within the next four years. The company's other hotel brands, which cover luxury and mid-market segments, include Dusit Thani, Dusit Devarana, Dusit Princess, and dusitD2.
Blending graceful Thai hospitality with the unparalleled luxury setting of the Maldives, Dusit International operates Dusit Thani Maldives, located on Mudhdhoo Island in Baa Atoll – Maldives' first and only UNESCO World Biosphere Reserve. For more information, please visit dusit.com.