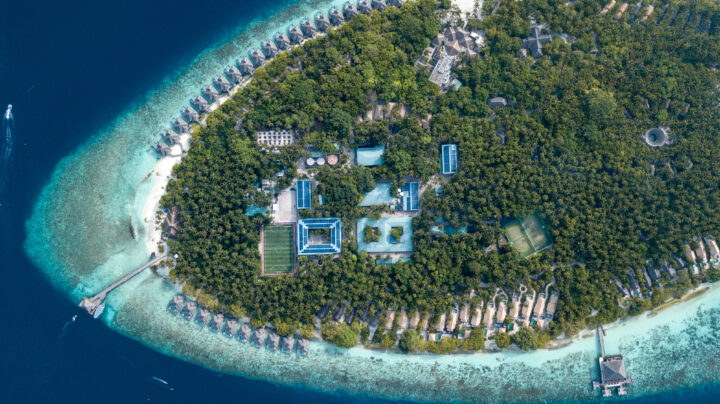 Dusit Thani Maldives goes green, unveils rooftop solar panels
Dusit Thani Maldives, a luxury resort on Mudhdoo Island in Baa Atoll has unveiled rooftop solar panels on its main buildings to reduce its carbon footprint and create clean, renewable energy. Built especially for a tropical climate, each of the high-quality 797 PV panels will feed the grid and reduce annual diesel consumption by up to 86,500 litres. This means the resort's carbon dioxide emissions will drop by around 229 tonnes – the equivalent of 173 trips from London to the Maldives.
Generating 854 KW of electricity per day on average, the solar panels will be able to power at least 28 villas. Alternatively, the energy can be used to desalinate 171 m3 of water, wash and dry 1061 kg of laundry, or charge an electric buggy more than 71 times.
"Sustainability is a way of life here at Dusit Thani Maldives, and we are constantly looking for ways to reduce our carbon footprint and limit our impact on the environment," said Johann Reinhold, General Manager at Dusit Thani Maldives.
"Combining the two main methods of generating electricity from the sun – photovoltaic and thermal conversion – this new system has the potential to achieve larger economic and environmental returns than wind, solar, or geothermal power, and we look forward to using it to its fullest capacity."The solar panels were installed by Swimsol Maldives, a global leader in offshore photovoltaics with more than 22 years of experience in the European solar industry. Sandra Kriechhammer, Technical Sales and Project Manager, Swimsol Maldives, said, "We are delighted to help Dusit Thani Maldives in its mission to lower its carbon footprint.
"Our systems are built with only the finest materials, and our heavy-duty, high-performance panels undergo stringent tests to ensure they are suitable for tropical marine environments. With a lifetime of around 30 years, the panels can help save significant amounts of energy, having a positive impact on the planet in the process."
Located just 35 minutes by seaplane from capital city Malé, and 10 minutes by speedboat from Dharavandhoo Airport in Baa Atoll, Dusit Thani Maldives comprises 94 villas and residences, along with three restaurants, two bars, and Dusit's signature Devarana Spa. The resort is surrounded by a rich house reef, white sandy beaches and a turquoise lagoon. A well-equipped Kids Club adds to the resort's family-friendly appeal.