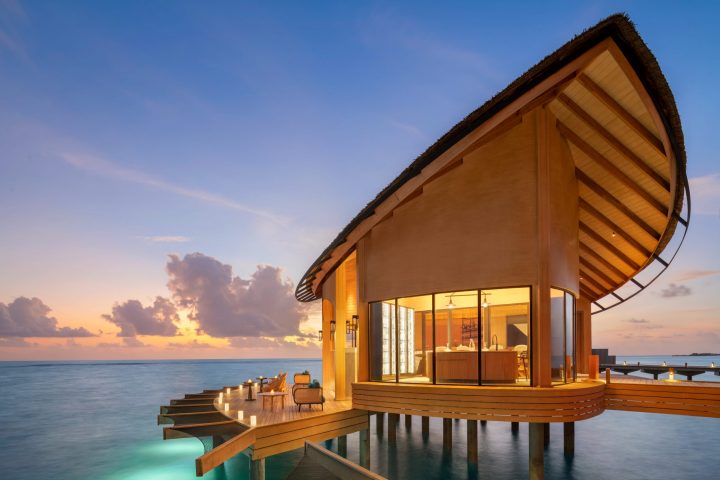 EDEN: The Overwater Champagne and Gin Bar at Hilton Maldives Amingiri
From the gilded age of drinking to the modern day, Champagne and Gin have stood the test of time and their popularity continues to grow making the EDEN one of the most popular evening locations for the discerning guests of Hilton Maldives Amingiri Resort & Spa, providing a perfect place to take in the panoramic setting whilst sipping and savoring one of the carefully curated cocktails or elegant glass of the finest bubbles from the spacious overwater patio
The EDEN bar is set in the vicinity of the turquoise lagoon by the overwater villas, interconnected with the Origin restaurant, the structure conjoined, providing a distinctive architectural element that stands out during the day. Two boat hulls inverted on their sides are seen on the structure's top covered with dried palm leaves.
At night, the patio offers unfettered views of the ocean as it merges seamlessly into the night sky. The area can accommodate between ten to twenty people depending upon the layout and can easily be adapted for corporate events, private functions, or celebrations.
The service model takes a three-phase journey of curation, Personalization, and Discovery. Gins are selected from all corners of the world and can be paired with one of carefully selected tonics to create a personalised cocktail or select a creation from the signature cocktail or classic cocktail list. The bubble selection is equally diverse ranging from vintage Krugs, to favorites such as Taittinger, and Moet & Chandon, or choose a glass of bubbles from the prosecco selection.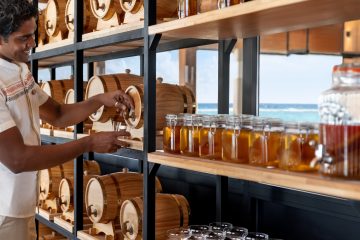 Featured Image: Ali Hamdhaan, Beverage Manager, Hilton Maldives Amingiri Resort and Spa 
EDEN and the extensive wine cellar are overseen by Ali Hamdhaan, a skilled mixologist and property's Beverage Manager. As the Beverage Manager, Hamdhaan hosts wine tasting experiences in the bar's wine tasting room.
Hotelier Maldives talked to Hamdhaan about his journey in hospitality and his role at Hilton Maldives Amingiri Resort & Spa as the Beverage Manager.
Hotelier Maldives: Give us a brief introduction of yourself.
Ali Hamdan: I'm a native Maldivian from Addu City in the Maldives. I'm in my 13th year in the industry, and I am currently with the newly opened Hilton Maldives Amingiri Resort & Spa.
HM: How did your career progress to your current role?
AH: I started in the industry as a bar waiter at Herathera Island Resort in Addu, after which I moved to Shangri-La's Villingili Resort & Spa, Maldives as a bar attendant.
From there I joined the Hilton family with Conrad Maldives Rangali Island, first as a bar attendant and then working my way up to mixologist. I received plenty of professional support, including opportunities to train overseas.
I won the gold medal and was recognized as Mixologist of the Year in Hotel Asia's 2016 Mocktail Competition. In 2018, I became the first Maldivian to win Grape Expectations' Bartender of the Year, and in that same year I became the first Maldivian to have successfully completed the prestigious International Bartenders Association's John Whyte Course (IBA – JWC 2018) in Singapore.
In May 2022, I joined the pre-opening team here at Hilton Maldives Amingiri Resort & Spa – another significant personal achievement for me, as a Maldivian, to head the bars and beverage operation.
HM: How is it like working as a Beverage Manager at Hilton Maldives Amingiri Resort & Spa?
AH: How often do you get the chance to be part of one of the biggest bar and mixology operations in the country? It's amazing and I am extremely proud and happy to have opened a resort that has the Maldives' first ever Cocktail Lab – one of the unique highlights that really elevate the exceptional Hilton hospitality we are known for.
HM: What is your typical day at work like?
Ali Hamdan: Each day is different and comes with fresh challenges and new lessons. A typical day starts early with a good healthy breakfast in Jaafai, our team restaurant. Afterwards, I check on my emails and the daily activities, and inspect the bars. At the food and beverage leaders' meeting, we discuss the the plan ahead and areas we need to focus on. And then we talk about daily operations at the bars and beverage team briefing.
By noon I am usually at Aura Pool Bar. It's a bright, sociable space, the heartbeat of our island with the main bar and Cocktail Lab. Lunchtime is a wonderful opportunity to interact with guests, inform them about food and beverage amenities on offer, and help them make bookings for the following day.
Late afternoons I take the time to Thrive, as we say here at Hilton, by hitting the gym before the evening service. I check that our restaurants and bars are ready, allocate team members and attend to calls and special events – for example, if one of our guests requests a particular bottle, or if there is a destination dining set up. I make sure to stop by Golden Hours from 5:30 to 7:30 pm daily at Eden Champagne & Gin Bar.
We also conduct cocktail workshops, gin flights and discovery classes in the Cocktail Lab and Eden. I'm fortunate to be working alongside a team of creative mixologists who are always innovating, always experimenting. We host these sessions, we explain about the wines and spirits, and let our guests experience the magic of mixology and teach them a skill they can take home during a fun-filled and informative evening.
At dinner time I oversee beverage operations at Beach Shack. It's located right on the beach and serves premium wood-fired items.  Before the night ends, I work on the team member allocation for the next day operation and follow up on tasks like checking the beverage menus and scheduling training sessions – it's always so important to invest time and attention in developing the talent that we have on our team.
For example, Hilton has the ongoing SEA F&B Masters; it's a regional competition where culinary and F&B team members can shine. I was the regional mixology winner in 2018, and the first runner-up in the regional barista challenge in 2019. I'm very proud to share that in 2023, two members of Team Amingiri (a barista and a mixologist, in fact!) will be representing Maldives and Sri Lanka in the regional finale.
HM: What is your biggest inspiration?
AH: When it comes to drinks I take my inspiration from my surroundings. I'm a proud Maldivian and love local flavours and ingredients. The more sophisticated our techniques and the more advanced our technology for cocktail making become, the more we search our past for traditional scents and tastes. How amazing is it when you can create an old-fashioned with a smoky dry tuna flavour infusion? It makes a perfect cocktail to pair with some good Maldivian food as well.
HM: What is your go-to drink and what is your specialty?
AH: If it's a long drink I like to make a classic Singapore Sling; if it's a short drink I really like to play with the Negroni.  Something I always say is, Simplicity is the essence of beauty. I love making a drink that is simple and elegant, with house made ingredients and local flavour. At the Cocktail Lab, we have been experimenting with brewing kombucha and tepache, creating syrups and infusions, aging Negronis – all of it house made. We are very focused on low waste and sustainability here in Hilton Maldives, not only for our food (especially showcased in Origin) but in our approach to beverages as well.
HM: What is your advice to anyone who is looking to get into the industry?
AH: Find out exactly what you want to do and from which areas you want to boost your career. Work with people who nourish you. Be strong, be confident, and do not rush. People will respect you when you make the effort and apply your talent to the best of your abilities. Your mind is the key; do not ever let anyone else drag you down. Keep moving forward.
HM: What is your signature drink? Can you share the recipe?
AH: One of my signature drinks, available this festive season and in the coming year, is the Amingiri Colada. I love coladas. The coconut flavours remind me of my childhood and they are a big part of Maldivian cuisine as well. The first cocktail I ever learned how to make was a piña colada! The Amingiri Colada is a Maldivian twist on this classic, which was originally invented in 1954 at the Caribe Hilton. My version is inspired by our traditional Dhivehi beys, with some passion fruit. Ingredients include coconut-fat washed, local spice-infused rum, Naarannaasi, clarified coconut cream, house made Dhivehi beys, and roasted pineapple chunks.
Amingiri Colada Recipe
Ingredients
50 ml spice-infused, coconut-fat washed Havana Club
Dash of Malibu
½ fresh passion fruit
60 ml house made coconut cream
10 ml fresh coconut water
40 ml pineapple juice
20 ml house made syrup inspired by traditional Maldivian medicine
3 drops of saline solution
60 ml house made passion fruit and coconut foam
Method: Shake
Garnish: ½ slice roasted pineapple, dehydrated local house made coconut flakes, passion fruit and coconut foam
Glass: highball, decorated with banana leaves
Prep: Shake all the ingredients together and pour over ice. Top up with passion fruit and coconut foam. Finish with roasted coconuts and pineapple slice.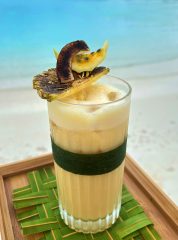 Featured Image: The Amingiri Colada