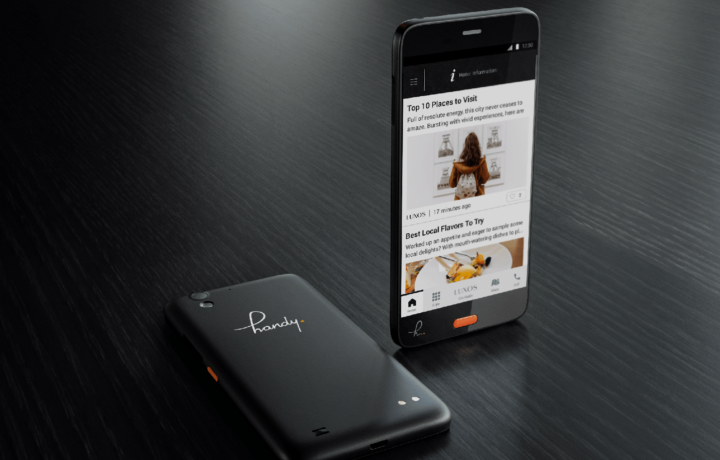 Handy; a powerful hospitality solution uplifting revenue and guest satisfaction
In an era of unprecedented technological advancements, hoteliers are now relying on modern tools to give their customers a whole new experience; in the form of gadgets that allow for seamless interaction with their guests, allowing guests to discover new things to do during their stay. This is where 'Handy' comes in handy.
Handy by Hong Kong-based Tink Labs, is the new face of guest engagement. It is a free-to-use smartphone that is taking over hotel rooms worldwide. It is a neat two-way model, where guests get a device and free services, while hoteliers tap into cutting-edge technology to engage with their guests.
Tink Labs – one of the highest-valued tech startups in Hong Kong – has raised over US$170 million to expand its idea to cover more hotels worldwide. The customized smartphone is offered for guests as a free amenity but comes with a promising model of long-term subscription deals for hoteliers. It is designed to help hoteliers increase their revenue, through lucrative information on guest behaviors via easy-to-understand analytics. It sports the Handy OS – the world's first mobile operating system tailored for the hospitality industry.
A constant connection with guests is the way for hoteliers, as it translates to higher spending; more spending on services and facilities like food and dining options, recreational activities, spa and wellness offerings, and other services including excursions and cruises. Technology is now at our fingertips, and the way forward is for hoteliers to tap into this realm of endless connectivity – guiding guests towards the services and facilities on offer to make their stay stand out.
While the option of a smartphone application of the hotel brand is on the table, the smarter choice is an all-in-one dedicated device integrating communication which provides curated information to guests, making the book of hotel services a thing of the past.
The Handy T1 smartphone builds on handy's core commitment to revolutionary connectivity, with unlimited global calls, data, as well as in-property and inter-device direct dialing all provided via handy's exclusive in-house network. It also enriches customer experiences by steering guests towards hotel promotions and local hotspots through its features like push messaging.
Other smart choices are also being adopted by hoteliers, with the debut in 2014 of the Starwood's SPG Keyless – a keyless hotel room entry solution – but now Handy has been introduced by some key brands including Hilton, Marriot, Park Hyatt, St. Regis, Sheraton, The Ritz-Carlton and InterContinental Hotels Group to name a few.
Handy is slowly taking over hotels worldwide; over 100 hotels in over 20 cities, covering 100,000 rooms and reaching to over a 10 million global travelers to stay connected. While it is present in half of the hotels in Singapore and Hong Kong, its reach in London is at 25 percent. It aims to reach travelers in 100 markets this year.