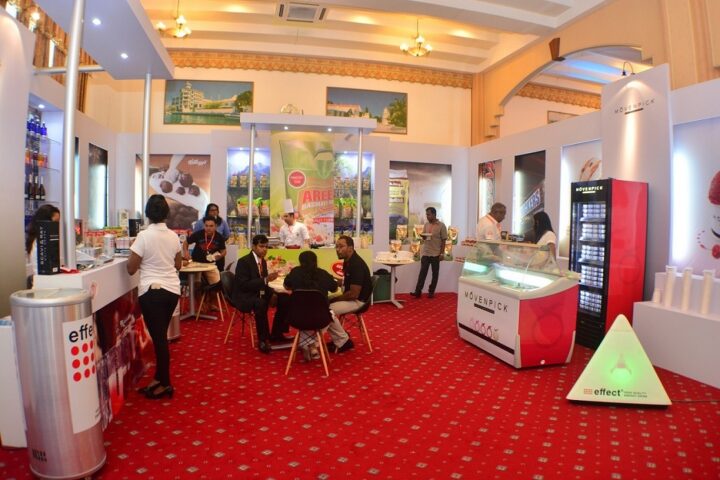 14th edition of Hotel Asia Exhibition is sold out
The crème de la crème hospitality exhibition of South Asia's hospitality industry, Hotel Asia Exhibition & International Culinary Challenge is to inaugurate for the 14th year at the Dharubaaruge Exhibition Hall in the Maldives on September 10, 2018, and will be open to the public until September 14, 2018. Since its inception in the year 2000, the high-profile tradeshow stands as one of the largest and leading exhibitions that showcases multiple top brands excelling in the hospitality industry with a formation of local and international participation making it a top-notch event on par with other world-class tradeshows.
The already sold-out 2018 tradeshow proudly encompasses exhibitors from Sri Lanka, India, the Maldives, China, Thailand, Australia, New Zeeland, Dubai, Singapore, Malaysia, Hong Kong, Indonesia, Canada, Germany, Italy, USA and Switzerland. Comprising of all the key players of the hotel industry worldwide, the exhibition incorporates its vision as a platform for future development of the hotel industry to culminate whilst unveiling the latest technologies and innovations in the global hospitality industry.
This year the exhibition has attested as a triumphant event to take place as it is already sold out by closing in with 180 stalls which are above estimation and allocation. The hospitality industry in the Maldives is cosmopolitan renowned for its star-lit clientele, exuberant hotels, luxurious services and the eminent fact of being a perpetual holiday destination.
Bestbuy Maldives (BBM) is the main sponsor of Hotel Asia Exhibition & International Culinary Challenge and has been its longstanding sponsor since inception. Director and CEO, Mohamed Mazloom states: "Ever since the beginning of Hotel Asia, Bestbuy Maldives has been a part of this innovative and industry-defining event. In our eyes, Hotel Asia has been a vital ingredient of the recipe that has made the hospitality industry of the Maldives as prominent as today. It is an absolute pleasure for us to be the main sponsor of this prominent event and we will continue to support Hotel Asia and make this industry world-class."
BBM is one of the innovative supply operations in the Maldives, which surpass the challenge of distributing products to resort clients through their constant evolution of territory knowledge. Avas.mv is the Online Media sponsor, EVO is the Culinary Equipment sponsor, TTS Maldives is the Logistic Partner, Rateria is the Uniform Partner, Asaree Services & Event Maldives are the Event Partners and Hotelier Maldives is the Official Magazine.International and local exhibitors will showcase products and services that are segmented into beverage, catering equipment and services and health leisure and equipment. Some of the highlights of products and service portfolio to be showcased are room technology, laundry, air conditioning, hygiene and catering, architecture, gardening, landscaping, outdoor furniture, swimming pools, waste management, software systems, modern security systems and a wide array of hotel supplies.
The top brands to be exhibited this year are; Seven Star, IREKS, Norfolk-Crescent, EVO, Rateria, MERAKI, HELMANS, TWG TEA, RAVIFRUIT, COLAVITA, iLite and Vismark.
The confirmed and finalised products & services to be showcased are; collateral items used in resorts such as letterheads, luggage tags, envelopes, business cards, resort signage, menu folders, t‐shirts, aprons, umbrellas, packaging and all types of bags, aroma & spa products, bean bags, indoor and outdoor furniture, solar lamps, security systems, Resort landscape products & commercial landscape solutions, Resort room accessories, Professional services for hospitality solutions, Guest activities management software, Free standing, adjustable & modular shower units, Quality linen products, Artistic pattern tiles, Structure solutions for resorts, Crockery, Cutlery & glassware products, Window blinds, Wallpapers and wall panels, Innovative outdoor Shades solutions, Kitchen equipment, Preparation equipment, Bakery equipment, Canned food products, Lighting solutions, Hospitality uniforms and garments, Wood stain protective solutions, Latest products and technology in mosquito & fly management, Innovative cleaning solutions for food service industry, Chemical and fertilizer products, Processed food and spices, Fresh herbs and Ceylon Tea, Buffet systems, Hot water system, Pool equipment, Waste management solutions, Sewage treatment pumps, Sanitary & fittings, IPTV & mobile guest engagement software & thermoelectric eco-friendly minibar.
The sensational event is being organised by the Maldives Exhibition & Conference Services Pvt Limited. The trade show has been endorsed by three bodies; namely Ministry of Tourism of Maldives, Ministry of Economic Development of the Maldives and the Maldives National Chamber of Commerce and Industry.
Concurrently adjacent to the Hotel Asia Exhibition 2018 the International Culinary Challenge 2018 will take place from September 9 to 12, with a certified judging panel from the World Association of Chefs Societies (WACS). The challenge has received over 700 entries from 75 resorts. The compass of exposure that can be acquired at this event is umpteen. All visitors, exhibitors and competitors are given the opportunity to interact with world-class experiences as it hosts the best in the hospitality industry.
Hotel Asia Exhibition 2018 will be catalytical and a symposium where future developments of the global hospitality industry will take place as the exhibitors from various countries would network for future synergism of the hotel trade. It can be positively forecasted the tradeshow will spring new businesses and start-ups as it can be undeniably stated as it is to take place in the Maldives which is the epitome of the tourism industry.