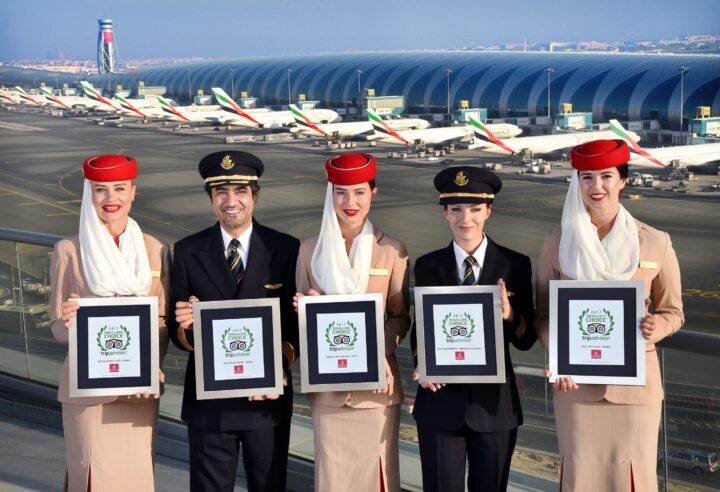 Emirates named Best Airline in the World by TripAdvisor
TripAdvisor Travelers' Choice® Awards for Airlines has recognised Emirates as the Best Airline in the World. The airline was also the biggest winner with 4 other awards including Best Major Airline – Middle East & Africa, Best Economy Class, Best First Class and World's Best Airlines – Top 10.
This is the first time TripAdvisor introduced a category for airlines in its signature Travelers' Choice® Awards. It highlights the world's top carriers based on the quantity and quality of reviews and ratings for airlines worldwide gathered over a 12-month period.
"We are honoured to be named the Best Airline in the World at the TripAdvisor Travelers' Choice Awards for Airlines 2017. The fact that the awards are a result of unbiased reviews and feedback speaks to our commitment to deliver a superior travel experience for our customers," said Sir Tim Clark, President of Emirates Airline.
"We want travellers to continue making Emirates their first choice whenever they think to travel. That is why we continue to invest in products and services across all classes, and why our service teams work hard and put their hearts into providing the very best experience for our customers both onboard and on the ground every day."
Founded in 1985, Emirates is a global connector of people, places, and economies. Based in Dubai, the airline's global network serves 155 destinations in 83 countries across six continents.
"We are proud to announce the inaugural Travelers' Choice® Awards for airlines, to help travellers make the most well-informed air travel decisions, based on the experiences of the TripAdvisor community," said Bryan Saltzburg, General Manager for TripAdvisor Flights.
"It's a high honour for Emirates to be recognised as the top airline in the world by the TripAdvisor community and speaks to their continued focus on delivering fantastic customer experiences."
Emirates is the world's largest international airline and operates one of the world's youngest modern wide-body fleets, It is the first and only airline in the world to operate a fleet of all Airbus A380 and Boeing 777 aircraft for its passenger flights.
It recently announced a multi-million dollar cabin interiors upgrade programme including an enhanced Onboard Lounge for its flagship Airbus A380 aircraft which will make its debut in July. Emirates also recently underwent a product overhaul with a host of exclusive products introduced to its First and Business Class cabins.