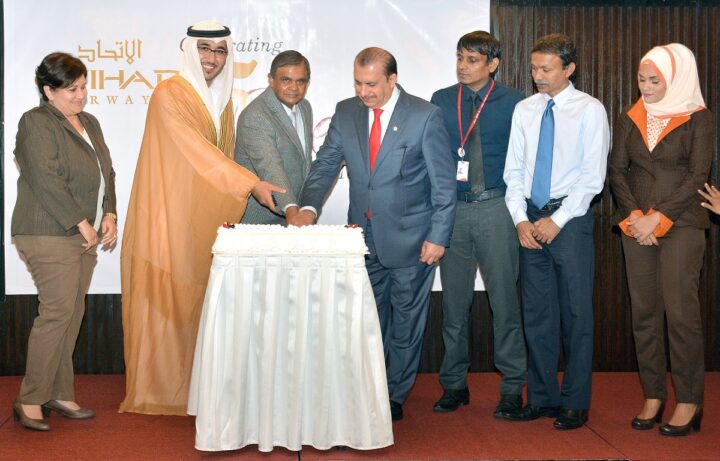 Etihad celebrates 5 years in Maldives
The national carrier of the United Arab Emirates has celebrated five years of airline operations in Maldives, with a special function held at Hotel Jen in Male' City.
The ceremony also saw the appointment of Aviation Services Pvt Ltd as their new GSA in the Maldives. Aviation Services Pvt Ltd is a joint venture between Best Buy Maldives and Hemas of Sri Lanka.
A new local office for Etihad was also inaugurated with the appointment of the new GSA. The offices are now located at Henveiru Athireege Aage in Lotus Goalhi.
Speaking at the function, the airline's Country Manager Hassan Al Hashimi hailed the expansion of the airline's flights to the Maldives since it began operations in Maldives in 2011.
He also announced that the daily flights currently operated to the Maldives, will be expanded through an A330 Airbus carrier.
Hashimi thanked the Civil Aviation Authority and the airline's ground handling partner, Maldives Airports Company Ltd (MACL) for their cooperation in Etihad's operations.
The non-resident Ambassador of the UAE to the Maldives, Abdul Hamid Abdul Fattah Kazim Al Mulla noted that the Maldives is a growing tourist destination in the Gulf, and added that he hoped Etihad's new office will promote and ease travels for those in the Gulf anticipating vacations in the Maldives.
2016 has seen a significant increase in tourist arrivals from the GCC, with a 23.2% increase in arrivals in the first 10 months, compared to the same period last year.
Although tourists from the UAE only made up 0.6% of the arrivals so far this year, the number of tourists visiting from the country is increasing, with a 13.2% increase in arrivals when compared to 2015.