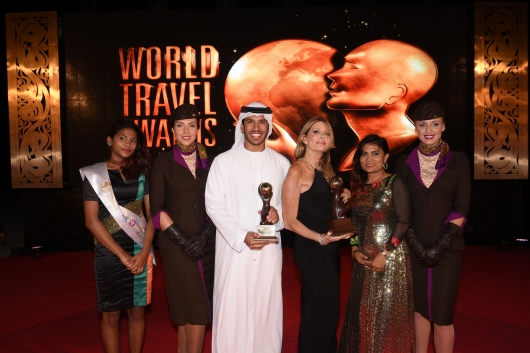 Etihad dubbed World's Leading Airline for 8th consecutive year
Etihad Airways has once again collected the 'World's Leading Airline' award at the 23rd annual World Travel Awards (WTA) Grand Final Gala Ceremony 2016. This marks the eighth consecutive year that the airline has received the prestigious accolade.
Etihad Airways also received the award for 'World's Leading First Class'. The airline's First Class service and hospitality offering has consistently been voted best in the world by leading publications, research consultancies and customer satisfaction surveys.
The World Travel Awards are considered the Oscars of the travel industry and hundreds of thousands of WTA voters, both from within the hospitality industry and among the public at large, cast more than 1.2 million votes during the Grand Tour 2016.
Peter Baumgartner, Etihad Airways' Chief Executive Officer, said: "Our commitment to rewriting the rulebook and transforming air travel is being recognised and rewarded year after year. We are proud to once again be receiving these two prestigious awards for what we believe to be the world's finest airline experience."
"The World Travel Awards is an ideal platform from which we can showcase the success of Etihad Airways and also the transformation of our home, Abu Dhabi, into a global hub of commerce, culture and style."
The awards crown a momentous year for Etihad Airways, which has celebrated a series of significant milestones in its journey to become a world-leading provider of service and hospitality. In recent years, the airline has also won numerous awards for its First Class, most recently receiving the World Travel Awards Middle East accolades for 'Middle East's Leading Airline – First Class', and 'Middle East's Leading Airport Lounge' for its spectacular First Class Lounge & Spa at Abu Dhabi International Airport, adding to a long list of major global award wins.
World Travel Awards President Graham Cooke said: "Once again it is Etihad Airways that leads the way in global aviation."
"World Travel Awards voters, from both within the travel industry and among the public at large, have recognised the UAE flag-carrier as the best in the business for the eighth consecutive time. It is a richly deserved honour."