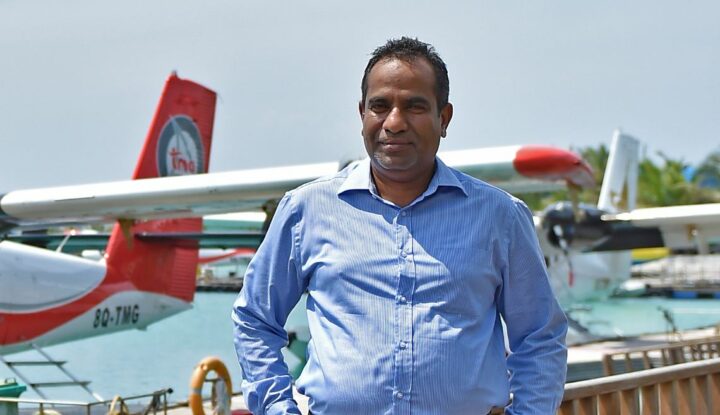 Exclusive: A.U.M. Fawzy, Chief Executive Officer, Trans Maldivian Airways
A.U.M. Fawzy, the Chief Executive Officer of Trans Maldivian Airways (TMA), is a certified management accountant and has FCMA (UK), ACCA (UK) and has also obtained an Executive MBA from the National University of Singapore. He has been working in the Maldives since 2005, as the CFO of Maldivian Air Taxi (MAT) from 1995-2002 and then the CEO of MAT from 2002-2011. He has been serving as the CEO of TMA since 2011. Hotelier Maldives speaks with Fawzy about guest transfers in the Maldives and the challenges of operating the largest seaplane fleet in the world.
Hotelier Maldives: How did you end up with a career in the aviation industry?
A.U.M. Fawzy: Aviation has always intrigued me and in my pursuit to understand the business better, I joined Maldivian Air Taxi.
HM: What was the state of TMA when you joined, and in your opinion, how has it progressed over the years? AUMF: I joined TMA in 1995 and since then have fallen in love with the country. Not many people can boast of working in this paradise island nation for more than 20 years! When I joined, there were only two aircraft in the fleet and today we have expanded to have 50 aircraft and in the process, have also become the world's largest seaplane operator.As a company, we have evolved a lot in terms of our processes and service. We have ensured that we continually improve to provide the best experience to our mutual guests and give them memories to cherish for a lifetime.
HM: As the CEO of TMA, what is your management philosophy? And what changes have you pioneered at TMA, which you are today proud of?
AUMF: As the CEO of TMA, I have always believed in empowering my staff. I strongly believe that an empowered workforce can come a long way in creating a service-oriented culture in any organisation. I am also proud of the embedded "customer first" and "never say no" culture which I have been able to foster through all these years.
HM: What are some of the challenges to managing the largest seaplane operator in the world?
AUMF: Being the world's largest seaplane operator does come with a fair share of challenges. We have a fleet of 50 aircraft and more than 200 crew to fly these. In aviation, it is always a challenge to maintain the right crew.
For us, being so niche, the challenge is further magnified. However, we have an in-house crew training organisation (ATO) which ensures that we have the right crew to fly our fleet and provide the best service to our partners.
HM: In your opinion, what is the state of the country's tourism industry? And what is the role of TMA in ensuring a brighter future? AUMF: Maldives tourism has come a long way and the country has now become one of the best and most exclusive destinations for a sun, sand and sea holiday for travellers across the world. Said that, in terms of tourist inflow, there is a lot of headroom for future growth as the supply (resort beds) increases and is accompanied with improved infrastructure (new airport development).TMA adds the fourth "S" in the Maldives holiday – the seaplane! Over the last 25 years, TMA has been a backbone of tourism infrastructure in the Maldives and will continue to support the growth in the years to come.
HM: What are some of your greatest achievements? And that of the company?
AUMF: TMA has an impeccable safety track record. Over the last 25 years of seaplane operations, till date, there has not been a single fatality. TMA has built a safety "Just Culture", where every employee is trained and assigned personal responsibility on safety with a non-punitive reporting environment. We have also implemented ICAO endorsed Safety Management System, where hazards are identified through regular assessments. We take pride in this and strive to continue improving our service and safety standards with innovation.TMA is also the first company in the Maldives to be certified with ISO 9001:2008 – Quality Management Systems, ISO 14001:2004 – Environment Management systems and BS OHSAS 18001:2007 – Occupational Health and Safety Management Systems. We have also been awarded the title of World's largest Seaplane Operator and Indian Ocean's Leading Seaplane Operator by World Travel Awards for the last three consecutive years.HM: How do you foresee the future of TMA? And what are your future plans?
AUMF: TMA has played a pivotal role in developing tourism in the islands further away from Malé. As tourism grows further in the Maldives, TMA will continue to support the growth by expanding its fleet and constantly improve on its services to ensure that the guests arriving in the Maldives get the best first and last impression of this amazing country. TMA will continue to be an integral part of the sun, sand, sea vacation of the guests!
We also intend to take TMA beyond the shores of the Maldives and expand our operations in other countries. As and when it happens, it will be a proud achievement for us as a company and also for the country.