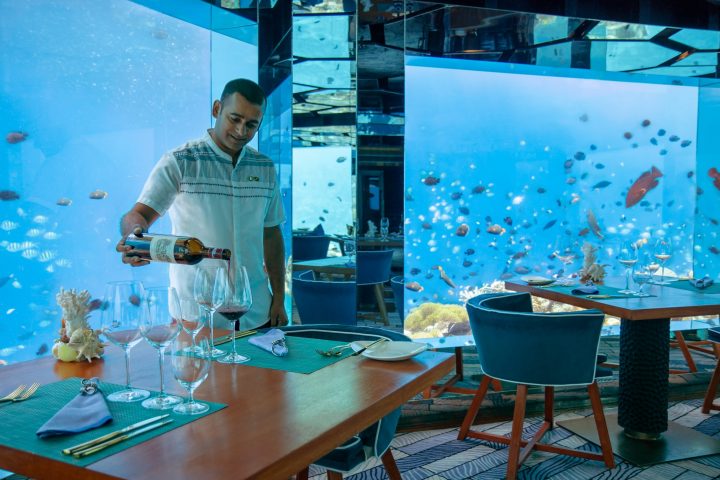 Exclusive: Arunkumar Tamilselvan, Sommelier, Anantara Kihavah Maldives Villas
Continuing with our theme from International Wine Day on 25th May 2021, we are profiling some of the most experienced Sommeliers working in the Maldives over the next weeks.
Arunkumar Tamilselvan is a senior Wine Guru at Anantara Kihavah Maldives Villas. Hailing from India, Tamilselvan's thirst for knowledge fuels his passion for wine and wine making. Having been raised in a traditional household where alcohol was not permitted, Arun first encountered wine after he had completed a BSc in Hotel Management whilst working as a  bartender. This life-changing opportunity led him to further studies and travel in wine cultivating countries. Today, he is the only certified Sommelier in the Maldives with a WSET Advanced level certificate in Sake and a WSET Certified Wine Educator. He is currently pursuing a Diploma in WSET from Hong Kong and aims to become a Master of Wine by 2025. Arun believes it is important to listen to the guest's needs and he offers a memorable experience,  not solely about its taste, but also the story behind the wine for the guest's pleasure.
HM: Tell me about yourself and what it is like to be a sommelier on the resort?
AT: I'm a passionate Wine Sommelier who enjoys creating unforgettable wine experiences. Working as a sommelier is an exciting and great opportunity to meet different people and to create personalised wine experiences.
HM: Tell me a bit about yourself and your background, where are you from and where you have worked and how it has shaped you?
AT: I have helmed my entire career as a beverage professional right here in the Maldives. My journey started almost 11 years ago in the Maldives in 2011 as a bartender, a role I joined upon my graduation. My thirst to learn and explore the beverage industry led me to focus on becoming a professional Wine Sommelier. I have worked with some of the most unique and rich in wine culture resorts such as Six Senses Laamu, Constance Halaveli, Cheval Blanc Randheli and at present Anantara Kihavah Maldives Villas.
HM: Why did you decide to become a sommelier and how you came to be in the Maldives?  
AT: Becoming a sommelier wasn't my initial plan. I first wanted to be a chef. But then I discovered my great interest in wines for their history, lifestyle and story behind every single bottle. This inspired me greatly, and my first exploration into wines was in 2012, when I received an opportunity to participate in the resort's wine education programme.
HM: What do you love most about the resort you work at?
AT: Anantara Kihavah Maldives Villas has a very rich wine culture. Wine programmes such as "Passion for Wine" and "Wine Guru Programme" are very inspirational. What I most appreciate is the trust the hotel's management team has in their Wine Gurus and their abilities. It drives me to use my creativity, to develop new ideas and concepts – elements which are very important in ensuring the success of a wine programme.
HM: What does being a sommelier entail?
AT: Being a Senior Wine Guru, my responsibilities include:
Taking the lead in executing the wine programme for the resort
Curating a master wine list and locating ideal wines that can match our guests' expectations
Maintaining a high standard of wine service
Sharing knowledge with team members and to motivate them
Finding opportunities in creating "WOW" wine experiences.
Though my main responsibility lies in wine, I also oversee the entire beverage operations for the resort.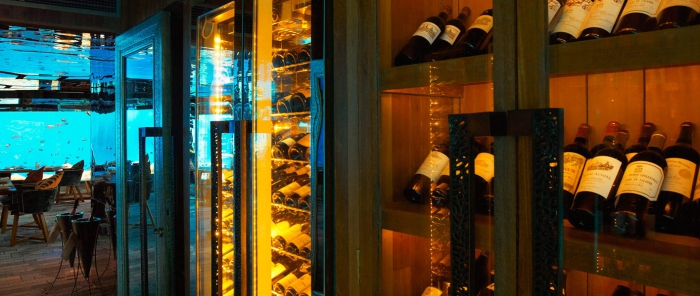 HM: Can you tell me about your wine cellar and what wines you have on offer including vintages and champagnes. How big is the collection?
AT: At Anantara Kihavah Maldives Villas, our wine cellar is located 6 meters below water level at SEA, our underwater restaurant and cellar – the world's first underwater wine cellar completely submerged underwater.
At SEA, our wines are carefully handpicked by our Wine Guru team to meet the high expectations of our guests. The wine list consists of 450 labels from 17 countries covering all major regions and wine styles. The wines list also contains unique, rare and fine vintages of boutique wines. Our top specialities in the wine selections are the "Chairman's Reserve" which is our collection of old vintages dating as far back as 1795.
SEA has been awarded with the "Wine Spectator TWO GLASS award" since 2013 and "World's Best Wine List Award" since 2015 for our unique, rare and fine wine collections.
HM: What is important to understand about wine and how do you select the perfect wine for your clients?
AT: To exceed guests' expectations, we need to understand their culture and their likes and dislikes. This can be achieved by a simple conversation with the guest. Taste is very subjective. Often a particular wine is perfect for someone, but not for others. There are no bad or good wines. I believe this is where the sommelier needs to play their role by recommending the right wine for the right customer. Every single glass of wine must be served with utmost care and attention to detail.
HM: What is the most expensive wine on offer at the resort?
AT: 1882 Graham Port 'Ne Oublie' Tawny, Portugal Vintage: 1882  Wine Critics Score: 100 pts
This is a historic and rare wine as only 656 bottles were produced. After 130 years, they were released for the very first time in 2012 – a piece of history.
HM: How do you keep the wines at the right temperature?
AT: In Maldives, due to environmental factors, the wines must be stored in wine cellars at the right temperature, to preserve their unique taste profiles. With the advancement of technology, all our wines are kept at ideal temperatures with air conditioning. Maintaining wines at their ideal temperature enhances and prolongs the ageing potential of fine wines to mature them to their best. Even our supply boats are equipped with specialised wine chillers to maintain the optimum temperature during transport. I cannot emphasise enough the importance of monitoring and the awareness of ideal temperature, and this is something I constantly train our team on.
HM: Do you do wine tastings?
AT: At Anantara Kihavah, our wine tasting sessions are tailormade private experiences. Our wine tasting takes place at SEA. We usually host one couple or one family per session, so the tasting can be a very casual, informative and memorable experience for them.
HM: It is also national cheese day coming up, what cheese offerings and pairings do you have to accompany them?
AT: All the wine tasting at Anantara Kihavah are accompanied by a selection of cheese to enhance the experience. I am a big fan of classic cheese and wine pairings. Some of my favourites are below:
Château d'Yquem 1998 with Roquefort, classic blue cheese made from ewe's milk, often considered one of the greatest cheeses of France. The sweetness of Sauternes is an excellent foil for the sharpness, pungency and savoury flavours of Roquefort.
Taylors Vintage Port 1935, with Stilton, a classic English blue cheese made from cow's milk, named for the village in Huntingdonshire. The sweetness of the wine is nicely balanced by the pungent saltiness of the creamy blue cheese. The flavors marry in your mouth into something wonderful which keeps you coming back for sip after sip.
HM: What changes have you seen in the industry during the time you have worked at the resort?
AT: In the last 10 years, the wine industry has vastly evolved in Maldives with many young, talented sommeliers in key positions at some of the top resorts. These resorts take their wine programmes seriously and they all have at least one sommelier in the team to drive the wine culture. Resorts are actively investing in educating team members on wine by providing international wine certifications.
Anantara Kihavah has taken this step further by obtaining the WSET Approved Programme Provider status. We are the only resort in the Maldives to hold such a prestigious status. We educate and develop team members through APP status and certify our team members upon their successful completion of guided learning and examinations. As a Senior Wine Guru, I am proudly leading this programme by being the WSET certified educator.
I often feel very fortunate to work in the Maldives due to the culture of fine wine appreciation in the Maldives. The wine distributors are proactively introducing new products all the time and accommodates special requests from resorts to source rare and fine wines.
HM: What hobbies do you enjoy when you are not at work?
AT: Mostly during my afternoon breaks I play soccer with resort friends. I love to read articles and wine reports to keep myself updated and to find the opportunity where I can make a difference in our wine offering to keep ahead of our competitors.
HM: What steps did you take to become a sommelier and why did you choose the Maldives to work?
AT: I believe that having academic knowledge on wine is as important as practical knowledge. So, I treat myself by gaining knowledge through WSET courses. Currently, I am pursuing a Diploma in WSET for Wines and Spirits. Maldives is one of my top preferences to work, due to the natural beauty of the country, the opportunity to work in a multi-cultural environment, and exposure to the diverse quality of fine wines.
HM: What has been your biggest challenge along the way?
AT: Serving white wine, Rosé wine or Champagne and maintaining the temperature of them during lunch and in outdoor spaces such as by the poolside. These are places where you need to constantly refresh the ice and ensure the temperature of wine is maintained until the very last sip.
HM: What advice would you give to people entering the industry?
AT: My simple advice to all beginners, "you should believe in you, don't give up, do not stop trying, and never stop learning".
HM: Tell me about the wine experiences available for guests?
AT: 450 labels of wines from 17 different countries, private wine tasting, weekly wine odyssey dinners, virtual wine tastings with wine makers, virtual vineyard tour and tastings, rare and fine wines wine dinner, wine maker wine dinners. These are just some examples of the experiences available at our resort.
HM: How do you import wines in a pandemic?
AT: It has been challenging during the pandemic to maintain the stock level of wines, as the supply chain was disrupted heavily due to international travel restrictions and lockdowns. We try to minimise this issue by actively giving an accurate forecast to our suppliers to have sufficient stock level on-site to ensure an uninterrupted supply.
HM: What is the most popular wine?
AT: Fine Vintage Champagnes, Burgundy Grand cru Pinot Noir, Barolo from Italy and Cabernet Sauvignon from USA. These are some of the most popular wines.
HM: Red, white or rose – what is your favourite and why?
AT: For its complexity and boldness, I choose red wines. I mostly prefer bold red wines from France, USA, Spain, Italy and Australia.