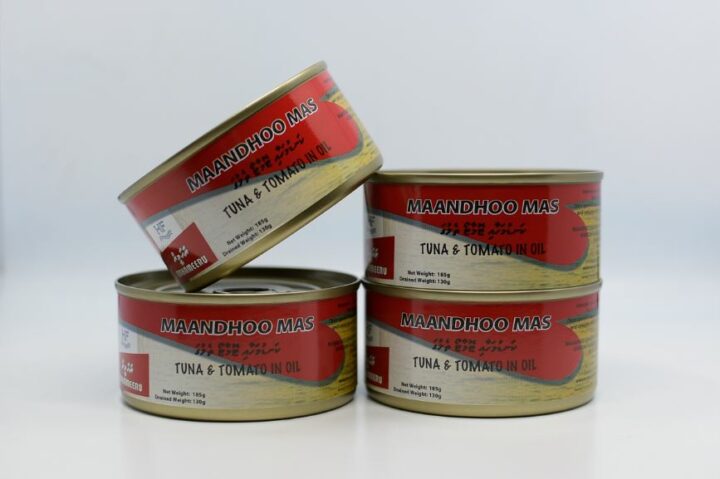 Rahameeru: Genuinely Maldivian
Horizon Fisheries Pvt Ltd, integrated on April 30, 2003, operates a fisheries-related business within and outside the Maldives. After succeeding Maandhoo Fisheries Complex in Laamu Atoll, the company commenced its operations on September 16, 2003. The complex is the biggest of its kind in the country with a state-of-the-art canned tuna processing factory competent in processing 80 metric tonnes daily; raw materials for canning, pouching and cooked loins.
It also has a floating cold storage capacity of 1000 metric tonnes, a deep water berth for shipping and a harbour to facilitate easier processing. Currently, Horizon Fisheries is accomplished in exporting to well-known brands around the world; in Europe such as Marks & Spencer, Sainsbury's, Migros, etc. Its Rahameeru label is also exported to Asian countries such as China, Sri Lanka and more. Within the Maldives, the company is established in supplying to resorts, hotels, restaurants, supermarkets and local vendors.
Its canned tuna products are fast sellers, coming in different flavours, adding towards the choices available. This excellent quality of tuna is offered in Tin Free Steel (TFS) lacquered cans with Easy Open Ends (EOE) eliminating the use of a can opener. Canned tuna is available in solid chunks or flakes in several liquid mediums such as brine, spring water, sunflower oil, vegetable oil, soybean oil and olive oil. The raw material is not compromised in its selection as it undergoes various processes to be hermetically sealed in a sterile medium suitable for commercial use.
Tuna in Habanero Chilli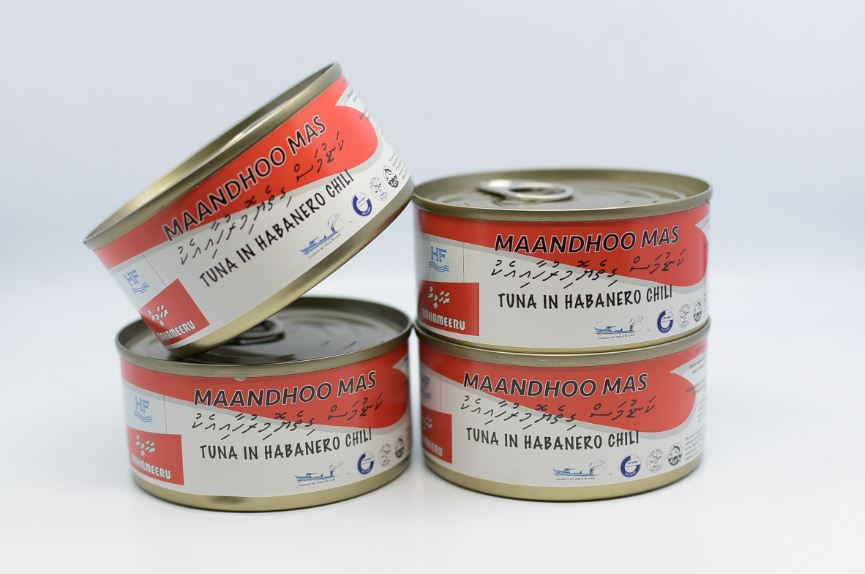 Habanero chilli is a popular culinary ingredient in Maldivian households with the chilli being grown locally. With its health benefits and citrus-like chilli flavour, the product can be used on its own, with rice or pasta or to prepare sandwiches; it is all up to the likings of the user.
Tuna and Cracked Pepper in Oil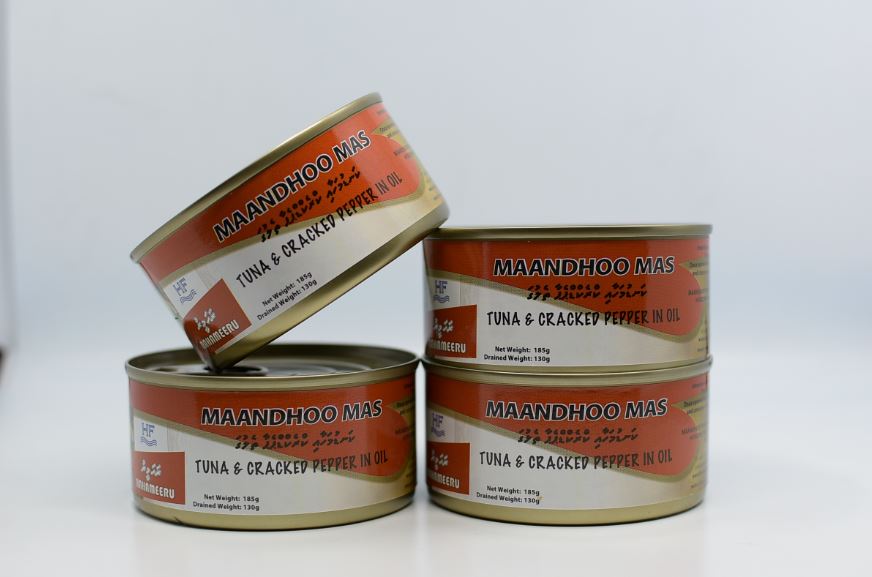 With its antioxidant properties, cracked black pepper gives off health benefits as well as a tangy twist to your preferred dishes. This mix with premium tuna can be used on its own or in a dish of your choice to add that extra good flavour.
Tuna and Thyme in Oil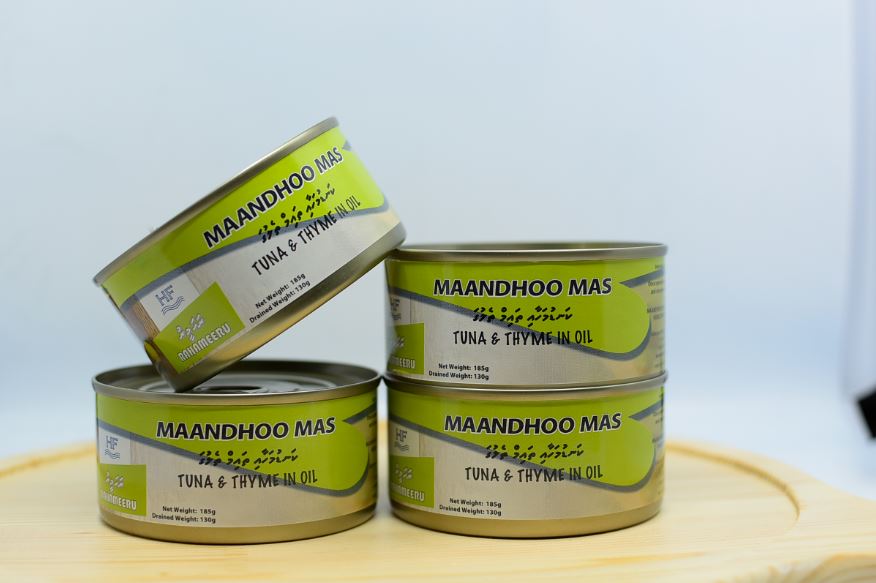 Thyme is a Mediterranean herb packed with Vitamin C and a good source of Vitamin A. This delightful combination can be used as a herbal tuna salad or in your rice or pasta dish, or any other recipes customised to personal preference.
Tuna and Garlic in Oil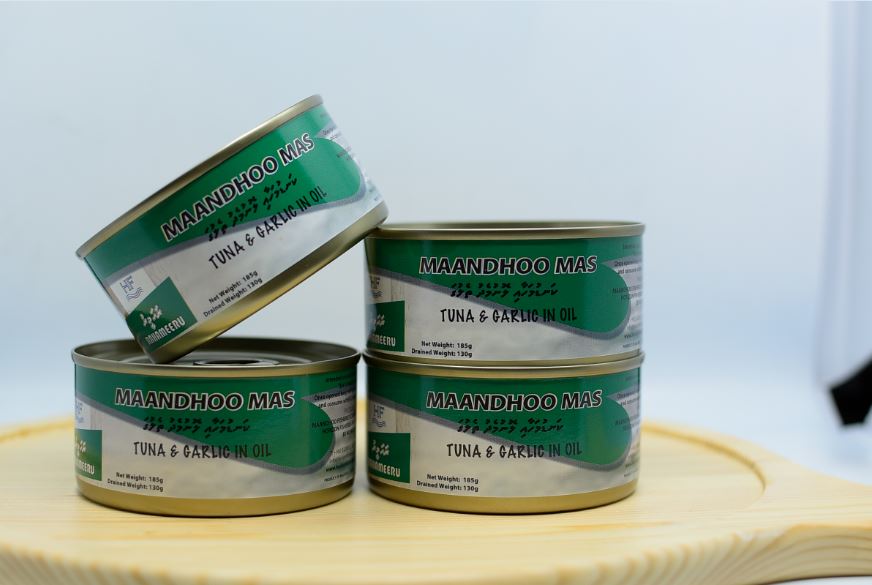 Being highly nutritious with few calories, garlic is a staple in most recipes. It is known to boost the immune system with its beneficial properties. This can of tuna mixed with garlic can be used in a variety of recipes, with spaghetti being a popular choice.
Tuna and Tomato in Oil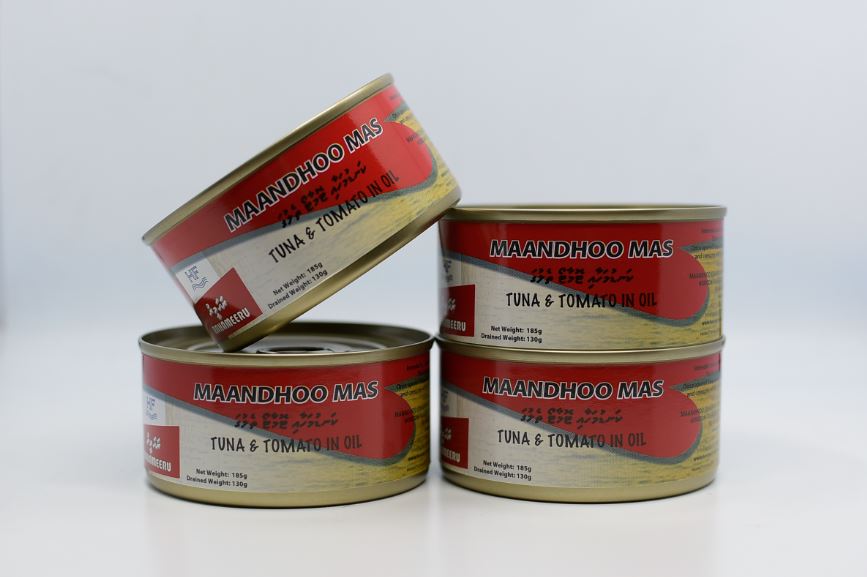 Tomato is another local favourite. It has always been used as a separate entity when preparing a dish with tuna, whether in its paste form or peeled form. With this combination, users can use on its own by just adding extra spice to any of your favourite dishes.
Committed to producing premium products with safety and hygiene being the most important aspects, Horizon Fisheries is reputed in the standards they maintain throughout its business. All of the tuna based products are sealed with quality standards of food hygiene with ISO 9001, 14001, 22000, BRC (A Grade), Halal, and Organic Certificate standards intact. Additionally, the company is the proud holder of the Fair Trade Certified™ label. The tuna is caught by the sustainable method of pole and line fishing, which ensures the safety of other marine life as well as eliminating any bycatch.
CONTACT
Horizon Fisheries
T: +960 3328855 & +960 3327788
1st & 2nd floor, M. Mist Building, Fiyaathoshi Magu
Malé, Maldives