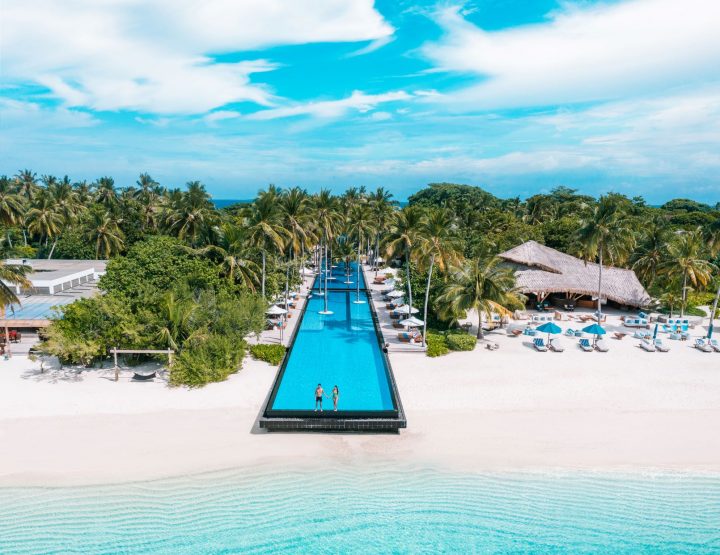 Fairmont Maldives Sirru Fen Fushi Prepares for Easter
Preparations are underway at the Fairmont Maldives Sirru Fen Fushi for Easter. From Good Friday to Easter Sunday 2021 festivities include cooking classes, a kids' activities programme, and entertainment shows gracing the night around the island.
Dining is a sensational experience at Fairmont Maldives Sirru Fen Fushi and for the holidays the flagship restaurant Raha transforms into an Easter Market featuring local and international haute cuisines in an exquisite buffet setting. Good Friday highlights the freshest catch – a home-smoked salmon station with warm new potatoes, sour cream, and fresh dill start the feast. And for Easter Sunday Brunch in Raha, the open fire pit barbeque offers Brazilian Picanha style, slow-cooked marinated Australian brisket, and grilled New Zealand lamb racks served with the chef's fresh and sustainably grown garden of salads. Chefs "crème brûlsée easter eggs", soft chocolate egg tarts, and hot cross buns can be complimented with a signature Easter-themed cocktails.
A highlight of this festivity is meeting the resort's master chefs who demonstrate their passion for food.  Guests can meet them and understand their stories. For example: chef Liz hails from Venezuela and discovered her desire for cooking from her grandparents. She started her culinary journey exploring exciting destinations from Brazil, Argentina, Spain, Italy, Kuwait, Indonesia, India, Myanmar, and now landing in the Maldives. Her knowledge of numerous cuisines from around the world drives her cooking mantra for – "Freshness and Sustainability."
Chef Mukhammed Gavi started his culinary voyage at 14 from his mother's home-cooking in St. Petersburg, Russia. The moment he wore his first chef's jacket, he knew what to do for the rest of his life. One of his career highlights was working in the United Arab Emirates where he showcased his skills in cooking Russian, International, and Arabic specialties. For Easter, Chef Gavi presents many of these dishes.
Chef Mori idolizes his uncle, a well-known chef in their hometown. While young, he started assisting him in the kitchen, observing as much as he could.  Chef Mori travels the world sharing his culinary heritage and learning within the five-star hotel kitchens. Now in Fairmont Maldives Sirru Fen Fushi, he prepares Indonesian specialties. Executive Chef Abdullah le arned his trade in Jordan, cooking by his father's side during family gatherings, while Executive Chef Abdullah considers the authentic dishes his favourites, especially seeing the satisfaction on his father's face while his relatives enjoy every bite. His father always tells him, "When you cook with care, you give love. When you serve food with passion and humility, you nourish the body and soul."
Get ready for an all-hands-on-deck Easter egg and treasure hunts with the whole family.
About Fairmont Surru Fen Fushi
Maldives Sirru Fen Fushi is home to the longest infinity pool in the Maldives that leads you to the Coralarium, the Maldives' first and only coral regeneration project in the form of an underwater art installation by Jason deCaires Taylor.  Located on the Shaviyani Atoll, which boasts one of the country's largest resort lagoon. The 120 luxury villas are a seamless blend of chic, understated Maldivian rustic chic with champagne woods, coral-inspired rugs, and bamboo glass chandeliers. Choose from hideaway beach dwellings, the stunning water villas perched over the Indian Ocean, or castaway tented jungle villas.
Find out more at fairmont-maldives.com