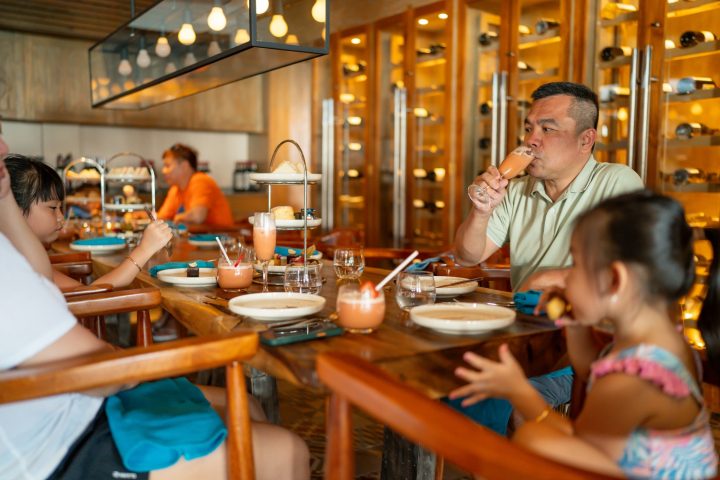 Father's Day celebrations at Grand Park Kodhipparu Maldives
In a remarkable tribute to fatherhood, Grand Park Kodhipparu Maldives, offered fathers on the island an extraordinary holiday from their holiday, allowing them to celebrate and indulge in a truly unforgettable experience.
On the idyllic shores of the Maldives, Grand Park Kodhipparu unveiled its exclusive "Escape Within" celebration, a bespoke itinerary crafted to honour fathers and their profound impact on our lives. Recognising their unwavering dedication and selflessness, the resort orchestrated a series of exceptional moments to pamper, exhilarate, and rejuvenate these exceptional men.
The day commenced with an exhilarating twist as fathers joined their fellow adventurers for a complimentary Fun Tube ride. Under the clear skies and amidst the crystal-clear waters, the gentlemen embarked on a thrilling escapade, embracing the spirit of adventure and bonding with kindred spirits who understand the joy of being a father.
Following the adrenaline-fuelled adventure, fathers gathered at the resort's cosy wine cellar for a dedicated shared champagne high tea experience. Amidst an ambiance, a toast was raised to their unwavering commitment and love, intertwining their stories with those of other fathers on the island.
As the sun began its descent, fathers were guided to the sanctuary of the resort's spa, where serenity and tranquillity awaited. Here, they surrendered themselves to a rejuvenating spa ritual, expertly administered by skilled therapists. It was a true tribute to their tireless efforts, melting away the weariness of their journey and nurturing their well-being.
To culminate this extraordinary celebration, fathers were invited to the Breeze Poolside dining and bar, where a meticulously crafted fathers' day cocktail awaited them. The mixologists conjured a masterpiece that embodied the spirit of fatherhood—a fusion of flavours, each representing the unique facets of their lives.
Grand Park Kodhipparu Maldives wholeheartedly embraced the essence of fatherhood, gifting fathers a holiday from their holiday—an opportunity to revel in their own cherished moments. Through thrilling adventures, refined indulgences, serene sanctuaries, and heartfelt toasts, fathers were enveloped in an ambience that honoured their devotion, sacrifice, and unconditional love.
To learn more about the "Escape Within" celebration or to reserve your slice of paradise at Grand Park Kodhipparu Maldives, visit this link.