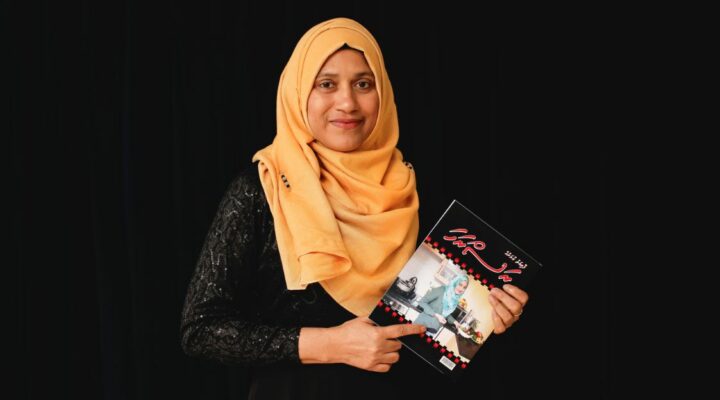 Fathimath Umar: The inspirational story behind a resolute mind
Making it to Senior Food and Beverage Manager at a hotel is no easy undertaking. It takes dedication and perseverance, a lot of time and hard work, and most of all, love for the job; or in the case of Fathimath Umar, an unwavering love for the culinary arts. But she never imagined a career in the culinary arts, let alone a hot kitchen, when she was growing up.
During her secondary school education, Chef Fathun (as she is known by most everyone) wanted to pursue a career in nursing. Working as a newscaster and TV presenting was also something that was of interest to her. But what drove this woman, with her teenage dreams of becoming a famous face on TV, towards the hot kitchen?
"I was not ready for a job by the time I finished my secondary education. I was simply not done with studies, either," she says. "Hotel School was recently opened at the time, and since I always had a love for the culinary arts, it sounded like a good choice."
After completing her certificate in General Hotel Services, Fathun was ready to take on her first job in the tourism industry. But it would not be what we expected. Her first job was as a receptionist at Bandos Island Resort, where she would foster and grow, to one day making it a manager."Only a handful of women were working in the hospitality industry back in the day," she says, explaining how she felt about her first experience working in a resort. "It was very challenging, especially since I was the only female working in Bandos at the time."Did it stop her from the very trying career path she had chosen? No! Fathun, who was committed and determined as ever to succeed, loved her new job. And a year later, she was at a supervisory level. But three years later she had a take a little detour.
"At the time, it was not fitting for a newly-wed to be working away from home," she explains. "But that was not to be the end of my career in hospitality."
Back home, she took up a job in another field of hospitality. This time, it was reservations at Sunland Travels – a local travel agency, which again proved to open her eyes further and expand her knowledge of the hospitality industry.
Her resolve to further her career in the hospitality industry led the way for higher studies in the field. After completing her Advanced Certificate in General Hotel Services, she again took a long break. She was out of the industry for six long years, tending to her children, after which she came back to pick up from where she left off. And this was when her love for the culinary arts kicked in strong, where she began working as a chef in the culinary area."I love cooking, and everything to do with the kitchen. And I wanted to explore new things as a foodie," Fathun says. "But I also wanted to study further. To be a good chef, one must work hard, and continue to learn."
She was working as a sous chef when she was presented with the opportunity to work as an Associate Lecturer at the food production department of Faculty of Hospitality and Tourism Studies (FHTS), which led her on a journey to Switzerland – with some of the best hotel schools in the world. There she completed her Higher Diploma in Culinary Management, tutored by some of the best in the world.But that was not the end of her studies. Fathun was ever so resolved to further her knowledge and skills, which, a year later, led her to Manchester in the United Kingdom, where she completed her Bachelor of Science (Honours) in Hospitality Management with Culinary Arts. But did it end there?
"No! One should never stop learning, especially studying further in their career of choosing," she says, reasoning that it was her passion for the culinary arts that led her on this journey. "I wanted to study gastronomy for my Master's Degree, but instead, I completed my Master's in International Hotel and Tourism Management at Oxford Brooks University, U.K."
During her long tenure in the hospitality industry, she has accomplished many a number of feats, and it does not start and end at the kitchen. She has played a pivotal role in designing some of the programmes that are offered at FHTS, including undergraduate programmes on culinary arts.
Working as an Associate Lecturer, she has nurtured and fostered many a number of professionals, who are now filling various posts in the country's hospitality industry; some working as chefs, while others in managerial roles. And the teacher in her never left, even after she left the faculty. To date, she continues to train and assist those who seek it.
"I love training and developing people. I would love to see more locals working in the tourism industry,' she says, proud of her contributions to the industry. "I am proud of the fact that, today, there are more females studying culinary arts, especially in well-established institutions abroad."
After a long road, today she is responsible for providing strategic leadership and direction to her staff at Bandos Maldives. She is tireless in her efforts to ensure the F&B department achieves its goals and successfully contributes to the resort brand, guest experience and overall profitability of the property, whilst upholding the standards of Bandos Maldives.I asked her what the most rewarding part of her job is. "Definitely training my staff. It gives me great satisfaction to see them learn and grow," Fathun replies. "If you are strong-minded, diligent and persistent nothing will stop you going forward and succeeding."There will be challenges every day, however, you have to take them positively. I personally take both challenges and failures as valuable opportunities for me to succeed," she adds when I ask her about her philosophy.
"Patience and determination, and above all, the support from my family and friends have been the pillars of my plight," she adds, thanking them for their role in her success. What is her message to those taking up careers in hospitality? "Discipline, hard work and a positive attitude are the most important things."
She is bent on contributing her knowledge and experience to the industry, especially those keen on a career in the field. She promises me that she will continue to train people in hospitality and the culinary arts. Some of her other contributions include her cooking show, where she works as a chef, a judge and presenter. She is also a judge of the Maldivian Category of Hotel Asia.
And the first in a series, which I would call 'her gift to those who love culinary arts', is on the way in the form of a cookbook, which she is currently working on. And her inspiration and determination is something we all can gain from.