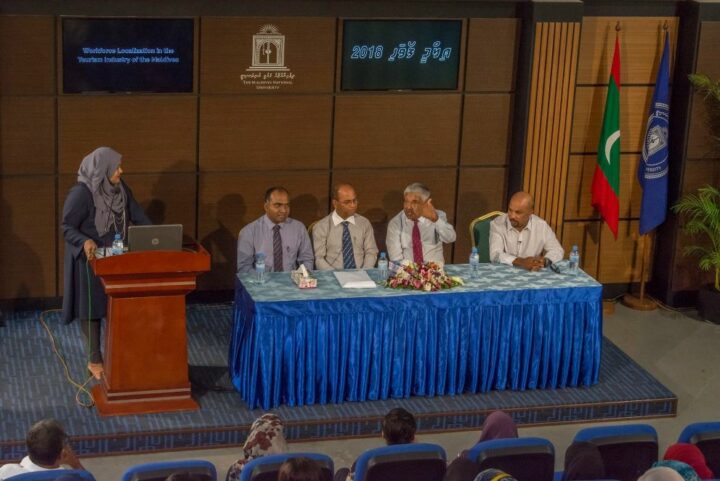 FHTS hosts seminar on tourism sector "workforce localization"
The Faculty of Hospitality and Tourism Studies (FHTS) has hosted a special seminar themed around "Workforce Localization in the Tourism Industry of the Maldives." Part of a series of monthly public seminars organized by the Maldives National University, the event took place on July 18 at the Auditorium of the Faculty of Educations.More than a 100 tourism industry stakeholders attended the special seminar, including industry professionals, prospective employees, university students and members of the general public.Prominent industry stakeholders, including Hussain Afeef – Chairman Crown & Champa Resorts, Iyaz Waheed – President of Universal Foundation, Dr. Ahmed Solih – Former Permanent Secretary at the Ministry of Tourism and Hussain Shahid – Executive Assistant Manager at Holiday Inn Resort Kandooma Maldives facilitated a panel discussion at the seminar, while over a 100 attendees sought advice on career prospects for locals in the hospitality industry.
Discussions were focused on a programme ranging from industry statistics, career prospects, career guidance, how to conduct oneself in a service environment and potential benefits."One of the reasons for the panel discussion is to inform on the motives and barriers for local employment in the Maldivian tourism industry," noted Hussain Afeef, Chairman Crown & Champa Resorts, speaking at the panel discussion held at the seminar.Speaking further, Afeef said that a lot of potential and opportunity exist for the growth of local talent. A key takeaway of the seminar is the possibility for social and economic growth when all stakeholders work together as a team for the greater benefit of the community.FHTS was established in 1987 to address the growing need for hospitality professionals required by the country's booming tourism industry. Over the years, FHTS has trained over 5,000 professionals in various disciples of the hospitality and tourism sector.