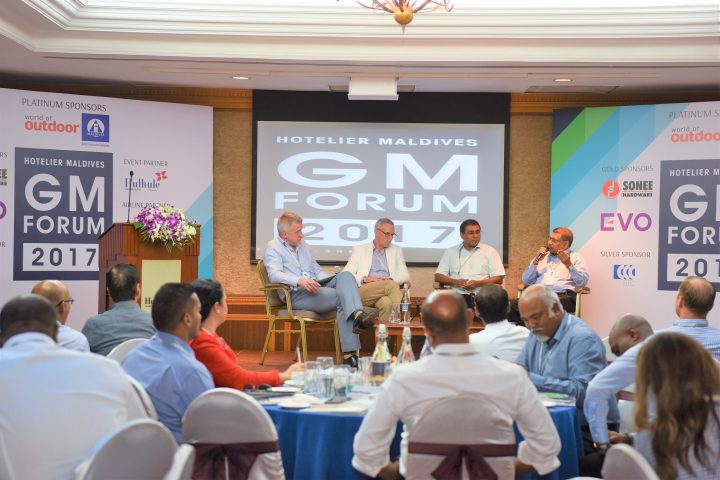 Fifth Edition of Hotelier Maldives GM Forum Scheduled for 23rd September 2021 at Crossroads Maldives
Crossroads Maldives will be the venue for the fifth edition of the annual General Manager's Forum organized by Hotelier Maldives; the country's dedicated B2B publication for hospitality professionals, developers and hotel operators.
Initially scheduled for April 2020, the fifth edition of the Forum was cancelled due to the COVID-19 Pandemic.
The day long Forum and networking event for GMs, hoteliers and hotel suppliers highlights pertinent issues affecting the hospitality industry with a special focus on the Maldives and region. The event also attracts speakers from international hospitality brands, internationally based service providers such as STR, dNATA and IDeaS, in addition to principals from hotel suppliers and service providers. The keynotes and panel discussions are complemented by product demonstrations and product launches by suppliers. In addition to this, suppliers also get to display their brands on the sidelines of the Forum and networking event.
The 5th GM Forum will see a keynote speech from Maldives' Minister of Tourism Dr Abdulla Mausoom and other industry leaders. Dr Mausoom has also participated as a panelist and delegate in previous editions of the GM Forum in his capacity as a General Manager.
Previous speakers in the Hotelier Maldives GM Forum have included Maldives Association of Tourism Industry and Universal Resorts Chairman, Mr MU Maniku, Chairman of Crown and Champa Resorts Mr Hussain Afeef Champa, Director at Cyprea Group, Mr Ahmed Saleem Bandhu as well as leading C Suite corporate hoteliers representing the hotel chains currently operating properties in the Maldives including Hilton and Marriott.
The main themes for GM Forum 2021 will be announced in the coming weeks as the agenda is finalized. The program is finalized with input from an Advisory Panel comprising of leading GMs and industry stakeholders in the hospitality industry.
While the GM Forum is primarily by invitation only, a small number of seats are reserved for suppliers and other stakeholders wishing to attend. These seats are given on a first come first served basis. If you would like to inquire about attendance, or make a sponsorship inquiry, please contact  sales@hoteliermaldives.com and mobile; +960 7246292