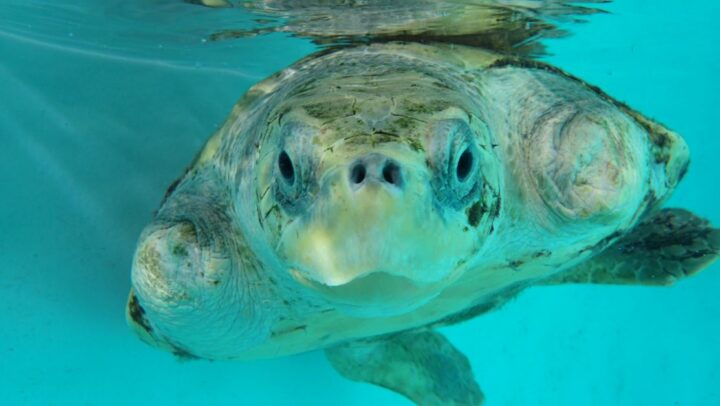 Fifth "flying turtle" flies off from Four Seasons Landaa to St. Petersburg
Elsa, a female juvenile olive ridley turtle estimated under 20 years of age, has become the fifth "flying turtle" to travel from the Maldives by plane to begin a new life overseas.
Donated to St. Petersburg's Planeta-Neptun, Russia's first Oceanarium, Elsa follows in the pioneering flipper-steps of her olive ridley cousins – Kerry, Zahiya, La Petite and Peggy, the original "flying turtles" who made Maldivian and European history in August 2016 when they became the first live turtles to be flown overseas from the Maldives for rehabilitation purposes, and the first olive ridleys to be represented in a European facility (Belgium's Pairi Daiza Zoo).
Like her flying cousins before her, Elsa was a long-term resident of Four Seasons Resorts Maldives Sea Turtle Conservation Program. She initially spent a year being cared for at Four Seasons Resort Kuda Huraa, having been found in North Malé Atoll floating at the surface entangled in a ghost fishing net; her two front flippers so badly damaged they had to be removed. A year later in August 2014, with her buoyancy syndrome healed, she was transferred to the Turtle Rehabilitation Centre at Four Seasons Resort Landaa Giraavaru, where she remained for a further three years.
Deemed "non-releasable" (based on international standards), Elsa made her epic journey to St. Petersburg on September 13, accompanied by Sebastien Stradal – Landaa's former Marine Discovery Manager and pioneer of the Flying Turtles Project – to ensure her welfare. She is housed in an 800 square metre (8,600 square feet) tank, where she will play a vital educational role in keeping with the Oceanarium's ethos, according to Four Seasons Resorts Maldives.
"In an ideal world, we would return all of the turtles we care for back to the ocean to continue their life in a natural environment. But for turtles like Elsa, whose chance of survival in the wild is so low, the Flying Turtle Project offers improved long-term wellbeing and extended medical care in a more diverse and natural-feeling environment than we are able to offer at our Rehabilitation Centre," says Annemarie Kramer PhD, Landaa Giraavaru's Marine Discovery Centre Manager, commenting on the donation of Elsa to Planeta-Neptun.
"We are very grateful to Sebastien, the Maldivian authorities and everyone else who has worked so hard to make this project possible. We know that Elsa will make a great ambassador for her species, helping to educate the public about the threats faced by sea turtles like her."
According to Four Seasons Resorts Maldives, of the original four flying turtles, three continue to make good progress in their new homes in Belgium's Pairi Daiza Zoo: Peggy has perfected her ability to dive in her deep tank home among the rays, fish and black tip sharks and is able to stay at the bottom for up to five minutes. Her progress is so positive that it is hoped she will soon be able to return to the Maldives for release back to the ocean.
Kerry is very happy in her new tank with many small fish (safe for them as she is still unable to dive). She is eating well and spends all day watching her new tank companions. Zahiya is still undergoing medical treatment for liver problems but is continuing to consume at least 10 fish a day. She is currently at the medical facility but will return to join Kerry as soon as she has recovered.
Unfortunately, despite initially doing well, La Petite recently succumbed to an infection and, given her chronic injuries and weakness, passed away earlier this year.
Established in 2011, the Maldivian Sea Turtle Conservation Program (MSTCP) is one of Four Seasons Resorts Maldives extensive conservation efforts run by a team of more than 12 marine biologists from environmental consultancy SEAMARC Pvt Ltd. In addition to turtle rehabilitation, the programme is also involved in the photo-identification, satellite tracking, nest protection, and hand rearing of sea turtles. To learn more about conservation efforts at Four Seasons Resort Maldives, please visit hoteliermaldives.com/four-seasons-marine-savers.