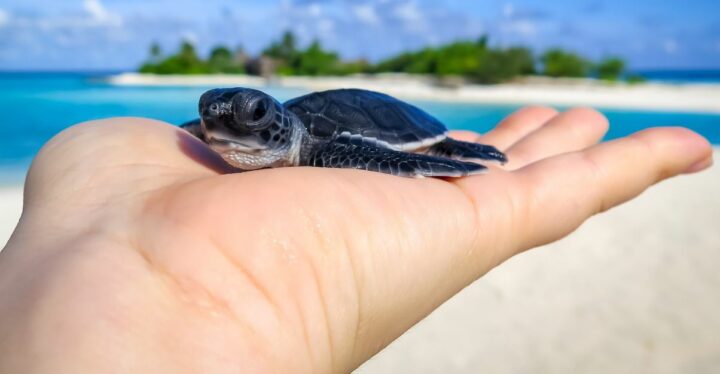 Four Seasons Marine Savers: at the heart of marine conservation
The Maldives environment is made up of a delicate and complex series of unique ecosystems. Rich in biodiversity, it is host to amazing coral reef system, linking the smallest and largest of marine life, this beautiful archipelago faces many challenges in the preservation of its marine environment.
The Four Seasons Marine Savers, an initiative founded by Four Seasons Resorts Maldives and their guests, was launched in 2000 in a bid to contribute to preservation efforts of Maldives' fragile ecosystem and marine life. What began as awareness programmes for guests has soon flourished into an elaborate effort on marine conservation with programmes including pilot aquaculture, coral propagation, and conservation of flagship species including manta rays, sharks and sea turtles.Since inception, the Four Seasons Marine Savers has been involved in a variety of successful projects such as their turtle conservation projects and more recently the Flying Turtles project. The turtle conservation project focuses on four main areas; rehabilitation, nest protection and rearing, turtle identification and satellite tracking.The rehabilitation programme aims to protect sea turtles from ghost nets, where many turtles risk becoming irreversibly entangled in the mesh, leading to lacerations, amputations, dehydration and suffocation. The nest protection and rearing programme – which is government approved – sees the Marine Savers working with local island communities to encourage the protection of turtle nests, which is then followed by the release of the hatchlings to deeper waters, away from predators.
The turtle identification programme establishes an estimated inventory of turtles sighted in Maldivian waters, as the identification of any individual within a population is a preliminary step to the ecological study of the species. With the assistance of other resorts, dive schools and safari boats, Marine Savers currently holds a database of over 1,000 individual hawksbill and green sea turtles.Finally, by tagging some of the turtles that are released with satellite tracking devices, the Marine Savers hope to gain a better understanding of their habitat, migration routes and foraging grounds, as well as to assess the success of their rehabilitation and Head Start programmes.Recently in 2016, a pioneering project titled 'Flying Turtles' was launched, which saw the transportation of four endangered Olive Ridley Turtles to the Pairi Daiza – a world renowned zoological park in Belgium.Advanced veterinary care was essential for their safe recovery, as they were experiencing flipper amputations and prolonged buoyancy issues.
"They will act as ambassadors for the species, raising awareness about the threats that they encounter in their natural habitat as well as the conservations efforts being conducted on a global scale," says Gerardo Alvarez, Manager of the Marine Discovery Centre in Four Seasons Resort Maldives at Kuda Huraa."Furthermore, the veterinary diagnostics carried out by the zoo will provide us with vital insight to improve the treatments plans of our patients."To date, the Marine Savers has released 102 turtles under the head start programme, rehabilitated and released 94 turtles, identified 1,093 turtles under the identification programme and fitted 15 turtles with satellite tracking devices.Marine Savers – entirely funded by Four Seasons Resorts Maldives and their guests – is a conservation, research and environmental awareness initiative managed and carried out by Reefscapers (former Seamarc) and Four Seasons together. Since 2011, Reefscapers has led some of the most successful coral propagation projects in the world, and have inspired a global following and recognition."The Maldives' environment is unfortunately riddled with a major threat from anthropogenic global warming and the country by itself will not be able to do much on its own, other than by leading example in the production of green energy," says Gerardo."The current forecast of temperature rise for two degrees until the end of the century leaves us with not much confidence that there will be high numbers of coral in the Maldives, or anywhere else in the world for that matter," he warns.
The Four Seasons Marine Savers has been recognised in the prestigious Condé Nast World Traveler World Savers Awards and Travel & Leisure's Global Vision Awards, to name a few of its accolades. Given our geographical location, it is imminent that we follow suit with examples set forth by such initiatives to ensure the longevity of our beautiful marine environment.
To find out more about their work, please visit marinesavers.com.