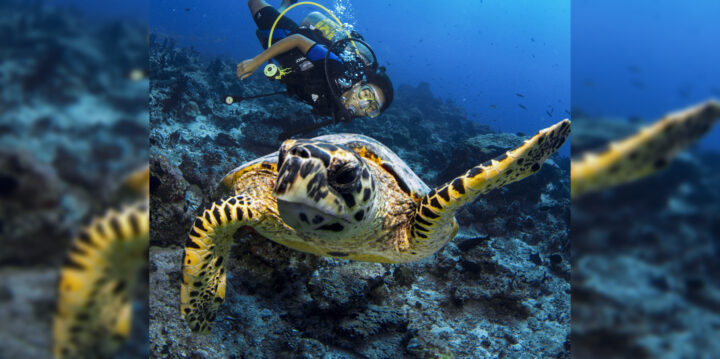 Finolhu and Amilla Fushi host 'visiting hero' from ORP
Finolhu and Amilla Fushi – operated by The Small Maldives Island Co. – has collaborated with Ibrahim Shameel from the Olive Ridley Project (ORP) and held special turtle conservation programmes. As part of the programme, Shameel was welcomed to the two properties as a visiting hero, and held special turtle excursions, said TSMIC.
During his visit, Shameel engaged in various activities in collaboration with the resort staff, locals and the resorts in-house children to further increase knowledge on the various aspect of turtles and turtle conservation. He led guest excursions which also included an introductory briefing on turtle biology, ecology, threats and conservation of turtles, with a special emphasis on the work of ORP.
Shameel also held awareness sessions for the staff, which focused on turtle rescue, first aid, and protection of turtle nests and nesting grounds. He also visited nearly Dhonfanu and Goidhoo Islands to hold awareness sessions for students.
According to TSMIC, during the excursions at Amilla Fushi, 71 sightings of turtles were made, of which 46 hawksbill turtles were identified. In a likely manner, during his visit to Finolhu, a total of 32 turtles were encountered of which 11 were identified as green sea turtles and 4 as hawksbill sea turtles.
He was also involved in the rescue of a juvenile Olive Ridley turtle from a ghost net, with the assistance of staff and management of Milaidhoo Island Resort. The turtle had suffered injuries to its flippers and was safely transported to the Turtle Rescue Centre at Coco Palm Dhuni Kolhu for treatment, said TSMIC.
The programme also saw the hatching of a green sea turtle nest, of which a remarkable 111 juvenile turtles were hatched. This to be a once in a lifetime experience for many of the guests and a first for Shameel as well, TSMIC added. According to the operator, a sum of over US$1,000 has been raised for ORP through TSMICs donation scheme.
The Olive Ridley Project was founded in 2013 in response to the large amounts of entangled Olive Ridley Sea Turtles they encountered in the Maldives. The goal of the project was to understand the phenomenon of Olive Ridley sea turtles drifting into the Maldives entangled in ghost nets and to identify where the ghost nets originate from.
The Olive Ridley Projects works to protect and preserve the Indian Ocean from ghost nets by actively removing discarded fishing nets, rescuing and nursing entangle turtles back to health; educating local and scientific communities about the issue; identifying the origins of the ghost nets and target these location to change their fishing techniques; and promoting end of life recycling of fishing nets.