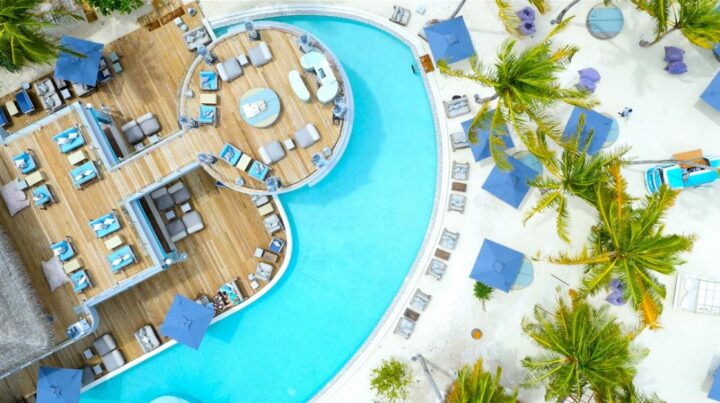 'Summer Lovin' beach festival to mark Finolhu Maldives' first anniversary
Finolhu Maldives is set to host the 1OAK Finolhu Beach Festival 2017, coinciding with its first anniversary and launch of 1OAK Maldives. The three-day celebrations of funky beach festival entertainment, and gourmet food and drinks – themed 'Summer Lovin' – will be held from July 28 to 30.
Every night the festival will feature a different theme, with the first night dedicated to 80s glam, and the second night featuring an R&B meets 90s hip-hop theme followed by a flashback to the best of 80s pop music on the third night, said The Small Maldives Island Co. (TSMIC) – the operator of Finolhu.
The festival will feature performances by Kate March, founder of the passionate all-female creative collective from New York I AM, world famous DJ Jaffa and DJ Simon, and entertainment group Fun Light. A surprise celebrity appearance will take place during the festival.
According to TSMIC, those wishing to arrive in advance for the festival or stay longer after the festival will be offered a special five-night package.
The Small Maldives Island Co. partnered with New York hospitality group Butter Group last year to launch 1OAK Finolhu Blhu Beach Club in Finolhu and 1OAK Lounge at its second property Amilla Fushi. Since then, both the resorts have seen fun-filled entertainment events hosted by international performers.
With a retro themed Maldives Island concept, Finolhu caters to guests seeking fun and adventure with a party atmosphere. Since its opening in June 2016 on the pristine lagoons and rich waters of Baa Atoll, Finolhu has been offering guests a refined, retro-inspired island paradises for the fun loving beach-erati, and an unexpected revival of the halcyon days of the classic chic gateway.
For more information on the 1OAK Finolhu Beach Festival 2017, please visit tsmic.mv.