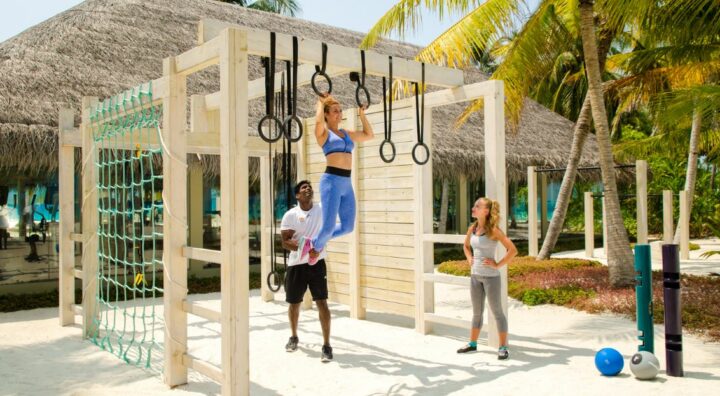 Finolhu takes #fitnessgoals to next level with UFC Gym partnership
Finolhu has partnered with the renowned UFC GYM, the elite fitness concept from global phenomenon Ultimate Fighting Championship®. A UFC GYM Master Trainer will be based on island at Finolhu's The Cove Club from October 1, offering a blend of traditional workout facilities and mixed martial arts to enhance the fitness levels of guests with a variety of personal training and group classes.
UFC, the popular mixed martial arts association, launched its first chain of gyms in 2009, offering a range of workout classes and training programmes for all ages. UFC GYM is a community of people focused on bettering themselves through disciplined training and a variety of classes that get results.
According to The Small Maldives Island Co. (TSMI) – which operates Finolhu – Geneviève Soszynski, a UFC GYM Master Trainer with over 20 years' experience in the fitness industry, will be based at Finolhu for six months to offer a diversity of personal training and group classes, including Daily Ultimate Trainings (DUT); Fight Fit; UFC Fit; Boxing & Striking Conditioning; MMATRX and TRX; and Triggerpoint Movement.
Soszynski is an experienced MMA practitioner including Muay Thai, Jiu-Jitsu and Wrestling as well as a former coach and student at Team Quest under MMA and UFC fight veteran Dan Henderson and at Reign Training Centre under UFC fighter Mark Munoz. She has helped hundreds of individuals, including MMA athletes, achieve their fitness goals in weight loss and muscle gain with specialised training in rehabilitative and preventative care as an experienced remedial message therapist and therapy aide.
Finolhu's retro revival hub, The Cove Club, features indoor and outdoor gym areas with the latest state-of-the-art gym equipment overlooking both 'Palm Beach' and the island's beautiful lagoon. Guests can meet with either the resident fitness instructor or the UFC GYM Master Trainer who will provide expert fitness and wellness advice to guide them through achieving their fitness goals and help them to train differently, according to a statement by Finolhu.
Harnessing the island's natural environment is the inspiration for fitness activities at The Cove Club, from yoga and paddle boarding to ballet and kickboxing, while the facilities also include a movement pavilion, a relaxation area overlooking the sunset, steam/sauna, a wellness areas, and a salon and retail pavilion, says Finolhu. To learn more about Finolhu, and its offers, please visit finolhu.com.