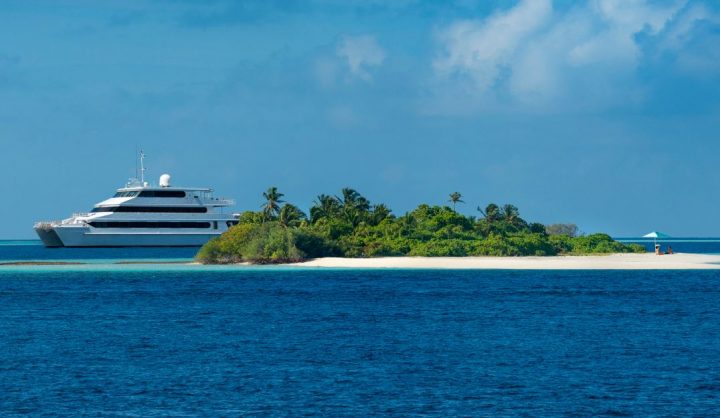 Four Seasons Explorer announces 2018 Manta Trust expeditions
Four Seasons Explorer has announced its 2018 Manta Trust expeditions, giving guests the opportunity to immerse themselves in the elusive world of manta rays, the graceful ballerinas of the ocean. The Manta Trust Expedition onboard Four Seasons Explorer places participants at the forefront of cutting-edge research.
It's a rare and thrilling opportunity to contribute to this incredible field of science and experience a wonder most can only dream of – regardless of whether an adventure-seeking family, a couple seeking an alternative vacation, or an individual who's passionate about conservation, according to Four Seasons Resorts Maldives. The expeditions will be held from August 23-30 and September 6-13.
To understand the power and presence of these marine marvels – and the work being done to protect them in the Maldives – one has to go back to 2003, when a then-Four Seasons marine biologist, Dr Guy Stevens, encountered his first manta ray and, in doing so, discovered his life's passion and work: to conserve these captivating creatures through active research and education.
Fast forward over a decade and Guy is now one of the world's leading manta ray experts; the Maldivian Manta Ray Project (MMPR) that he first established at Four Seasons Resort Maldives at Landaa Giraavaru is now the founding project of the world's largest manta ray charity, The Manta Trust; and his team operates projects in more than 20 different counties around the world.
"From population size, migratory routes and life history strategies, to social interactions, growth rates, lifespan, reproduction and more, every time we enter the water with manta rays, we improve our knowledge of them – and the global steps required to protect them," shares Guy Stevens, Chief Executive and Founder of The Manta Trust.
"Escorting these trips has the added benefit of transporting me back to that incredible moment when I first swam with a manta ray as guests have their own first manta encounter. It was life-changing for me and I never tire of seeing the impact it has on others too."
Four Seasons Explorer is a floating PADI five-star dive centre, a Manta Trust research Lab, a championship surfing venue, an exclusive-use party pad and more.  It offers Four Seasons-style accommodation and activities for up to 22 guests across three luxurious decks; a team of 25 adventure-seeking crew; effortless access to up to six different atolls; and many less-expected resort-style benefits too. For more information about the Manta Trust expeditions, please visit fourseasons.com/maldivesfse.