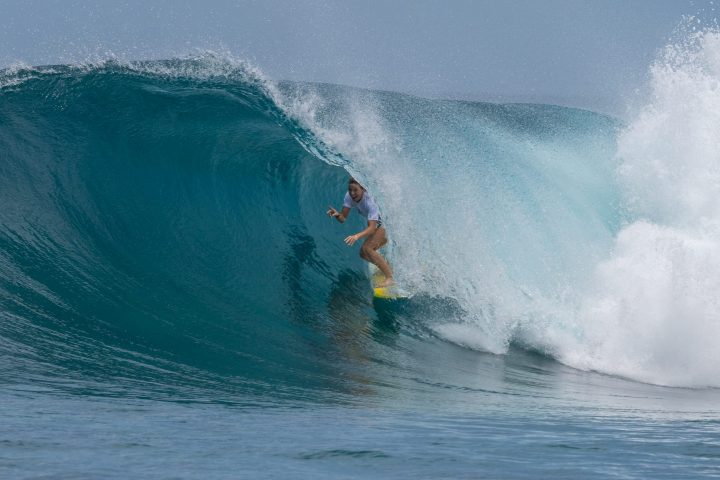 Four Seasons Maldives Surfing Champions Trophy kicks off in style
The Four Seasons Maldives Surfing Champions Trophy kicked off in fine fashion at flawless four-foot Sultans this morning, with single-fin surfboards the order of the day at the world's most luxurious surfing event. "Look at this, it's incredible!" said Adriano de Souza as he saw the empty lineup for the first time. "Just to be in this contest is a blessing, but with waves like this too? Wow!"
At day's end 2015 world champion De Souza finished runner-up in the single fin division to 2012 world champ Joel Parkinson, who as a previous Surfing Champions Trophy competitor looked comfortable both at Sultans, and with the format. The Surfing Champions Trophy sees competitors battle it out in single fin, twin fin and thruster divisions. Start times are staggered from oldest to youngest and in 2023 Joel Parkinson will surf 31-minute heats while Adriano de Souza will enter the water at the 28-minute mark, Mason Ho a minute later, Coco Ho and Hood Ahmed a minute after that, while Conner Coffin joins the field at the 25-minute mark.
"Today was firing!" said Parkinson. "It's amazing to be back here. I feel like I've put a lot of time into my single fin surfing these past few years. Hopefully I can be as competitive in the next rounds but once the boards get a little more high-performance I think my surfing might get left behind."
De Souza started the day with a win over Hawaiian surfer Coco Ho and local wildcard Hood "Hoobs" Ahmed, who unlocked plenty of opportunities on his backhand. While De Souza needed the first half of his first heat to adjust to his equipment, once things clicked he engaged contest animal mode, finding barrels and aggressively attacking the lip to comfortably advance with a 15.50 two wave total.
Ho quickly found her groove atop an XOCOCO single-fin, one of many offerings from the new surfboard brand she has founded with shaper Matt Parker. "It's about time surfboards were designed for women,"
said Ho, "and that doesn't just mean 'shrink it and pink it', that means making boards that actually work." Ho's words rang true, the tubes she weaved through the course of the rounds the ultimate proof of concept.
In the second heat of the day Parkinson came up against Ho's brother, renowned Hawaiian freesurfer Mason Ho, and Californian style master Conner Coffin, who only recently announced his retirement from WSL competition. "I'm new to this," laughed Coffin, "so I thought I'd better get over here and let Joel show me how it's done!"
Parkinson did just that, blazing through the opening rounds with a pair of eight-point rides to take the win. The Surfing Champions Trophy came alive at the 15-minute mark of the affair with a four-foot set broadsiding the Sultans reef and rousing the early morning crowd in the channel. Parkinson, already sitting on an 8.5 opener, pulled into a long, deep tube, backed up by a series of trademark carves on the first wave of the exchange. Coffin let his rails sing on the second, before Ho wrangled the foamball on the third. As the judges went to work another three waves turned inside out and spat into an empty channel. With minutes to go Mason found another gem, navigating a long tube to kick out in the channel with the 7.3 he needed to relegate Coffin to third place safely secured.
In the first semi-final Ho and De Souza went back and forth exchanging exquisitely ridden barrels and vicious carves from start to finish. While Ho threaded the best wave of the heat to lock in an eight after bowing to the Gods while kicking out, Adriano's mixture of turns and tubes saw him advance with a pair of sevens.
The second semi saw Parkinson put on a tube riding clinic. The opener, a barrel sandwiched between trademark swoops earned him a 6.5 before Ho had entered the lineup. Once she did, Ho sat and played the waiting game while Parkinson went to work under priority, a 7.5 for a smaller yet hollower inside drainer putting plenty of pressure on the Hawaiian. Ho's opener was a long, deep tube that she just missed the finish of, leaving a huge score behind as she got a little high and cartwheeled away.
Parkinson's technical takeoff skills then earned him an 8.1 for a deep drainer that he threaded from the moment he found his feet. On the wave behind, with Parkinson looking straight into it, Ho again flew threw a huge tube, before again getting clamped.
The last set of the encounter saw Parkinson take off deep on a boat wake-ribbed wave, come from behind the peak and thread the pit to perfection. This resulted in the best wave score of the day, a 9.27, and a front row seat as Ho threw peace signs in the tube on the wave behind, her never-in-doubt exit earning her a 7.1 and plaudits from her opponent, and the channel. "I saw that barrel from the boat!" said de Souza, "It was insane, so good."
In the all-world champion final, Parkinson (2012) took on De Souza (2012), though the three-minute head start for the elder statesman from Queensland amounted to nothing when the ocean went flat for the duration. After a slow start Parko got the ball rolling with a wider wave that didn't look like much off the bat, but ended up a 6.43 as it grew down the line and let Parkinson sink his JS single fin into a series of strong turns. De Souza replied with a big set that offered no wall after an impressive drop, and he quickly aborted the mission to regain priority.
Parkinson took up residency on the wider peak while de Souza stationed himself at the top off the lineup. The contrasting tactics were on full display on the next set, de Souza taking off deep and reaping little reward, while Parkinson threaded a deep tube to perfection for a 9.07 and a handsome lead. With Adriano needing two fresh scores tube-pig Parkinson went to work burying his snout in every barrel that dared rear its head, occasionally paying a visit to the open face for a turn or two. Adriano found a late consolation 8.43, for a series of wild hacks, but to the victor go the spoils and Parkinson took out the single fin division to light up day one with his Cheshire Cat grin.
"A win is the best way to kick off the working vacation, isn't it?" laughed Parkinson. "I'm really looking forward to enjoying the afternoon, and doing it all over again tomorrow. You beauty!"
The Four Seasons Maldives Surfing Champions Trophy runs from August 21-28. The forecast looks good for the rest of the week so stay tuned for more updates when competition resumes with the twin fin division.
Single Fin Division Results
Joel Parkinson (AUS)
Adriano de Souza (BRA)
Coco Ho (HAW) equal with Mason Ho (HAW)
Conner Coffin (USA) equal with Hood Ahmed (MDV)
2023 FS Maldives Surfing Champions Trophy Leaderboard:
Joel Parkinson (AUS) 1000pts
Adriano de Souza (BRA) 900pts
Coco Ho (HAW) 800pts
Mason Ho (HAW) 800pts
Hood Ahmed (MDV) 700pts
Conner Coffin (USA) 700pts