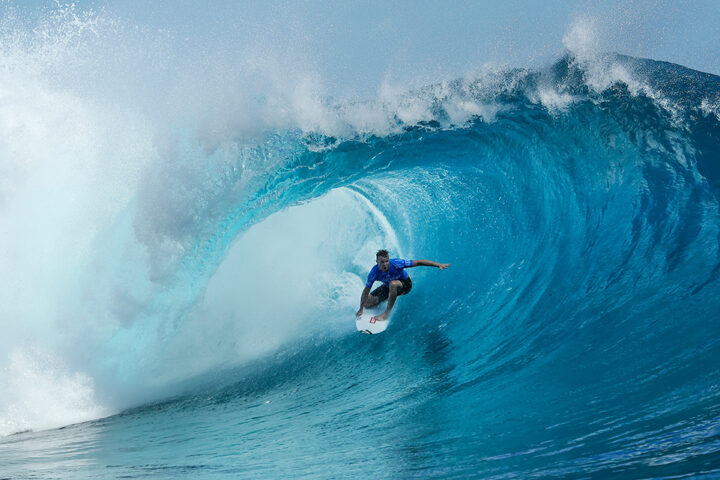 Four Seasons Maldives Surfing Champions Trophy kicks off
The Four Seasons Maldives Surfing Champions Trophy 2016 kicked off Tuesday evening with globally-renowned surfing legends returning for the annual competition.
"I can't believe this is the sixth event," beamed Ross Phillips, owner of Tropicsurf, the organiser of the event.
"Each year it gets better and better so it's a hard act to follow. We have a great line-up this year, and the weather seems good, and hopefully we'll get good waves.
"We used to have a separate domestic trophy, but it's the first time that a Maldivian surfer will be in the main event. And is a friend of mine, so I'm really happy to see that, and he's a capable surfer so I think he's going to make the country proud."
Guests of honour, Minister of Environment and Energy Thoriq Ibrahim and Minister of Youth and Sports Iruthisham Adam, attended yesterday's opening ceremony at the Baraabaru restaurant of the Four Seasons Kuda Huraa resort.
Speaking at the ceremony, the ministers congratulated national surfing hero Iboo on becoming the first Maldivian to face off against the best in the world.
"I found out that I'd be competing in the championship about two months ago. It was totally unexpected. I think it was a good decision, and I hope that a Maldivian surfer will get to compete every year," said Iboo.
"Rob Machado is my idol, and we have a big wave champion here. To meet with the surfing legends and to be able to compete with them is a dream come true. They are all really nice and down-to-earth, and I'm really excited for the competition."
In his remarks at the ceremony, Randy Shimbuku, the General Manager of Four Seasons Maldives at Kuda Huraa, meanwhile welcomed all the international surfers to the Maldives and thanked the attendees.
Shane Dorian, last year's winner, will be defending his title against pipe specialist Jamie O'Brien and former Championship Tour competitor and WSL deputy commissioner Travis Logie as well as tour legend Taj Burrow, surfing icon Rob Machado, local champion Hussain 'Iboo' Areef, and Bethany Hamilton, the only female surfer in the competition.
The surfers will compete on single-fins, twin-fins and thrusters over three competition days for the championship trophy and the USD 25,000 prize money.
Describing the annual competition as "one of the biggest and most successful surfing events in the country", Youth and Sports Minister Iruthisham meanwhile observed that this year's tournament comes at an "auspicious time" for aspiring surfer in the Maldives.
"As the International Olympic committee has included surfing to the sports programme for the Olympic Games Tokyo 2020, I believe that it's a momentous step in bringing the games to young people and reflecting the trend of urbanisation of sport," she said.
"Especially as Maldives is surrounded by sea, I think it's a great benefit as well as a remarkable opportunity for sports players, especially surfers, and the fans of this sport receive the Maldives in a positive light."