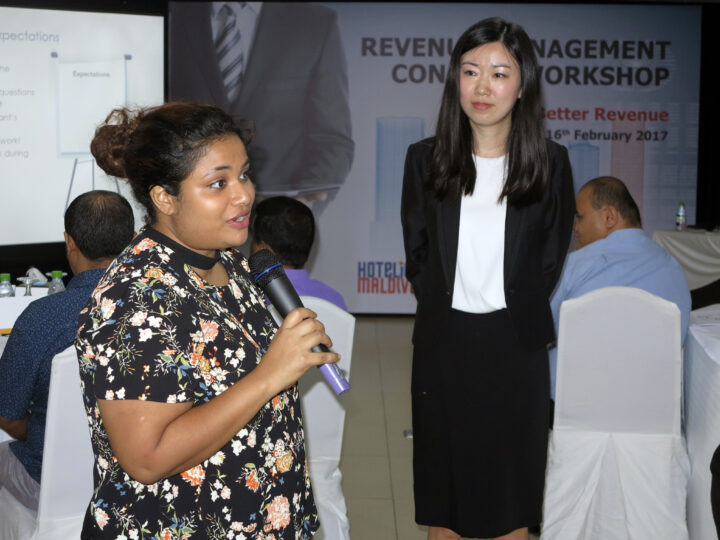 Hotelier Maldives, IDeaS open Revenue Management Workshop
Hotelier Maldives – the only dedicated magazine for hospitality professionals in the country – announced today the opening of its Revenue Management Concept Workshop. The two-day workshop is organized by Hotelier Maldives and IDeaS, in association with Champa Central Hotel.
The workshop, held at Champa Central Hotel from February 15 to 16, is facilitated by Tracy Dong – Lead Advisor of Asia Pacific region at IDeaS Revenue Solutions, a SAS Company based in Singapore. "Revenue management is one of the key challenges facing the country's tourism industry at present," Mohamed Mamduh – Managing Director of Perspective Pvt. Ltd. said. "As a dedicated magazine producing content to an audience of hotel owners, operators and management companies, it is a predictable extension of the work we have been undertaking with Hotelier Maldives."
The workshop includes a Revenue Management Overview and will cover Market Segmentation, Pricing, Forecasting, Revenue Management Tactics, Channel Management, Strategy Setting and Implementation. "Understanding revenue management at a conceptual level is key to designing strategies to thrive in the prevalent market conditions," Mamduh added.
Chitra Randhawa – Regional Director of Sales, APAC at IDeaS Revenue Solutions, explained: "Many hoteliers have approached these softer booking conditions with a mantra of 'a busy hotel is a successful hotel,' relying on the in-house spending on food and beverage, spa, ancillary and more, as a top up revenue. However, guests paying significantly lower room rates are also typically less likely to spend on the spa, luxury dining or experiences needed to compensate for a cheap room rates.""The longer-term ramifications of rate reductions are far reaching; not only does this impact brand perception but it also impacts product value perceptions and future pricing scopes when the market is in recovery," she added. The workshop brings together Revenue Managers and Analysts, Reservation Managers, E-commerce Managers, General Managers, Head of Rooms, Directors of Sales and Marketing and Front Office Managers."It's very timely that we work with Hotelier Maldives to bring Revenue Management Concept Workshop to the local hoteliers, and help them better understand revenue management and how to apply the concepts to manage their inventory and rates and ultimately drive better revenue," she further said. The workshop is coordinated and marketed in the Maldives by Perspective Pvt. Ltd., the publisher of Hotelier Maldives, based on positive feedback received to the work of IDeaS in the Maldives.
The workshop is attended by General Managers, Resort Managers, Revenue Managers, Accountants, Financial Controllers and Reservations Managers from a number of hotels and resorts along with other support industries.
Hotelier Maldives also provides other platforms for industry stakeholders; the Hotelier Maldives GM Forum – inaugurated in 2016 – is the country's only dedicated platform targeting General Managers of resorts and hotels; and the Hotelier Maldives Wellness Summit brings together leaders in the spa and wellness industry, both in the country and the region.