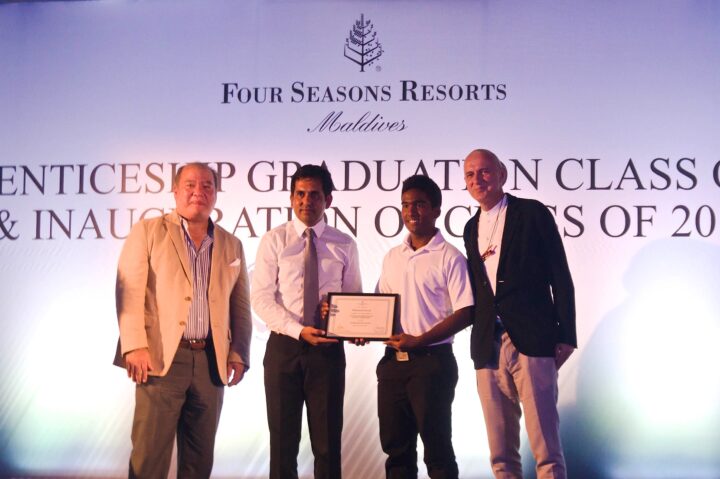 Four Seasons Resorts Maldives apprentices graduate from programme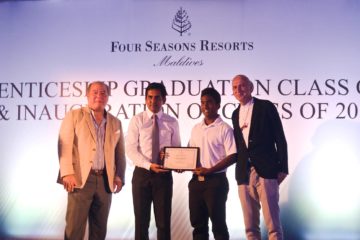 Four Seasons Resorts Maldives today celebrated the graduation of 56 participants of their 2014 Hospitality Apprenticeship Programme. The initiative, which is TVET (Technical and Vocational Education Training) accredited is the 'longest running, and most successful programme of its kind.'
The graduation ceremony was held at the National Art Gallery, in Male'. The chief guest of this prestigious ceremony was Minister of Economic Development Mohamed Saeed, in attendance were also the graduating students, local media, and the proud families of the graduating students.
The ceremony also welcomed the inaugurating batch of 2016, which is comprised of 65 first-year apprentices and 7 second-year apprentices.
This successful apprenticeship, now in its thirteenth year, celebrated the graduation of an impressive 52 first-year graduates and 4 second-year graduates.
Speaking at the ceremony, Minister Mohamed Saeed commended the Four Seasons Resorts Maldives management for their hard work and dedication to bringing forth a strong and intelligent group of youth by helping them make their mark in the tourism industry.
Mr. Armando Kraezlin, the Regional Vice Presi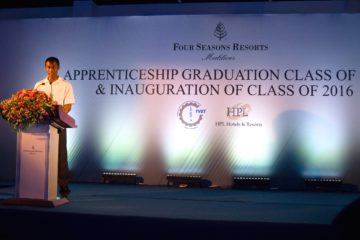 dent of Four Seasons Resorts Maldives took to the opportunity to explain what he believed to be the secret of the programme's success "The fact that the Four Seasons Hospitality apprenticeship programme continues to thrive, year on year, is testament to the breadth of talent, commitment and enthusiasm of the Maldivian youth, many of whom are intent on making an early mark on the hospitality industry", he said "They are a credit to their country and it remains a huge privilege to be able to champion them and set them on their way to what we hope, for most, will be a successful lifelong career."
The ceremony was a joyous and happy event where students received their graduating certificates on stage from the Minister Mohamed Saeed, and the Regional Vice President of Four Seasons Resorts Maldives. Many of the graduates will go on to hold full- time positions in the Four Seasons, with their website stating that an average of 75% of the graduates stays with the company.