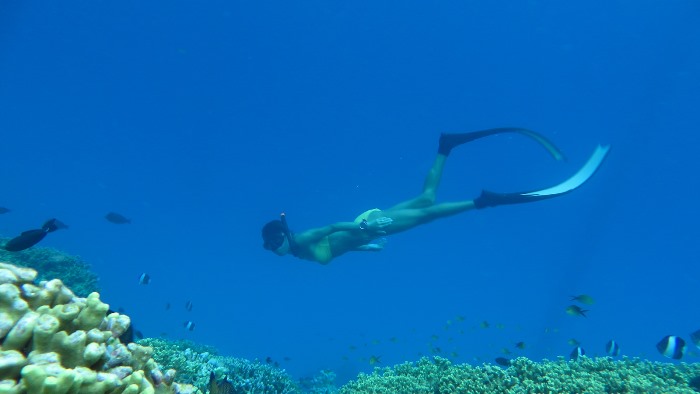 New Freediving Courses at Hideaway Beach Resort & Spa at Dhonakulhi
Experience the freedom of diving into the ocean and descending on one single breath, carrying no breathing equipment you will be at one with the ocean and experience the underwater realm just like the dolphins do.
See the excellent dive sites around Dhonakuli Island from a different perspective with the new Free-diving programme at Hideaway Beach Resort & Spa.
Free-diving, also called Apnea Diving, is about challenging yourself, confronting preconceived ideas about your own limits, streamlining your body, improving air consumption and equalization. It promotes both health and fitness by relaxing and detoxing the mind and body and by combining the benefits of Yoga and swimming. The sport is very eco-friendly – there are no bubbles, tanks or dangling equipment to damage the environment.
The two free-diving instructors at Hideaway Beach Resort & Spa on Dhonakulhi will introduce you to specific breathing techniques, and, through the courses and workshops, will enable you to dive confidently in open water.
The courses are tailored to the participants' knowledge and experience in diving and free-diving. From total beginner to advanced courses and even special snorkeling training for kids: At the Hideaway Beach everyone can learn to free-dive.