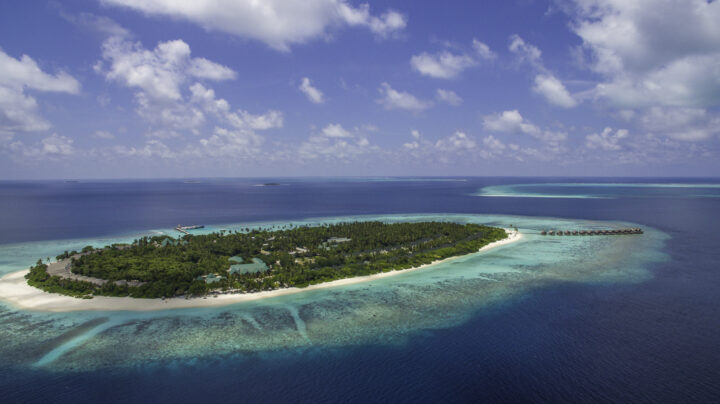 Furaveri – A portrait of a resort as a youngster
We're at Furaveri's capacious reception after brief introductions to the General Manager Nicholas Mason and Marketing Executive Yvonne Gehrmann, who welcomed us at the jetty. The building is somewhat austere; its interior harks back to the Maldivian past. Chandeliers with glass lamps, the sort you might still find on some islands, hang above us. We're led to an air-conditioned room within where refreshing sorbets are offered and we're swiftly checked in. Though a new resort, protocols seem well-established and this is important, especially for a young property trying to make an impression.
Soon we're back in a buggy, going through the winding, sandy paths of the island, fringed by palms and shrubs. There are beautiful orchids in coconut husks strapped to the palm trees. When I enquire about them I'm told that the head gardener is very passionate about orchids. Parts of the landscape boast juvenile plants as the resort is new, but it's not hard to imagine what it will look like in a year or so when the saplings have matured and the niches are green with grass.
Black tiled steps lead to my garden villa, whose door stands behind twin white columns; it's a villa in the proper sense, with a gabled roof and floor length windows. The interior is spacious with white walls and matte wood floors. A large settee with plush cushions sits in a corner and a luxurious bed graces the centre of the room. Just behind the bed is a decent workspace. There are power outlets right where you need them, easily accessible, and a converter is provided. This seems well thought out.
The bathroom's a room to itself, replete with a luxurious Jacuzzi bathtub and an outdoor area with a baby banana tree and a rain-shower.
Outside, there's a sizeable wooden deck with deckchairs and a little seating area underneath a canopy, a perfect place to relax with an evening drink. The garden is beginning to bloom with young plants starting to sprout. Flowers run along the edge of the deck. At this hour it's quiet and I'm walled off from the neighbours; there are no issues of privacy.
Yvonne comes to pick me up for lunch and we head to the main restaurant where a buffet is prepared. The restaurant too displays touches of Maldivian antiquity through its use of wood, especially the latticework. It's all part of the Maldivian experience that the resort promises to offer.
Lunch is a lush, multi-cuisine affair. I mix and match, with Indian Mattar paneer, Asian style seafood rice noodles, a Continental chicken salad, and a mini-steak. The paneer is well marinated in spices, and its accompaniment of peas is pleasantly mushy. The noodles are perfectly cooked and generous with seafood. The real winner though is the steak, tender and juicy, a true joy to the taste buds. Furaveri's Food & Beverage Manager Mohamed Riyaz tells me that the meat is imported from Australia. The steak is Angus beef, he says. That explains matters.
I spend the afternoon watching the news on the widescreen TV in my room. Later, I check my email and surf the web on the complimentary high-speed Wi-Fi. You don't need a password to access the internet in your room, it's very convenient and the reception extends all around, so you can lounge on the deck and listen to playlists.
That night Yvonne, myself and my friend enjoy a barbecue on the beach. There are lamb and fish skewers, rice and pasta, vegetables and fruits, and a range of desserts. F&B Manager Riyaz drops by and I ask him about the resort's approach to food. Given the resort's mix of clientele, he explains, there are a variety of palates to please, hence the eclecticism of its food. When asked about the fresh produce he says he sources them locally whenever possible to ensure freshness and to empower the local community. He mentions a project they're undertaking on the island, the Chef's Garden, where the kitchen can soon source fresh herbs and vegetables.
The next day we visit the Garden and have a chat with Tahir, the head gardener, who's been involved in gardening and landscaping for the past sixteen years. Tahir plans on growing a lot, from jackfruit to peas to pumpkins. Some of his labour has already borne fruit: he shows me small pumpkins in a patch. He's also growing Angsana trees (Pterocarpus indicus) for shade. I ask him about the orchids. He's very proud of them; they adorn over a hundred coconut palms on the island. Why orchids, though? They're elegant symbols of refinement, he says, and they stay in bloom for a long time.
Towards the end of our trip, I take a quick tour of the Spa, a lavishly landscaped area with striking water features, perhaps Tahir's greatest triumph. The Spa Manager Beau tells me they offer Asian treatments, which include Ayurvedic massages. Half the rooms are open air, set amid rich tropical flora. Beau also reveals that she's launching a new Spa menu very soon.
Our time here is almost at an end, but before I leave I try out the Jacuzzi bath. There in the tub, with its nozzles working their magic, it's an ersatz spa experience. As I luxuriate in the bath, I spot a patch of vivid sky across which, in a state of absolute languor, a spotless cloud makes its way. It's the perfect metaphor, I think.