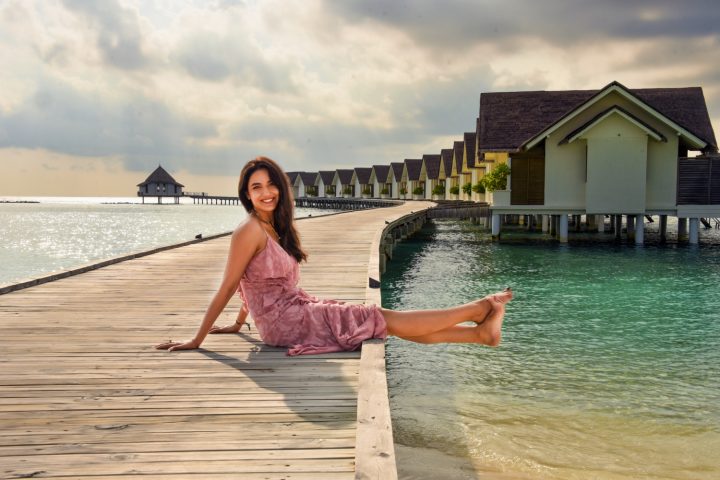 Furaveri Maldives: Favourite among Indian celebrities
Located in the picturesque Raa Atoll near "Hanifaru Bay" a UNESCO Biosphere reserve, Furaveri Maldives is a 23-hectare natural island adorned with lush vegetation and surrounded by pristine beaches. With 169 villas ranging from Garden Villas to Two Bedroom Luxury Residences, many of which include private pools, the resort offers a perfect blend of luxury and tranquility. Embodying the essence of traditional Maldivian hospitality, Furaveri allows guests to discover the unspoiled beauty of the Maldives, from its captivating flora and fauna to its vibrant marine life. A stay at Furaveri promises a holistic living experience, enabling guests to unlock their highest potential of wellbeing.
Adding to the star-studded list of guests, Furaveri Maldives has hosted a constellation of Indian celebrities, including the sensational Bollywood actresses, Sunny Leone, Krystle Dsouza, and Jasmin Bhasin who revelled in the resort's exceptional hospitality amidst the breathtaking surroundings. Along with them was Indian YouTuber and actor, Siddharth Nigam. They all revelled in the resort's exceptional hospitality amidst the breathtaking surroundings. Each of these influencers enjoyed tailored experiences, ranging from exhilarating diving expeditions to explore the underwater treasures, tranquil sunset fishing escapades, thrilling water sports adventures, and rejuvenating wellness village experiences. Together, they embraced the epitome of luxury and comfort during their remarkable stay at Furaveri Maldives.
Guests at Furaveri Maldives can embark on an extraordinary culinary journey, indulging in a selection of three remarkable restaurants. Among these dining options, Jaafaiy Restaurant takes centre stage as the resort's main buffet venue, offering a tantalising array of delectable dishes every night. While boasting an impressive variety of culinary themes, including dedicated Indian cuisine nights, Jaafaiy ensures that regardless of the theme, special Indian dishes are always available. Recognising the significance of the Indian market for Furaveri, Jaafaiy Restaurant goes above and beyond to cater to the diverse preferences of its guests. Additionally, upon request, the restaurant is fully prepared to accommodate special dietary needs such as vegan and gluten-free Indian meals, ensuring that every guest's culinary experience is tailored to perfection.
Meanwhile, for those seeking a fusion of tastes, the Raiyvilla Asian Fusion Specialty Restaurant promises an exquisite dining adventure. Furthermore, Amigos at Farumathi serves mouthwatering Mexican delicacies, appealing to a wide range of palates and ensuring a truly memorable culinary journey for all guests. To enhance the experience for Indian travellers,
Furaveri Maldives has prepared a series of exclusive entertainment activities for the festivities, including special offers for an exciting celebration for Diwali. This November, guests will have the opportunity to revel in the Festival of Lights in the breathtaking Maldivian setting, with the added excitement of a surprise visit from an A-list celebrity. This highly anticipated event promises to be a highlight of the year for Indian travellers, offering a once-in-a-lifetime experience to commemorate these joyous occasions in true splendour and luxury at Furaveri Maldives.