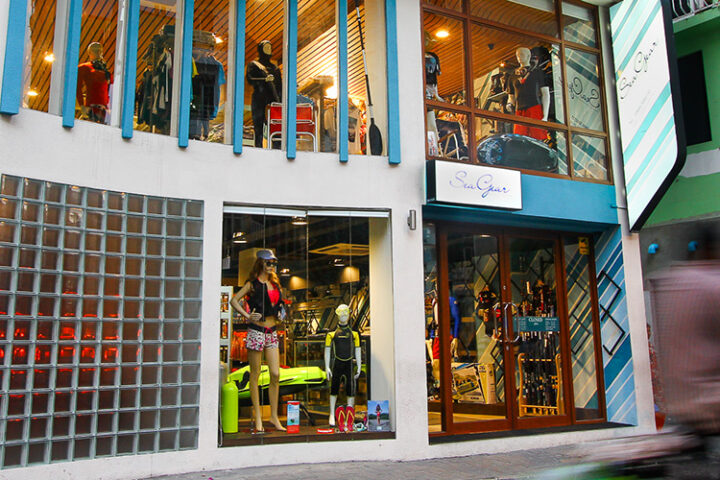 Gearing up for the sea with Sea Gear
Located in Male', Sea Gear is a retail outlet, selling everything related to the sea. Products range from fishing and marine equipment to underwater cameras and branded beachwear. As a sister company of Silver Sands, Sea Gear opened its doors nearly two years ago.
Silver Sands is a dive and water sports operator catering to upmarket resorts throughout the country. The company has been in the business for more than a decade and has gained a reputation for being one of the best service providers in the Maldives.Beginning of Sea Gear
General manager of Sea Gear, Hussen Abdulla, has been at the helm of steering the outlet shop since its opening. Hussen Abdulla is a man of knowledge and experience when it comes to marine equipment and water sports. Hussen is a man of the sea –he has actively worked for over two decades at sea, and knows his way around different types of boats and how resort operations function. He started out as one of the first dive instructors in the Maldives and his passion for the sea never subsided. Even after retiring as an active PADI Staff Instructor in 2008, he worked in a dive-related management position until joining Silver Sands in 2012.
"Sea Gear initially started off as the place to stock all the extras and spare parts for all the dive and water sport centres, safaris and dhonis for Silver Sands' operations," he says of the retail outlet's beginnings.
"We thought that, instead of letting all our spare parts sit in carefully packed packages and leave them unused, we would provide them to those who needed them, and keep bringing more, if required," he adds, "and that marks the beginning and opening of Sea Gear."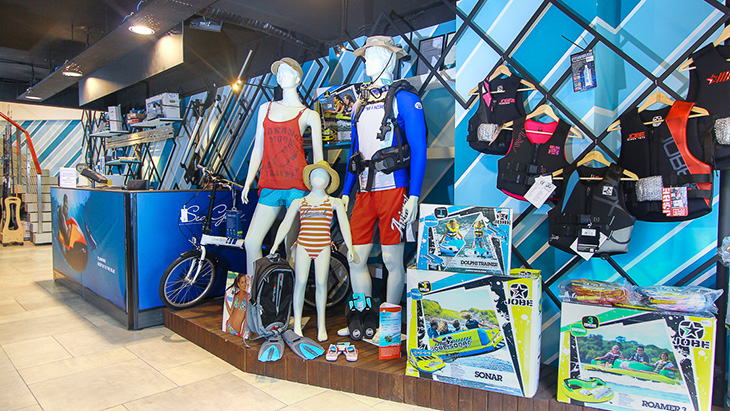 Catering to the Hospitality Industry
"We provide the entire range of products and expertise for anyone dealing with the sea. We want to supply high-end products for a very good price. We cater to resort, liveaboard or water sport centre operations as well as the sea-loving consumer who can buy a go-pro camera, kids swimming accessories or fashionable beach wear at our shop. Sea Gear is a place where people can buy good quality, branded products for work or leisure all at the same place," Hussen says of the services and products Sea Gear offers. "Anything related to the ocean, boats and water sports will be provided by us."
In addition to this Sea Gear is constantly expanding its product line to cater to more sectors of the hospitality industry, ranging from boutiques, water sports schools, launch sections, maintenance areas, engineering departments, to dive centres.
Challenges
Speaking about the challenges the company faces when dealing with clients, Hussen says, "We have a challenge to make the customers aware of the quality and benefits of new products, let's say, for example, the floating rope." The floating rope is a much stronger, stealthier rope used on boats, safaris and dinghies. "The different sizes of this particular rope allow it to be used on different sized boats, and the fact of the matter is, these last longer and its price is very reasonable. There is a big demand for good products and customers have been very impressed with the difference to ropes available elsewhere in Male'. Therefore Sea Gear sells the strong and long-lasting Robline rope made in Austria because the rope people buy from us can and will withstand the wind and rain of any season. The quality of these ropes is such that they don't break easily with the strong waves, or wither away in the hot sun and salt water mix."
The company has already started awareness projects, educating boat builders, boat crews and resort maintenance teams, teaching them how to get the most out of the products. Sea Gear aims to maximise its products' results and therefore invests in training the clients for the best application. The team of experts at Sea Gear takes time to educate their clients about the advantages of using these products by providing them with additional information. "Our sales team is always ready to explain any product, be it an engine, a fishing line, a snorkel or a camera accessory – we have a very enthusiastic and strong team here at Sea Gear," Hussen explains.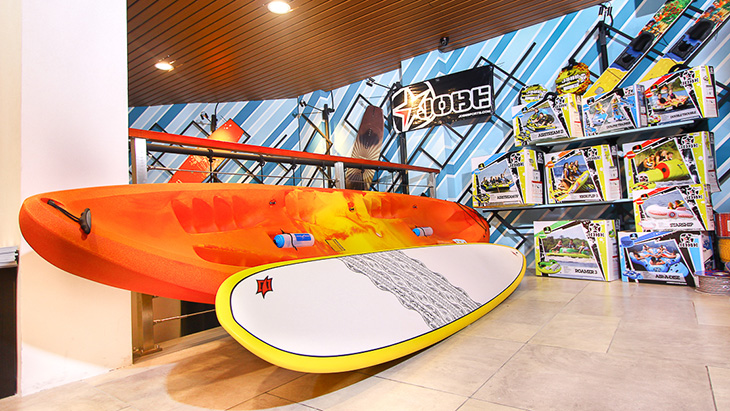 Sea Gear wants to help people adapt to modern technology by finding the perfect product and showing them how to use it. For example, teaching crew members how to "reel in the anchor, instead of doing it manually, with rows and rows of people in line pulling the anchor in, we want to be able to help people understand that there are easier, faster ways of doing these things and they don't necessarily cost much," Hussen adds. Other items like antifouling especially made for the tropical waters of the Maldives or transparent kayaks have already been successfully introduced and are among Sea Gear's top sellers.
Products and Brands
Sea Gear exclusively distributes high-quality brands like Robline marine ropes, Seajet antifouling, Yachticon and Navyline boat maintenance products, and Separ Filter as well as providing smaller accessories and spare parts for boats.
The company sells and distributes famous brands such as Jobe Towables, Animal UK rash guards, Havaianas flip flops and Banana Moon swim and beachwear. Sea Gear also sells and promotes famous brands such as GoPro, GOPOLE, Liquid Image, and SeaLife.
Philosphy and future of the company
According to Hussen the future plans of the company are to simply to be the most trusted supplier of ocean-related products. "We want to be the best in terms of the service we provide and be recognized for the reasonably-priced quality products we offer to our customer base," Hussen explains. With the company's already well-established customer base and their growing presence in the marine supply sector, Sea Gear seems to be steering steadily towards achieving its goals.
Visit the Sea Gear website at www.seagear.com.mv