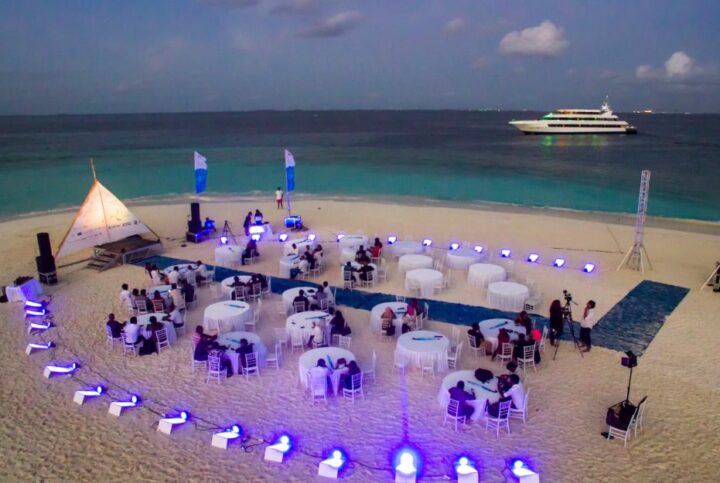 Maldives Marine Expo 2017 to be held in September
The fourth edition of Maldives Marine Expo is set to be held in September. The three-day event, held under the banner "Mapping a Sustainable Future", will take place from September 9 to 11 in Dharubaaruge, Malé. The official exhibition of the Liveaboard Association of Maldives (LAM) is organised by BLAK Pvt Ltd – a multidisciplinary creative agency.
A special function was held in Kohdhipparu Finolhu to announce the partners and sponsors of the event. Premium partners of the events remain unchanged with Dhiraagu as the Telecom Partner, M7 Print as the Printing Partner, Event Maldives as the Light and Sound Partner and Maldives Marketing and PR Corporation (MMPRC) as the Official Promoting Partner."During the past few years, we have noticed an increase in the number of international partners expressing interest and participating in the event," notes Ismail Hameed, President of Liveaboard Association of Maldives.
"It is our hope to present the best platform for local businesses to benefit from the networking opportunities provided through the event."The Main Sponsors of the event this year are Gulf Craft Maldives and Suzuki marine engines by Maldives Transport and Contracting Company (MTCC). Allied Insurance Company and Fuel Supplies Maldives (FSM) are co-sponsors of the event, while Maldives Association of Tourism Industry (MATI) and Maldives Association of Travel Agents & Tour Operators (MATATO) are Endorsement Partners of the event this year.
Exclusive partners of Maldives Marine Expo 2017 are Mihaaru (Media Partner), Symphony (Catering Partner), CTL Strategies (Tax Advisor), Rauch (Beverage Partner), Eliyz (Video and Photography Partner), ASAP (Security Partner), Pixel Solutions (Visuals Partner), Efficacy Legal (Legal Counsel), Ritrella (Boating Partner) and Floating Asia (Magazine Partner).
Liveaboard Association of Maldives also announced new partners of the event this year; Meraki Coffee Roasters as the Speciality Coffee Partner, Design Gallery Holding as the Architecture Partner, Maldives TV as the Exclusive TV Channel, Rhombus as the Lifestyle Partner, Seven Ocean Transport as the Logistics Partner, Assurex by iTech as the Technology Partner, Parley Maldives as the Conscious Partner and Dive 48 as the Supporting Partner."After three successful events, we at Blak are confident that Maldives Marine Expo 2017 would also be a great success," says Ismail Husham, Managing Director of Blak Pvt Ltd.
Maldives Marine Expo has been offering a platform for local and international stakeholders to explore profitable ventures, find top standard products and services, and to attract foreign companies to invest and contribute to the development of the Maldives' marine industry. The expo held in Hulhumalé last year saw 41 exhibitors, 11 seminars, 15 boat displays and the launch of 10 new products.
The annual event – first held in 2014 – features a number of interactive and exciting marine-related activities such as free water sports activities, scuba diving, sunset safari cruises, seminars and workshops on marine life and environmental issues, and safety drills and training programmes for marine vocations. For more information about the event, please visit marineexpo.mv.