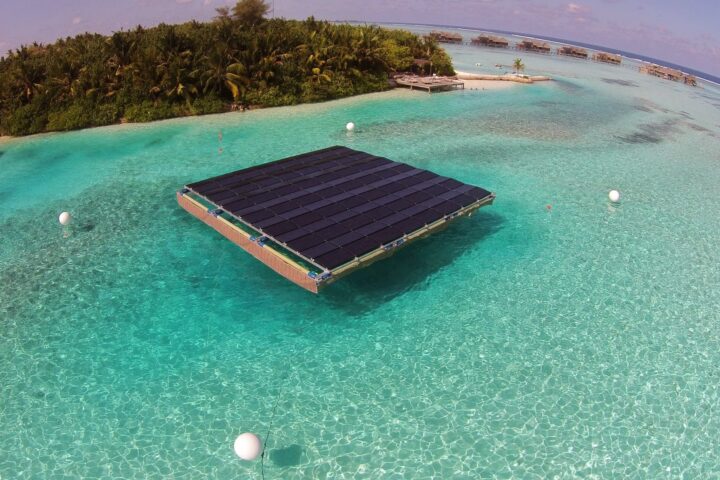 Gili Lankanfushi partners with Swimsol to unveil country's largest floating solar panel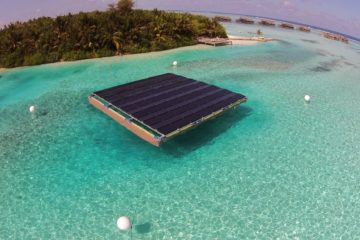 Gili Lankanfushi yesterday announced its partnership with Swimsol, an Austrian company that specialises in groundbreaking floating solar power solutions, by unveiling a 15 x 15 metre floating solar power platform in their lagoon. Swimsol is dedicated to bringing green power to the parts of the world, such as the Maldives, where land space is limited. The platform is Swimsol's largest manufactured to date.
The platform itself is an engineering marvel; an innovative floating structure that is designed to survive waves and water turbulence. It consists of glass fibre tubes, aluminum frames and 112 solar panels. Weighing over 5 tonnes, it took nearly one third of Gili Lankanfushi's hosts to push it into the water. It also took more than two weeks of preparation before the Swimsol team could plug the platform into Gili Lankanfushi's power grid.
"This is the largest floating solar panel structure to be plugged in in the Maldives, and we are incredibly proud here at Gili Lankanfushi to participate in finding ways forward into a more sustainable future," said Deborah Burns, Marine Biologist & Environmental Officer.
Swimsol's platform has a nominal capacity of 28 KW and on sunny days it will produce up to 200 kWh, which is enough to power all the resort's pathway and jetty lights, as well as the Main Office Building lighting for 12 hours. The platform will reduce the resort's carbon footprint by 35 tonnes of CO2 per year, which is equivalent to the emissions of 30 return flights from Europe to Maldives per person.
Gili Lankanfushi has a reputation for seeking out environmentally friendly strategies to reduce the resort's impact on the environment. For example, the resort has a desalination plant on site where it produces all in-house drinking water, which it serves in reusable glass bottles. In addition, soft drinks are only purchased in either cans or glass bottles, to ensure ease of recycling. This new initiative adds weight to the resort's eco-friendly standing.
Gili Lankanfushi is set on the private island of Lankanfushi in the North Male' Atoll and is just a 20-minute speedboat ride from Male' International Airport. It garnered fame this year by winning the TripAdvisor accolade of No. 1 Hotel in the world during the website's Travellers' Choice Awards.