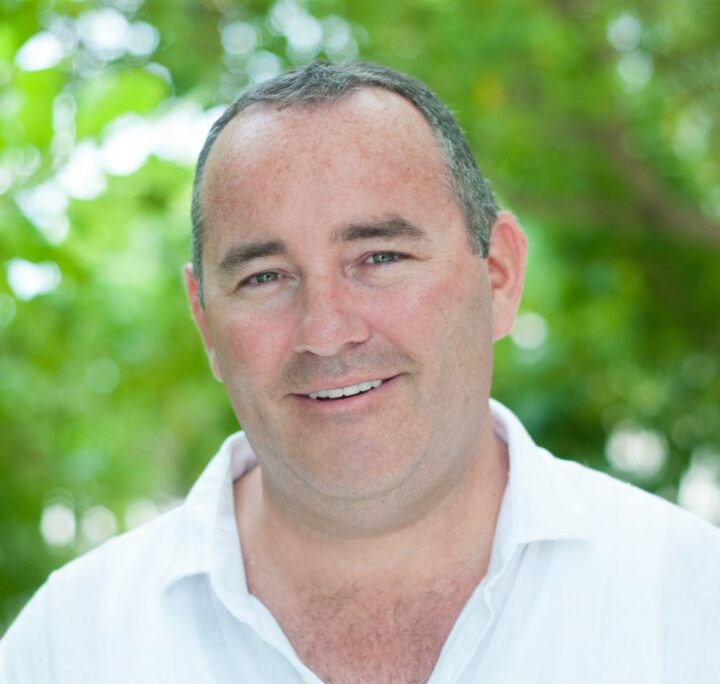 Glenn Daniels, General Manager, Dhigali Maldives
Dhigali Maldives' general manager, it's very own veteran expert Glenn Daniels is well-versed in the developments of the hoteling industry. Speaking with Hotelier Maldives, Glenn skilfully navigates through the origins of Dhigali Maldives, the innumerable plans made and transformed, and how the resort is forerunning the market with their up-to-date tech-savvy designs.
Hotelier Maldives: How did you come into the hospitality industry?
Glenn Daniels: My humble beginnings were in the late 80s, and now I'm almost coming up to 30 years in this industry. I think my passion started with a scholarship I did in the United States when I was 16. I'm native to New Zealand and it has always been a large tourism-based country as well. I spent a year in the States studying tourism. I was 17 when I got my first job as an outside porter, I picked up all the slop bins, I chopped firewood, and I lifted bags.
Over the years I have worked through most of the hotel departments with the exception of the kitchen (I am a terrible cook except on a BBQ). My first general manager's position was back in 2000 in a small boutique corporate hotel in New Zealand. I spent sixteen years in the hotel industry based in my home country, and now I have been away from it for about 13 years.
I spent a lot of time in Australia, working in a lot of isolated areas and I ran a couple of properties based on the Great Barrier Reef. I also spent two and a half years in Fiji running resorts. I now specialise in island resorts as I seem to enjoy the remoteness of islands and the challenges that come with it. I have been in the Maldives for about seven years and this is the second time I have come back to work for the Universal Group which I enjoy immensely. In-between the years, I was involved with the upgrade of LUX* South Ari Atoll.
My first resort in the Maldives was Velassaru for about four years and then went to LUX* South Ari Atoll. Now I'm coming up 12 months here at Dhigali Maldives. It's funny because I looked at the plans for Dhigali Maldives back in 2012 with the owners, never thinking that I would be back here looking after it.
HM: How did those plans you initially saw worked out for Dhigali Maldives?
GD: There have been some changes, as inevitably there would be but the original concept is very much there which is still focused on providing that unique experience—we wanted to make sure that our guests had a feeling of ease as they came onto the resort and experience a contemporary looking resort encased in the rawness of the natural island jungle. We are the largest hotel in Raa Atoll with over 180 rooms and we have a very strong focus on providing a product and service that provides good value for money by keeping it simple and effortless.
HM: You have been a part of Dhigali Maldives ever since its inception. How does the design of the hotel stand out?
GD: The flat roofs, for one thing. People always question the flat roofs in a tropical location, but it's a fairly contemporary design that is just perfect for the immersion of jungle life where it pops out brighter against the deep greenery. It is also a good solution for heat in the tropical climate as white reflects heat, keeping the insides cool and airy.
I think part of our contemporary designs that reflect our worth is the Dhigali Maldives app. It is an app you can download from the Apple Store or Google Play Store that welcomes you to Dhigali. We are being more energy conservative and environmentally friendly by helping reduce the need to communicate only on paper thus reducing the need to use reams of it. It is our way of helping stop the deforestation for paper-making, by integrating modern technology. The Dhigali app has everything on it and it's updated on a regular basis and works in real time.
We have also introduced a shuttle tracker. Here on the island, we have shuttle buggies which ferry guests around the island. With the tracker they know where the shuttles are as it is tracked live, they can tell when the shuttles are coming up past their rooms, and they can easily catch it.
Now we are working on improving our interaction—we are currently working on 2.0 to include the ability to book restaurants directly, receive "What's Happening" notifications etc.
On the flip side, we also recognise the importance of deprogramming especially for the children so in our kids' club where we have none of the usual technology and instead, have gone back to the basics by making their stay educational, interactive and social.
HM: Dhigali is already an environmental champion when it comes to your fight against deforestation. What other sustainability practices do you practice?
GD: We have substituted plastic straws to paper ones, and we are in the process of setting up our own bottling plant which will see 90% of the plastic bottles removed from our daily life. We mulch most of the green and wet waste so that the gardens have the nutrients put back into the growth cycle. In terms of our jungle which we were able to retain 80% during the build – we leave it alone as it has been since the first grain of sand washed up. By doing this we don't have to waste water by watering these areas because it is self-sustainable. We are also converting our grey water to be safe for watering plants. We are also composting and growing a lot of our own herbs now.
We are also conducting various CSR projects by bringing local students to the resort to do vocational training because we want to introduce to the youth the option of working in this fantastic industry. The Universal Foundation is also part of our CSR programme, which seeks to train youth in the field.
HM: You have worked in a few exotic places prior to your post here at Dhigali. How would you compare your time in those hotels, especially Fiji to the Maldives?
GD: Fiji is an amazing place and I love the people. They are some of the friendliest people in the world and by nature have a very relaxed lifestyle however the expectations there are very different to the Maldives and the service delivery there is far more relaxed than what is required in the Maldives.
Here there's a strong basis where tourism is a big part of the culture. The training and the understanding is much greater and on top of that, we have also got a diverse group of people working in the industry from other countries. You didn't get that in Fiji because the people working there were predominantly locals.
HM: Finally, we're very excited about the upcoming fourth edition of the Hotelier Maldives GM Forum. Safety and security are one of the main themes for the forum. What are the safety and security measures employed here at Dhigali Maldives?
GD: Every safety and security issue that we hear about within the industry, we take it to the management and look at what happened, and see if the same situation can happen here. We have about 50 CCTV cameras around the property that are monitored 24/7. We train the staff by running drills to try to prevent any situations from arising, to ensure that our teams are ready to attend to any situation.