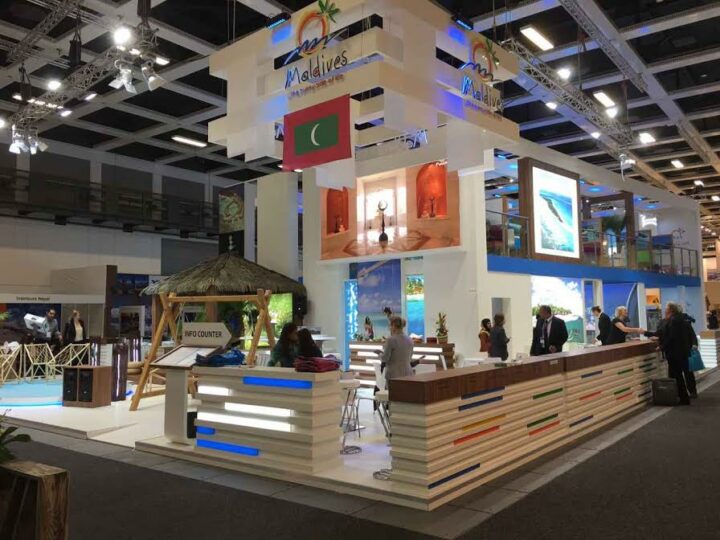 A glimpse of the Maldives on show at ITB Berlin
The Maldives is giving visitors a glimpse of the experience on offer in the island paradise at the world's leading travel and trade show, ITB Berlin in Germany. The Maldives experience would be on show at ITB Berlin from February 8 to 12, in a two-storey stand featuring the natural beauty and wonders of the destination.
The Maldives stand – set on 405 square meters – is designed to display various aspects of the destination through colorful images, and infused with a contemporary setting, and traditional elements such as handicraft items, a swing and Maldivian "joali" seats, to bring a local touch. The Maldives is represented at ITB Berlin this year by 280 delegates from 88 companies, and is headed by Tourism Minister Moosa Zameer, Maldives Marketing and Public Relations Corporation (MMPRC) said.
Highlights of activities this year include, experiencing the Maldives through virtual reality, cultural dances, local music performances, spa experiences, witnessing craftsmen at work carving lacquer handicraft items, tasting Maldivian short eats and witnessing a live cooking station demonstrating the art of making the tradition "roshi" flat bread and mas-huni (tuna salad).
The stand also provides visitors with the opportunity to have their name printed in Dhivehi language, and posting pictures on social media for a chance to win a holiday in the Sunny Side of Life, MMPRC said. It also said that a press conference focusing on developments in the Maldives for the media would also be held, alongside a "Maldivian Night" gala event.
ITB is the World's leading travel trade show with the participation from 187 Countries across 5 Continents. These comprise 10,000 Exhibitors, 1000 Qualified Top Buyers, 26,000 Convention Visitors, 60,000 Private Visitors and 120,000 Trade Visitors within the 160,000 Square meters of the show at Messe Berlin Exhibition grounds. There was a turnover of 7 billion Euros in business dealings last year through ITB, according to the fair organisers.
Germany is currently the second largest market to the Maldives. A total of 106,132 German tourists visited the Maldives in 2016, which is an increment of 1.2% compared to the previous year.