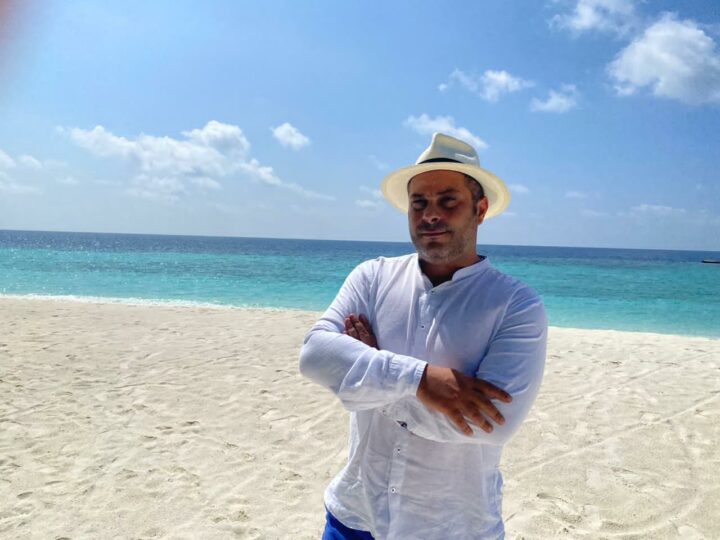 GM's View: Andrea Saderi of Baglioni Maldives
Baglioni Maldives is now open; welcoming the first visitors to the island on the same week it won a prestigious international award. The resort has won the 2020 World Luxury Hotel Award for 'the best luxury ocean view in the Maldives' and 'top beauty product' for its superb spa.
From the moment the seaplane touches down in the lagoon off the tear-shaped island of Maagau off Dhaalu Atoll, guests find themselves in five-star Italian luxury at Baglioni Hotels' tropical paradise resort.
Holiday-hungry travellers can rest in one of 96 graceful Italian-style properties, the jewel of which is the Presidential Villa perched elegantly above the azure lagoon, which opens for the first time this high season. Inside, guests will find furniture fresh from the Amalfi Coast. But what really set apart this Forbes-rated property apart is its prize-winning views. On the island, beautiful beach villas are found within lush tropical gardens just beyond the dazzling white sand.
At Baglioni Spa, choose heavenly treatments using award-winning INSÌUM vegan and cruelty-free beauty products, fusing Italian grace within a Maldivian tropical feel, either in open-air wooden pavilions or guests own rooms.
Being Italian, food is obviously top of the menu and a little slice of Italy can be savoured within this resort's five restaurants. Its flagship Gusto Restaurant allows honeymooners to dine under the stars as chefs rustle up food 'just like moma used to make it'.
All this splendor is overseen by Andrea Saderi, General Manager of Baglioni Resort Maldives.
Saderi who hails from Sardinia was chosen to launch the Maldives property last August, after a long career in hospitality and four years with the group. And what a year it has been. Following a brief closure due to the travel disruptions caused by the Covid-19 pandemic, this stunning resort is now open to visitors from around the globe. Here Saderi speaks exclusively to Hotelier Maldives about his role and its challenges.
"Here in the Maldives Baglioni is a happy island surrounded by an ocean of confusion and dread"
HM: Tell us about Baglioni Maldives?
AS: It is the ninth resort of a luxury Italian chain, Baglioni, part of the Leading Hotels of the World. Now, Baglioni has five hotels in Italy, two in France and one in the UK. However, this happens to be their first resort outside of Europe. This project was born almost four years ago, and when I had the possibility to join, I embraced the opportunity to work for a family-owned, luxury hotel chain. I was rewarded by being chosen to open a first Italian resort in the Maldives. I have not regretted this decision. We are honoured that our stunning Baglioni Maldives won the 2020 World Luxury Hotel Awards for luxury ocean view resort and best beauty product for our partner Insìum: My entire team and I are extremely happy and proud of this fantastic achievement.
HM: What sets Baglioni apart from other luxury resorts in the Maldives? 
AS: First, the natural beauty of this island. Nothing beats dense, lush greenery, soft white sand, vast turquoise lagoon, and its amazing reef. We try to preserve the beauty nature gave us and enhance it with tropical style elegant architecture. Above all else, we approach our guests with impeccable Italian service in this little corner of paradise. 
HM: What made you choose the hospitality industry?
AS: I started in hospitality when I was 18 years old to pay for my studies while studying for my masters in Arabic Language and a PhD in Ancient Christian History. I am from Sardinia, where tourism is an important part of the culture. My first job was in the pantry washing dishes. As the years progressed, I took on several other positions. At 22, I became the head of a department, at 27 Food and Beverage manager and 31, General Manager. What began as a part-time job to help me through University became a true passion and rewarding career.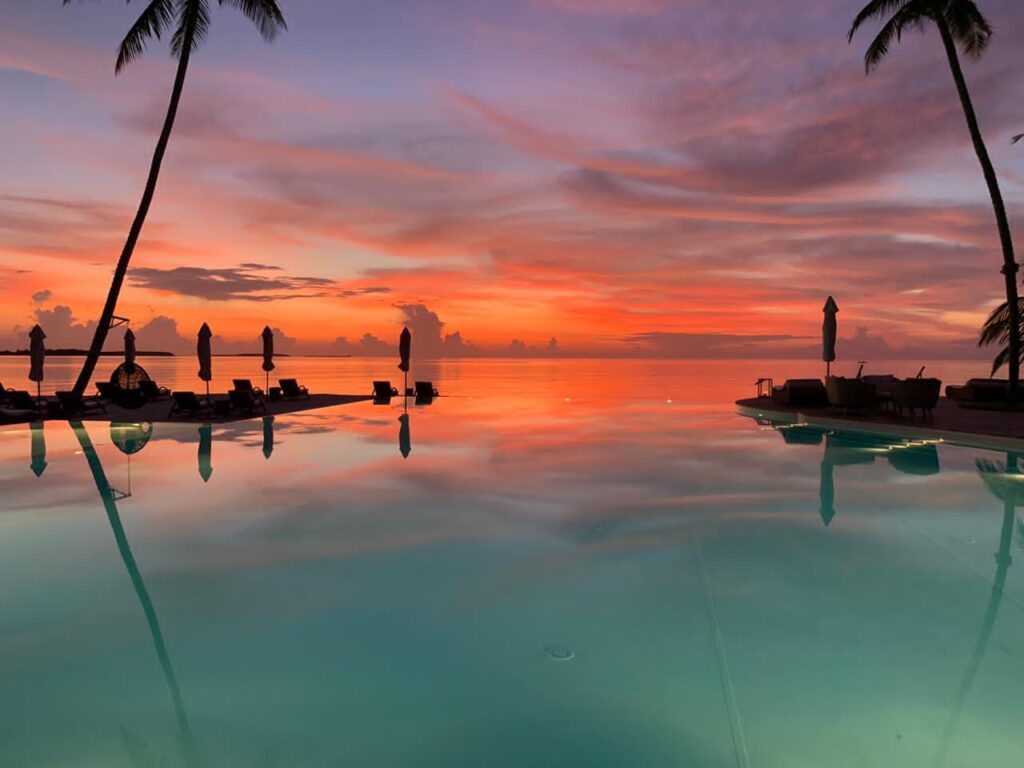 HM: How would you describe your management style? What is your philosophy? 
AS: Authentic. Sincere. Honest. What you see is what you get. I like to be transparent and do not tend to keep much distance between myself and my staff – regardless of their position. I encourage initiative and suggestions from everyone. However, at the end of the day, I take full responsibility for everything that happens on the island. Our staff know I am straightforward, their colleague, and a friend. That makes a good, solid foundation for the team.
HM: Where is your favourite place on the island and what activities do you like to do? 
AS: The pool bar during sunset is the best spot on the island. The view and atmosphere are unparalleled. The Japanese restaurant is a gorgeous spot for lunch. Overlooking the water with amazing views it also offers culinary delights showcasing local seafood ingredients such as the Maldives' world-famous tuna and local delicacies of reef fish. 
HM: What efforts has the resort undertaken to highlight environmental protection and sustainability?
AS: We are dedicated to maintaining a balance between Baglioni and the environment. We have always avoided the use of plastic, opting for glass instead. Many soft drinks in the minibar are imported from Italy, chosen specifically to avoid plastic bottles. We have adopted a waste management plan. We take everything to Thilafushi and do not throwing any waste into the sea. We clean the lagoon at least once a month.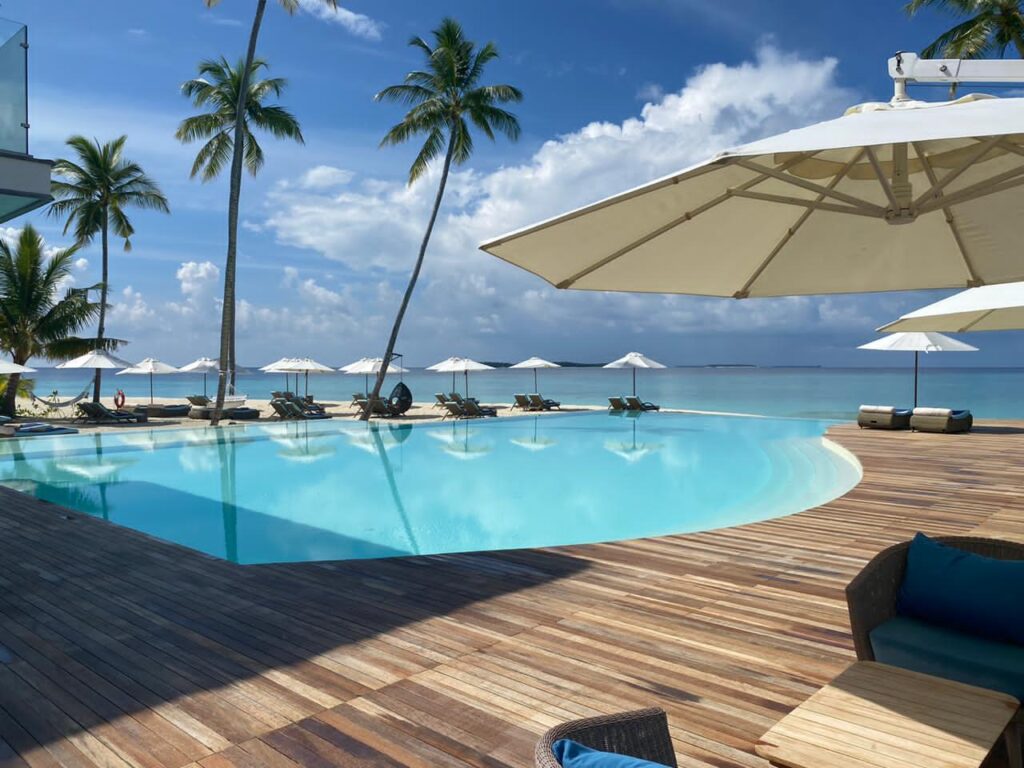 HM: Dining is an important part of Italian culture; describe the culinary experiences Baglioni offers?
AS: We do not have a standout signature dish; each meal is prepared to the finest quality. Our buffet offers a variety of culinary experiences. We have an Italian corner, with pasta or risotto freshly prepared to order. We offer an international buffet with grilled fish prepared with a nod to our tradition. The Gusto restaurant is Italian, with a focus on seafood dishes, but if a guest requests meat or chicken dishes, our chefs will oblige. Baglioni has a wine cellar, and I personally choose its contents. We have 300 labels, half imported from Italy, and our partner is Ferrari method de Classico – an Important force in the wine industry globally now. The pool bar features our pizzeria which offers simple traditional dishes such as pasta and salads as a lighter lunch option. We also have Italian pastries and exceptional tiramisu Our seven Italian chefs head the kitchen, generating a unique experience here in the Maldives. We pride ourselves on our truly authentic Italian pizza. Our Japanese restaurant serves the freshest sushi and sashimi, teppanyaki with wagyu beef and lobster.
HM: What does the word luxury mean to you?
AS: Luxury means attention to detail – realising our guest's individual needs and desires. 
HM: Who was behind the building and design of the resort?
AS: Our architect is a Maldivian Mr Thasim. Baglioni's CEO Guido Polito and his wife Mrs Politio were heavily involved in the interior design of the villas and all public areas. Mrs Politio selected our beautiful crockery and the highest quality linen. The project manager of the construction team and our Chief Engineer influenced construction-related works. Elizabeta Santagostino had a lot of input and I was involved in from the outset.
HM: As General Manager, what has been the biggest challenges you have faced? 
AS: Here in the Maldives my biggest challenge is staff turnover. Hiring and retaining the best employees is a challenge. With so many new openings in this country each year, despite the small population of Maldives, there is a lot of movement. However, if you invest in individual training staff remain loyal. Resort management must work towards retaining talent on the island for as long as possible, providing career progression. 
HM: During lockdown what has the resort been doing to improve operations? 
AS: We completed our pool water rooms and opened our presidential pool water villa, which was not open last high season. We worked on staff development and on how the concept of "new normal" would look, modifying our procedures to keep both staff and guests safe. Luckily, most of the staff decided to stay on Baglioni during the closure making everything easier, with only slight but significant changes to our routine. This does not impact on the service or the guest. I have adapted myself to a new routine. For instance, sales are different because we cannot travel anymore and engagement with guests is different. Safety comes first, and rightly so. The challenge has been to adapt to resisting the urge to handshake or talk with a guest without a mask.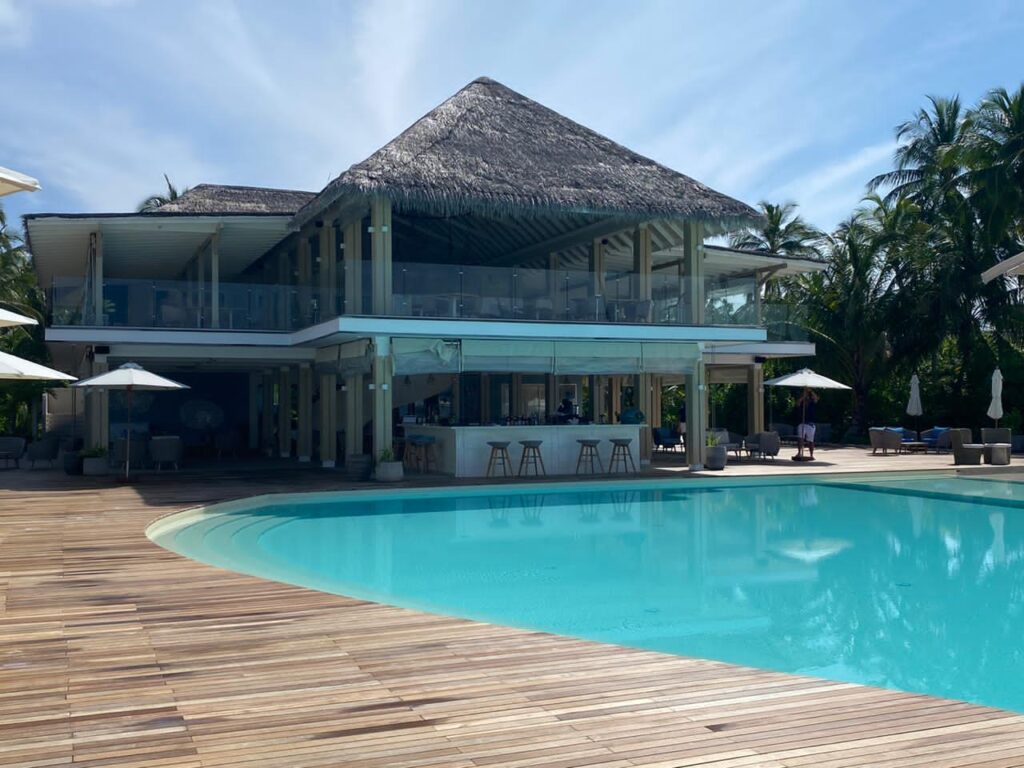 HM: What is the resort doing to assure travellers they will be safe journeying to and staying at the resort What have you done to improve the resort during Covid-19 lockdown?
AS: We did internal training on Covid-19 procedures and updated our operational training to keep standards high.  As the resort only opened last year, we decided against a revamp, but did essential maintenance to ensure we were ready to receive guests. The risk during the closing periods is to abandon areas of the resort when not in use, but we operated just as if we had guests in house.
HM: Is the Maldives vibe different from your other worldwide properties and how so?
AS: Here in the Maldives Baglioni is a happy island surrounded by an ocean of confusion and dread. Many countries here in Asia as well in Europe closed to foreign tourists but most beautiful thing is people happy to stay at work. We realise how lucky we are compared to other places. Since we reopened, I have seen this positive vibe reflected in the guests coming to the resort. As the Baglioni property is still open, the company and colleagues are putting all efforts into getting through this period offering our usual excellent service, despite the difficulties this tough time brings.
HM: Do you have any words of advice to inspire future hoteliers? 
AS: Be passionate. Expect to make sacrifices to succeed in the field. This industry is extremely competitive, and requires long working hours, often late at night. You need to be able to deal with complaints with enthusiasm a smile any time of day and night. 
HM: I can see you are deeply passionate about your work, but if not hospitality, what career path would you have chosen for yourself? 
AS: I come from a family of teachers so that is what I was supposed to do after university. However, I chose to stay in hospitality. I have not regretted that for one moment. 
Donna Richardson is a Contributing Editor at Hotelier Maldives. You can reach her on donna@perspective.mv