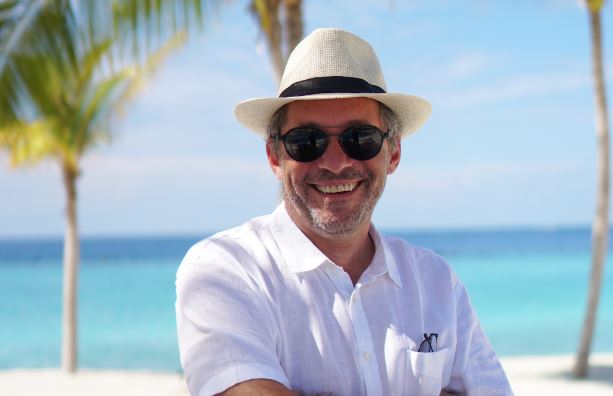 GM's View: Frederic Perrin, General Manager, Café Del Mar Maldives
With his remarkable contributions in the successful development, opening and management of five-star hotels, Frederic Perrin is an exceptional leader in the Hotel Industry; pulling-off effective business success strategies. Along with a rich background and intensive knowledge of the industry, Frederic has comprehensive experience in driving hotel administration projects.
Stretching his service closer to four decades, the General Manager at Café del Mar – Maldives, recaps his career in the Hotel Industry and shares his vision for the future.
Café del Mar brings its world-renowned international lifestyle brand to the shores of the Maldives for the first time, at Crossroads. Café del Mar is famous for its masterfully curated chillout ambience and world-class music compilations.
Hotelier Maldives (HM): We learnt that you began your career as an Apprentice Pastry Chef, would you share with us what influenced your interest in becoming a pastry chef?
Frederic Perrin (FP): Born and raised in such a sector of food and beverage. My parents hold a very successful catering business. So, it was clear to me that I will be following in the foot sept of my grandparents and parents. I will be the third generation. I took a diverse direction and decided to become a "Patissier."
HM: What do you believe inspired you to move forward in the career from a Pastry Chef to a Front Office Clerk, which is a more administrative role?
FP: In the 80's Pastry chef's, were not recognized as today. You will always have the Executive Chef above you. And for sure if you want to become an Executive Chef, it was impossible. Since then things have changed. Pastry Chef is as equal, if not even above the Executive Chef in some places. I had no other solution than to go back to school to get my Hotel Management degrees, and to start again from the bottom up. It was not easy to go back to school after so many years when you are used to waking up at 3:00 a.m. But today I don't regret it at all. To be a Pastry Chef you need to be precise, mathematical and follow the recipes, at the grams. Can't deviate. It is easier for a Pastry Chef to be an Executive Chef than the other way around. So, for me to move into an administrative role was quite easy.
HM: You have moved up your career ladder swift and steady. What do you consider as your biggest accomplishment from your experience in leading, training, and managing teams of over 250 employees?
FP: For sure I have reached from an Apprentice Pastry Chef to the position of GM. But when former employers come to me and thank me for being able to teach them and pass on my passion and knowledge, I'm the less I will be.
HM: As you have had the opportunity to work in various Premium Hotel Brands throughout the journey with multicultural experiences, how would you describe these experiences to have helped carve your career?
FP: From Europe to the US from the Middle East to Asia, each region has a different approached, in how to manage. You must take, pro and con of each area and make it the best out of it and implement in your actual location. Here in the Maldives, I do a lot of drawing for explaining the flow, or how to do a manning guide. You need to adapt to how you explain or transfer your knowledge to a different level and be sensitive to different cultures. Been flexible and adaptable is the most important thing to do. You learn a lot by been surrounded by colleagues. From different cultures, that will only make you grow stronger.
HM: Café del Mar is spreading its exclusive concept to Bali, Bangkok and Maldives. It makes us curious to find out how you would differentiate the Maldives from the rest of the exotic places?
FP: The sun always sets in style, in Café del Mar. In any Café del Mar of the world. The turquoise blue water and the sandy beach of the Maldives are the perfect places to have Café del Mar. By examples, Bali will be more of a Party place as the Maldives will have a softer vibe, as we all know that the Maldives is considered as honeymooners and family destination. Each location has its characteristics, but the foundation and the DNA are the same for each location.
HM: Your experience in pre-opening is affluent. What drives you to take lead in hotel pre-openings? What do you consider was the most successful pre-opening project by far in your career?
FP: When you do a pre-opening, you start from just a piece of paper with a concept, that you will drive for the next two to three years. …and one day you open and receive your first guest. The pressure is enormous from all the sides. The owner, contractors, operators, and from your own management team. But at the end, the rewards are amassing, and you could say "yes I selected that colour, or that pieces of chinaware" you were able to feel, touch and sense the property before it opened. You become a visionary. Each project is different with their pains and joys, but once you open, you forget all of them. And with a great smile, you could say we are open, and guests are welcome.
For one of my opening ceremony, we had to served 2000 high dignitaries connives, from kings to princes, to presidents and ambassadors all at the same time. It took us almost three months to prepare such an event. We requisition the entire hotel staff from HR, Finance, S&M. We trained them, give them server uniforms and white gloves. No one saw the difference. 500 staff working altogether. It was amazing to see that after so many late nights of rehearsals and tears, we pulled it out as a team.
HM: Four Seasons Hotels & Resorts have been a major contributor to your rewarding hospitality career. You worked for this luxury brand for over sixteen years in three continents, including Four Seasons Resort Maldives at Kuda Huraa. You also managed Viceroy Maldives prior to making a move out of the country. Having worked in the Maldivian Hospitality Industry for quite a while earlier, what progress can you spot in the industry between the period?
FP: I see that there are more and more Maldivians taking a senior role. Maldivians want to learn and grow as much as possible, which is very good. There is as well a large range of properties for all different markets and segments.
HM: The Hotel Industry is booming worldwide. The Maldives has also been touched by this flourishing wave with premium international brands coming in lately. As an industry specialist, what are your thoughts on this thrive? How do you envision the Maldives' hospitality field in the days to come?
FP: Competition is healthy. The fact that Luxury international brands are entering the market elevates the Maldives as a destination to the highest premium. Café Del Mar is excited to launch in this destination and bring our brand of music and entertainment to the Maldives.