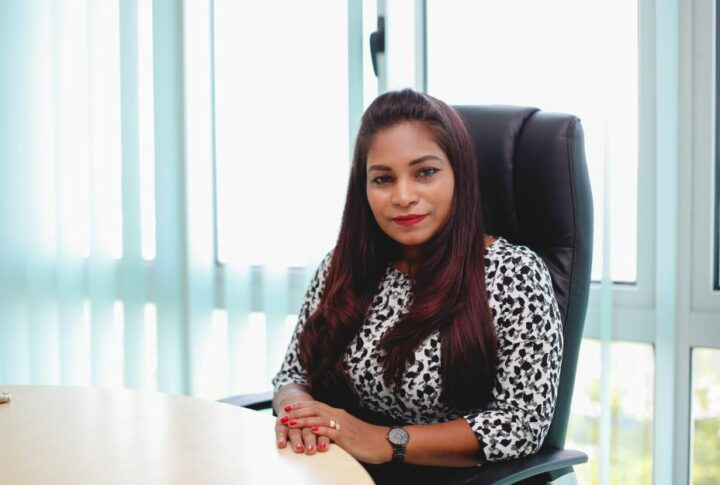 Exclusive: Ibthishama Ahmed Saeed, General Manager of Addu International Airport
How would you describe your role at Addu International Airport?
I joined Addu International Airport in May 2014, at a time when the company had undertaken an immense project for restoration and expansion of Gan International Airport runway. My priority was to ensure that we were able to put together the financing arrangement required for the smooth completion of this project. This included working on the feasibility reports and drafting the business plan of the company to the satisfaction of the stakeholders including the lenders.
Addu International Airport was previously a wholly state owned entity operating Gan International Airport.  With global trends in airport privatization, AIA has also undergone privatization with a private entity investing in 30% stake in the company. Thus, the challenge has been to look for ways to run the airport more efficiently with all stakeholders looking for income stability.  Being able to focus operating expenses and investments on the capability areas that matter most is critical to meeting these challenges. Airport operation is very complex, it is one that requires balancing stakeholder expectations, and meeting regulator imposed stipulations and providing the best of service to both passengers and airlines.
I must admit that three years ago I was a new entrant to the Aviation's Industry and I have to acknowledge and appreciate the support extended by my staff, all industry partners and stakeholders during my initiation to the field. At present, I can confidently state that with a confident team behind me we are proficient in handling everyday challenges faced by the company and we are ready to take the development of Gan International Airport and its businesses to the next phase.
Gan International Airport is a public/private partnership. It's the first international airport in the country to be structured this way. Can we talk about this, the benefits of having a private party on board?
Investment in existing airports and development of new airports becomes essential given the geographically dispersed nature of the Maldives. Historically, the regional airports in the Maldives along with the main international gateway were owned and operated by the government of the Maldives. However, recent years we have seen more trends towards private developments model. Gan International Airport although handed over to the Maldives Government by the British Government, was also privatized in November 2012 with the government of Maldives holding direct shares of 50% and state owned entities, the Maldives Airports Company Limited and State Trading Organization holding 10% shares each. What is interesting is that a private shareholder, KASA Holdings Pvt Ltd, invested 30% shares in the company, thus making it the first public private partnership endeavour in an airport of this kind. The concessions agreement for the development of the airport was signed with the government of Maldives and Addu International Airport Pvt Ltd on 12th December 2013.
This shows that the government is keen towards seeing private sector participation in key infrastructure development projects, institutional reforms and strategic planning. With a private partner on board, we have strengthened our governance, established an adequate supervision and structured our communication more transparently to the public.
As demand for the air travel has significantly increased over the past years with increased resort developments in the South, there is this pressure to meet capacity and operational requirements within the government budget constraints.  Having a private partner opened up airport development to access public financing and focus operations on commercial growth. The capital was mobilized for optimal commercial results and profitability.
The government's role in the company, however, has not been diminished, there is continuous work on creating enabling environments including legislative and regulatory frameworks. More innovative and operational efficiencies have been achieved to enhance overall service using existing resources. We are focused on skills development and innovatively creating non-aeronautical revenue streams for the company outside its core aeronautical revenues. The growth continues and our forecasts remain optimistic.
As of now, I think you have one scheduled international carrier, SriLankan. Are you expecting more in the near future?
Yes, we are continually negotiating with various airlines for possibilities of starting operations at GIA and some airlines have shown interest in starting operations. With the development of new resorts in the southern region and increase in the bed capacity, we remain positive of a new Gulf based carrier starting scheduled operations commencing the first quarter of 2018.
How many flights do you cater to during peak season? I understand GIA had a few chartered flights a couple of years ago, how many of those does GIA receive today? As a scheduled carrier we have had Sri Lankan operating 4 times a week since December 2016 and they have committed to increasing the frequency to 6 flights a week commencing September 2017.
In addition, we have a direct charter operating from Denmark during the winter season which has a frequency of 1 flight a week for the past 4 years. I can confidently say that we have in excess of 30 international flights on an average per month including private jets during the peak seasons.  Our domestic operations cater to 160 flights per month on an average.Also, with the Asian Academy of Aeronautics flying school having a base at Gan, our air traffic is quite a busy recording over 900 domestic flight movements on average per month.A key challenge for Addu Atoll's tourism was that it was not very accessible till fairly recently. Early on, there were not enough beds to make it feasible for flights, and as of 2015, you have just over 800 beds. Are flights hard to get because of this? Also, do you see more resort style development in the region fuelled by the airport?
Yes, indeed the limited availability of resort bed capacity makes it a challenge for airlines to start operations. They need assurance of business continuity and the demand for air travel to the south.
During the time we initiated development of the airport, we had roughly about 986 beds in Addu Atoll in terms of resort bed capacity. Considering Gaafu Alif and Gaafu Dhaalu I believe we had about 1,500 beds.
Over the past two years, we have seen two additional resorts opening in the south. Thus the bed capacity as it stands now is about 1,850 beds. In addition, over the past years, we have seen an increase in demand for budget options and guest house tourism is booming. The number of guest houses in Addu and Fuvahmulah is also on the rise. We see this as a positive trend that will encourage budget carriers to consider Gan.
One may ponder why I am considering developments in Gaafu Alif and Gaafu Dhaalu. There's a good reason behind this, as we now have a seaplane base established since November 2016, operated by the world's largest seaplane fleet operator TMA. GIA is thus the International hub to guests to the resorts in South. It's similar to operations you would see at Velana International Airport.
We have further seen Equator Village investing in rebranding to cater to the perceived increase in demand. We hear of planned redevelopment works in Canareef and the reopening of Dhoogas Guest House which would further add to the capacity.
Recently, the MITDC (Maldives Integrated Tourism Development Corporation) disclosed its intention to develop tourist guest houses, which was announced in the Addu Investment Forum held on the 22nd of April. Plans are underway to develop additional 3,000 beds. We see this as a huge encouragement especially for low-cost carriers to add GIA in their route planning.
What's planned for GIA in the coming years?I see the extension and refurbishment of the runway as only the beginning of the development of Gan International Airport. The second phase of development would target towards equipment upgrade. We have undertaken this phase concurrent with ongoing development. We also have plans to build a 300-bed four-star Resort style hotel in Gan.This project would include 60 beach villas, 30 water villas, and 2 guest room complexes with a total 60 rooms and a conferencing facility among other facilities.We are presently working on procuring finance and adding to the initial concept plans on this project and we are positive to have this hotel project completed within 18 months from the date of project initiation when our concept plans become final and we have the full finance for the project. The Government of the Maldives is very keen on proceeding with the development in the south and with the support we will make this project a successful venture.
The airport will focus on both aeronautical and non-aeronautical side of its business. Developing the duty-free and retail side of the business is also in our plans. We have had indications from interested parties to establish an international fast food franchise and negotiations are underway on this front to take it further. My vision is for the airport to achieve the status of an airport city with city hotels, attractive retail outlets contributing to the economic and social development of the south and the Maldives as a whole.
Travelling through GIA should be a journey that every passenger looks forward to. The vision of the airport is "to continue with the aspiration of expanding global connectivity, development of its businesses mainly focused on the Gan International Airport operations, its employee developments, safety of services, effectively promoting and serving the social and economic needs of the Southern region of the Maldives and contributing to overall economic development of the country as a whole" and our mission is to be "a world class international airport serving as the second international gateway to the Maldives,  creating prosperity for the region through a dedicated workforce, providing safe, efficient and effective service to aviation, local businesses, tourists, domestic and recreational travellers".
We continue to strive towards achieving our vision and mission for the company at all times.