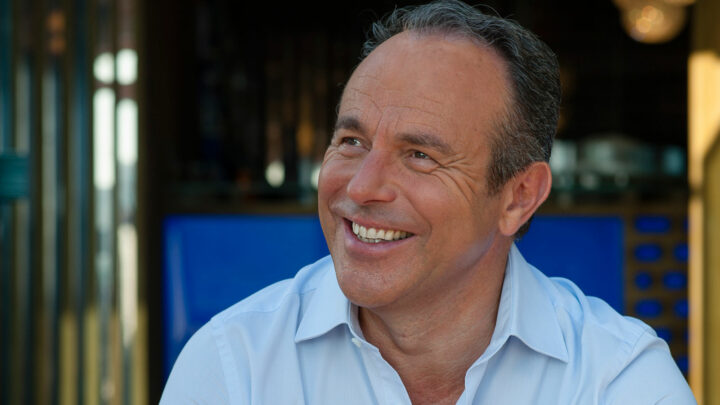 The GM's View: Jean-Luc Naret, One&Only Reethi Rah Maldives
General Manager Jean-Luc Naret joined One&Only Reethi Rah on 1st May 2015. Naret describes the appointment as a homecoming; his first general manager role was at the One&Only Le Saint Géran 25 years ago. A chevalier of the Legion d'Honneur, France's highest commendation, Naret has worked in some of the world's most exclusive resorts, as well as having led the Michelin Guides for eight years. Here he speaks about exciting developments at One&Only Reethi Rah, the resort's 10th anniversary celebrations and his passion for the hotel industry.
You've been at Reethi Rah for eight months now. In your opinion, what are the most important things a GM should do when he arrives to a new property?
When you join a new property, you should never forget that you are the last one to arrive. Trust me, guests will remind you of this every time you welcome them on the arrival jetty. They'll say, "Oh, you're the new one!" So you have to have a lot of humility. Secondly, you should always remember that the resort has been building its reputation without you. When I arrived here, my job was to get to know the team members, to learn what the guests want from them, what they need. So that's exactly what I did in my first few months. Our people are our greatest assets; we have a lot of team members that have been here for years and that feedback is so important. This is why we've instigated our 'creativity meetings' – where I speak directly to the team about what they would do differently. A GM needs to motivate the whole team in order to have passionate employees who can create unforgettable experiences for our guests, which keeps us ahead of our competition.
Another big part of my job when I first arrived here was putting my imprint on the resort and bringing my philosophy to the company. My philosophy in life is 'expectations plus one'. Guests arrive expecting certain things from one of the best resorts in the world and if you meet these expectations, you're doing a good job. But if you're able to do a little 'plus one' on the side, then you can blow people away. Of course, then that 'plus one' becomes the expectation next time, so then you have to exceed it again!
What development are you currently working on? And which projects excite you the most?
Well everything excites me here! One&Only Reethi Rah continues to celebrate its 10th anniversary until June next year and we have many activities lined up for our guests to enjoy. Upcoming culinary highlights include visiting international chefs such as Nicolas Stamm, winemakers and champagne houses – Sandalford, Francois Thienpont, Springfield Estate and Shirataki Sake – to name but a few. We are also excited to welcome back some of our well known spa practitioners, including Dr Buathon Thienarrom, a holistic visiting practitioner from Thailand, Master Ming Lei, a tai chi master and many more.
In the spirit of the celebrations, we are also making changes to the resort, including our live Italian kitchen by the main pool. We're doubling the size of our boutique as well as building stunning new sauna and steam rooms, where the guests can enjoy a beautiful view of the sky and palm trees. We also continue to offer a multitude of activities for our younger guests, with activities being held all day at the complimentary KidsOnly Club. One&Only Reethi Rah continues to innovate and there are many exciting things to look forward to in the future, including some great new additions to our villas and pool area.You were the managing director of the Michelin Guides for eight years. Did that time away from working in hotels change your approach to hospitality once you came back?
My passion has always been the hotel industry. During my eight years with the Michelin Guides, I had the privilege of staying in the best hotels in the world, and eating in the best restaurants. Over that time I noticed that the global search for quality intensified. Now there are more luxury brands than ever before, all striving for perfection. However, when I came back to the hotel industry, the fundamentals had not changed. The base of hospitality continues to be having great people to work with, who strive to deliver the best to our guests. What I would say has changed, and what definitely makes a difference now, is technology. 35 years ago when I stepped into my hospitality career, having technological elements in hotel services was not common. Now our guests are expecting complimentary wireless internet, user-interactive TVs, mobile applications where you can access the hotel on the screen, mobile check-in and check-out, to name but a few. I think it's ridiculous to make guests pay for internet access. Guests don't pay extra for hot water, why should they have to pay for wifi? The guests we're dealing with are running incredible business around the world and they need to be connected. I'm glad to be able to provide the latest technology to our guests even in a remote island in the Maldives and to ensure that technology enhances the guests' experience, rather than replacing it.
With the Michelin Guides continuing to expand into Asia, do you think we'll start seeing Michelin stars being awarded to Maldivian restaurants?
When I left Michelin, I left a plan of development for future guides in new cities. When considering which cities to cover, I asked myself several questions. Is the city big enough to have enough restaurants? Is the quality of those restaurants high enough to write a book? Or to award Michelin stars? When the recent Michelin Guide Singapore was announced I was very happy, as it is a city that deserves to be recognised. However, if I'm completely honest I don't think Michelin will come and rate restaurants here – not because these restaurants don't deserve to be recognised, but because there are simply so many destinations that haven't been covered yet. However, we might see some stars in a different way. Food is a big component of a holiday. If you go to a resort that is beautiful, you want to eat well and you want to know where the products are coming from, you want to know the chef, his reputation and where he comes from. So I think there will be an increase in chefs actually coming from Michelin star backgrounds taking over restaurants in the Maldives. Our new executive chef for example, Emmanuel Soares, has been working with quite a few three-star Michelin restaurants around the world and what he's doing here is fantastic. Having him here lifts the expertise of the entire team.In your opinion, what are the most common mistakes that hotel and resort restaurants make?
I would definitely say that some restaurants make the mistake of being too proud of themselves. These restaurants tend to overcomplicate things. Because you know, people can go to all these fancy restaurants when they're in the city, but when in a resort, people just want good food – the right ingredients, well prepared, well cooked with the right technique. And that's exactly what our chefs do. We simplify things, but we also make things fun – guests are on vacation so they don't mind trying new things. That's part of the 'plus one' experience, and that's important.
It's been reported that luxury travel is the strongest growing market segment worldwide. Why do you think people are now more willing to spend more money on their vacations, and what are people looking for?
In this resort we are only dealing with 1% of the population; the ultra-luxury market. In the past, guests would often visit one resort repeatedly. As an example, here 45% of our guests are repeaters across the year, and at festive that figure rises to about 95%. And while guests are continuing to do that, at the same time they are discovering new places, with new destinations coming up all the time. It's also not uncommon these days for guests to extend their stays; we're seeing honeymooners that are now staying for a month, before heading directly to another resort with their own flight. This is the type of clientele that we're dealing with. That being said, what we see in the Maldives is that although our guests do travel around the world, but they often come back to the Maldives because they feel secure here, at home, and they always want to come back.
How would you describe One&Only's brand values, and how are these experienced by the guests?
One&Only Resorts are conceived as hallmarks of excellence, having ultra-luxury resorts located in spectacular locations. Each award-winning resort offers guests a distinctive style and personality, borne of its local culture, a genuine hospitality and a lively energy that is unparalleled. As the Maldives has played host to numerous communities worldwide throughout history, it essentially has a multi-cultural spirit, where guests will automatically feel at home. This is exactly what we pursue here at One&Only Reethi Rah – we want all our guests to feel at home with authentic, intuitive, generous service. The first time guests come, they come for the resort – but they come back for the people.
One&Only Reethi Rah has a reputation for all things ultra-luxurious, but what does 'luxury' really mean to you?
Everyone has a different definition of luxury. For me, luxury is not found in the size of the room or in the amount of restaurants a resort has, but instead luxury is found in the details. Here at One&Only Reethi Rah, luxury means going beyond what our guests expect. We create unforgettable experiences for families and couples alike.