10 Bucket List Experiences for 2023 at Marriott Bonvoy Resorts Maldives
With more than a thousand splendid islands among the 26 coral atolls brimming with marine life, the reasons to visit Maldives are endless. Discover the Maldives for a romantic hideaway, a multi-generational getaway, a best friend's trip, or a serene solo escape. No matter the type of traveler, stay at one of the four resorts in Marriott Bonvoy's Maldives portfolio to check off all of your 2023 bucket list experiences. 
1. EXPERIENCE A SCENIC SEAPLANE RIDE 
Feature Image: Marriot Bonvoy 
Aboard a seaplane and fly above the Maldives' iconic shades of blue on the way to JW Marriott Maldives Resort & Spa, W Maldives, or The Westin Maldives Miriandhoo Resort. Alternatively, Sheraton Maldives Full Moon Resort & Spa is located a swift 15-minute speedboat ride from Velana International airport. The ride itself to these private island resorts is an experience to remember in itself.
2. STAY OVERWATER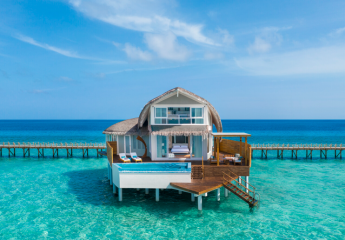 Feature Image: Marriot Bonvoy 
Ever dreamt of waking up to the sounds of the sea and nothing but the sights of an endless ocean? Pick from the Duplex Overwater Pool Villa at JW Marriott Maldives Resort & Spa with two levels of luxury or the WOW Ocean Haven at W Maldives with two bedrooms, an oversized plunge pool, and an overwater hammock. Admire the majestic marine life through the glass floors in The Overwater Villas at The Westin Maldives Miriandhoo Resort. Soak in a romantic sunset with your loved ones on the intimate decks of the Water Bungalows at Sheraton Maldives Full Moon Resort & Spa.
3. SNORKEL WITH TURTLES, SWIM WITH WHALE SHARKS OR FREEDIVE WITH MANTA RAYS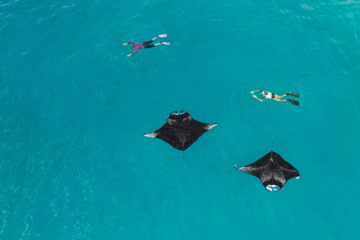 Feature Image: Marriot Bonvoy 
W Maldives sits above one of the best house reefs in the Maldives. The heart-shaped luxury playground is home to hundreds of species of marine life ready to be explored. Accessible from anywhere on the resort, one can jump in with snorkeling gear and have the adventure of a lifetime by swimming with reef sharks and turtles just outside their villas. For those looking to venture into deeper waters, the diving & watersports center DOWN UNDER & WAVE offers a myriad of water activities and excursions, including the opportunity to swim with whale sharks!
 The Westin Maldives Miriandhoo Resort is in Baa Atoll, the Maldives' first UNESCO Biosphere Reserve, presents guests the chance to get up close and personal with manta rays at the world's largest natural manta feeding station. Guests have the rare opportunity to snorkel with the gentle giants at the protected site of Hanifaru Bay just 18 kilometers from the resort. During the time of the full moon, between June to October, over 100 rays can be spotted. Up to seven species of turtles can also be found nesting along the island's pristine sandy beaches, including threatened and critically endangered species such as the green turtle, hawksbill turtle, and leatherback turtle.
4. START YOUR DAY WITH A FLOATING BREAKFAST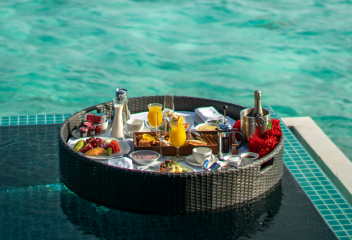 Feature Image: Marriot Bonvoy 
Wake up to an insta-worthy breakfast not in bed, but in the pool! In the villa's private pool, indulge in a lavish floating breakfast experience, with a touch of color, and a splash of fun.
5. INDULGE IN AN OVERWATER SPA TREATMENT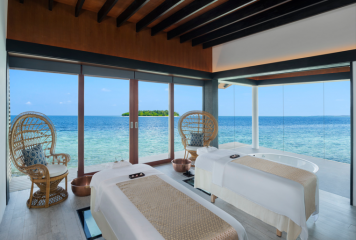 Feature Image: Marriot Bonvoy 
Pamper your mind, body, and spirit with wellness therapies inspired by some of the world's most ancient practices. The Heavenly Spa at The Westin Maldives Miriandhoo Resort exudes an intimate and serene ambiance for guests to enjoy the Maldives' natural beauty with panoramic views of the ocean. Spa by JW at JW Marriott Maldives Resort & Spa is a tropical sanctuary blending luxury and indulgence seamlessly. 
6. TRAVEL WITH A PURPOSE: ADOPT A CORAL, GO LOCAL
This year, travel with the intention to explore and build deeper connections in local communities. Marriott International's Good Travel with Marriott Bonvoy program aspires to shift the way vacations are perceived- from pure leisure to a value-adding opportunity.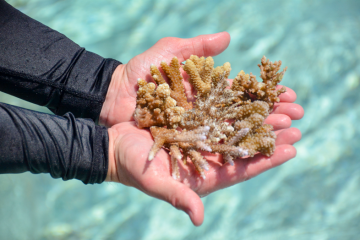 Feature Image: Marriot Bonvoy 
The Adopt a Coral initiative at Sheraton Maldives Full Moon Resort & Spa invites guests to take part in a fun and interactive coral-fragment plantation activity to promote healthy coral reef habitats. The activity is led by experts and offers a hands-on opportunity for participants to boost the health of fragile coral ecosystems. The coral frames used in the project are built locally, providing an alternative business to the 250 inhabitants whose sole previous source of income was fishing.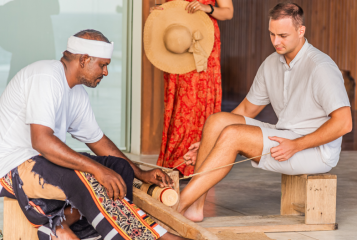 Feature Image: Marriot Bonvoy 
Learn the local traditional art of Liyelaa Jehun (the art of lacquer) from master artisans. The Westin Maldives Miriandhoo Resort offers guests the opportunity to join an interactive workshop with local lacquer workers, learn the intricate designs and help preserve one of the oldest traditional crafts in the Maldives.
7. CHERISH MEMORABLE FAMILY MOMENTS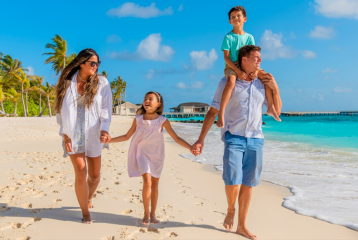 Feature Image: Marriot Bonvoy 
The Maldives is fun for the whole family! Traveling with children is now even easier with the FAMiLY BY JW™ Little Griffins Kids Club at JW Marriott Maldives Resort & Spa. Families can partake in activities such as FAMiLY Pizza Making, Scavenger Hunt & Treasure Opening, Hide & Seek, Movie Nights at the Pirate Ship, and many more weekly activities. Family vacations are all about creating memories and Sheraton Maldives Full Moon Resort & Spa makes it easier than ever with the paradise island's own Sheraton Side by Side Family Program. 
8. INDULGE IN THE TROPICAL TASTES OF THE MALDIVES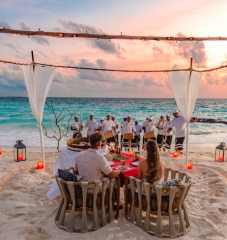 Feature Image: Marriot Bonvoy 
Experience local flavors and culture during a private 'Malafaaiy Dinner.' A unique and culturally significant dining experience is offered at JW Marriott Maldives Resort & Spa. Expect signature Maldivian dishes to be carried to the table along with local drummers, singing, dancing, and clapping to native songs. Guests are also invited to join in the fun! Each resort offers unique settings and an array of curated destination dining experiences. Apart from six creative gourmet dining venues and lounge bars, the destination dining options at W Maldives range from a private dinner at the beach or coral terrace, barbecue dinners with a private chef, experiences aboard the yacht ESCAPE, or at Gaathafushi, a private castaway island that's just a stone's throw away from the resort. 
 9. REKINDLE ROMANCE WITH A CUSTOM ENGRAVED WOODEN PLATE OR UNDERWATER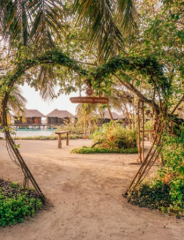 Feature Image: Marriot Bonvoy 
Marriott Bonvoy's portfolio of resorts in the Maldives provides the ideal setting to celebrate love this year with unique magical romantic experiences. Sheraton Maldives Full Moon Resort & Spa boasts a "Honeymoon Garden", a special garden to commemorate the love and commitment between two individuals. Honeymooners are exclusively invited by the resort's General Manager to an evening cocktail event every Tuesday and Friday, to eternalize their name on a custom engraved wooden plate that is ceremoniously hanging on a tree in the garden. Couples who are looking for a creative way to amplify their wedding vows can dive into romance at W Maldives. The resort sits upon one of the best house reefs in the Maldives and offers 'Deep Love', an underwater wedding package with a backdrop that is unmatchable. It is submerged in a heart-shaped paradise, surrounded by reef sharks and turtles, for an unforgettable experience. Guests can choose to wear traditional attire too.
 10. SAIL AMONG DOLPHINS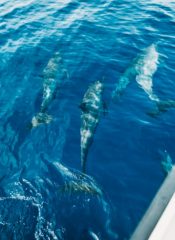 Feature Image: Marriot Bonvoy 
Guests can set sail and experience the Maldives at its best – in the middle of the ocean with nothing but endless blues and stunning sunsets to keep you company. Go fishing in a traditional Maldivian Dhoni boat, or chase a pod of dolphins. Take an excursion to a nearby island for a pristine snorkeling experience, or just enjoy a luxury yacht cruise and toast to magnificent sunsets.