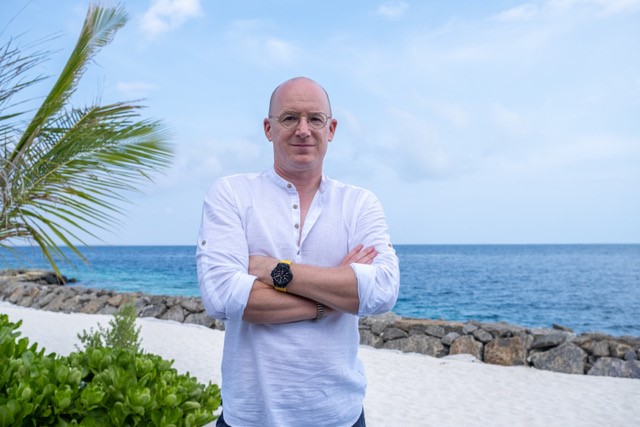 GM's View: Jorg Weytjens, Kagi Maldives Spa Island
Memories of working in the summers in holiday resorts in Europe made Jorg Weytjens reconsider his career while working for the British Embassy in Brussels, Belgium. Jorg began his journey in the hospitably industry in his early thirties. His first assignments were managing family holiday resorts in various parts of Europe. He moved on to work in various properties in the Mediterranean, the Caribbean and Bhutan before finding himself as the general manager of Kagi Maldives Spa Island.
Hotelier Maldives talks to Jorg about his experience in the Maldives, managing perhaps the only resort focusing exclusively on wellness experiences though his time here has also coincided with the COVID-19 pandemic.  
HM: Tell me about yourself and your career.
I started my hotel management career quite late, when I was in my early thirties.  More than 10 years previously I worked a few summer seasons in holiday resorts in Europe and really enjoyed it.  Anyhow I got sidetracked in my career choice and ended up working for the British Embassy in Brussels during my twenties.  I could not see myself commuting to an office job for the rest of my working life so I made the conscious decision to return back to the hospitality industry.  My first assignment as a hotel manager was managing family holiday hotels in various parts of Europe. It was the kind of role where the manager would help with serving breakfast in the morning, check in the guests at reception, do the hotel accounts in the afternoon and help with washing dishes in the evening. I learned so many different aspects of running a hotel during these early years which helped immensely in my career progression and expertise.  Moving on I ended up managing a full service beach resort in the Mediterranean for the British Holiday operator Mark Warner for 3 years.  I had the opportunity to move to a property in the Caribbean and worked around the Caribbean for a while including for the iconic Eden Rock Hotel in St-Barths.
For personal reasons I returned back to Europe and took a role as the Operations Manager for an ultra-luxury Alpine Lodge operator in France called Consensio Chalets. I stayed with this company for over 5 years as it provided a great product and I enjoyed the mountain lifestyle.  The clientele at Consensio were super wealthy and the properties I managed were amazing. The resources which we were given to exceed these demanding guest expectations were considerable and I hold many memories of special events and requirements we organized. I did however start to crave another overseas assignment again and the opportunity presented itself to conduct a boutique hotel transition in Sri Lanka.  This was for a European owner who wanted to turn her large private residence into a boutique hotel. I completed that transition and then another opportunity in the region came about to manage the opening of a new 5-star wellness resort in Bhutan called The Bhutan Spirit Sanctuary.
I moved to Bhutan in August 2018 and stayed there till the resort and country shut down in late spring of 2020 due to Covid-19.  I had to return back to my home country of Belgium and on request of the owner continued to provide remote management support for the remaining local team in Bhutan. I combined this with completing a Master in Business and Tourism as I wanted to make the most of my freed up time.  During this period back in Belgium I was fortunate to be selected by CCR to manage their latest resort: Kagi Maldives Spa Island so that is how I ended in my current role.  As you can see I worked mostly for private owners or smaller companies as they always provided me with great operational autonomy. I would say I am more of an entrepreneurial GM and not a corporate type.
HM: What is it like to be the general manager at Kagi Maldives?
I think I really settled in well into island life and the GM role at Kagi Maldives. I prefer smaller and intimate resorts so the size and concept of Kagi Maldives Spa Island suits me very well.  I do enjoy getting to know my guests which is possible at a property the size of Kagi.  I feel privileged to work in such beautiful surroundings and be trusted with creating memorable experiences for our guests.  Their holiday time seems even more precious than before as I heard so many stories from my guests about Covid-19 postponed wedding anniversaries, honeymoons and family reunions. We need to remind ourselves from time to time how precious and important these holidays are to our guests.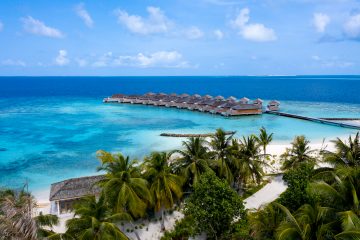 HM: This is your first project in the Maldives. How different has it been leading a team here?
I don't feel leading a team here is that different from other locations and assignments.  Once you have developed your team and people management skills I find that the same principles and approach work in most places and situations.  I tend to treat all my team members the same and with respect and do not micro manage.  I aim to nurture and coach my managers and teams so they can shine and ultimately feel confident and happy in their jobs.  A difference here in the Maldives is that I have boats and boat crews as well as a larger maintenance team than in previous properties.
HM: What makes Kagi stand out from other luxury and wellness resorts in Maldives?
I do not want to turn Kagi into a typical wellness resort where everything is focused on wellness. I believe in choice.  I like to offer our guests a very relaxing luxury holiday experience with an added wellness component. For example, we offer sunrise stretching and sunset yoga 6 x week as well as relaxing Sound Healing sessions several times a week. We run sufficient complimentary sessions so guests have the freedom to choose what they like and participate in. Some day's guests want to join in whilst other days they might just want to relax in the privacy of their villa. Same principle goes for our food offer where our Spa Corner offers a healthy mainly vegetable based menu whilst more traditional menu choices are offered from our main F & B outlet. In addition, currently with our visiting wellness practitioner we offer herbal tea degustation sessions and various workshops. I believe in gentle and uncomplicated wellness as it should be an added experience as part of a wider relaxing resort experience that our guests encounter here at Kagi Maldives Spa Island.
HM: What's the biggest challenge you face in your work? And what do you like most about it?
As a recently opened resort one of my challenges are some minor building project completions especially in the back of house. This needs to be done without disturbing the guests and without visual and sound disturbances. As a smaller island this can sometimes be a challenge. Anyhow this is only temporary and we are not that far off from complete completion.
What I like most in my work are the many tangible differences you can make as a GM. From small service provision additions and property improvements to coaching and developing of team members.  It is a work role where you can really see and feel the differences your initiatives and contributions make.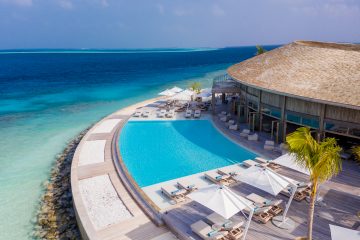 HM: Describe a day in your life as GM at Kagi
I like to get up early at around 6am and get a short work out done before starting the day. I have my breakfast at 7am and then go to the office to prepare for the day and the morning HOD briefing. I go through various reports and prepare my morning briefing notes which always start with any special guest requirements or follow-ups. After the morning briefing I tend to do a full inspection round of the island. Once that is done I go and see my guests at breakfast. I am lucky that Kagi Maldives is a small island so I go on walks around the entire island frequently during the day which is a great way to see and meet up with guests and team members. The rest of the morning is often spent on departmental meetings and usual operational responsibilities.  In the afternoon I like to spend time on resort developments and projects. I believe that at least 20% of a GMs time should be spent on future concept and service enhancements and not just the daily operational tasks.  On most days and before my evening walk around I try to go for a swim in the ocean in the late afternoon to make the most of my new surroundings. When I am not hosting in the evening, I prefer to dine early in order to keep my early morning routine going.
HM: Is there anything exciting coming up at the resort?
Yes, we are adding a second A la Carte restaurant, a new fine dining Italian restaurant. This will be ready in the first half of 2022 and is a project I am currently working on.  I feel it will be a great addition to alleviate our F&B experience and offer more dining options to our guests. I also plan to further improve our sustainability credentials by smart and sustainable purchasing and minimizing waste. When you are trusted with a beautiful pristine island it is a duty to operate it as sustainable as possible. Finally, I like to further develop our wellness component. Seeing the rapid expansion of the wellness travel segment which grew at twice the rate of general leisure in the years prior to Covid-19 I suspect this will continue to be a growth market.
In my opinion it stems from people realizing how precious their health and time is.  Therefore, they expect a little more from their holidays nowadays than just relaxation. I believe an integrated wellness component will become a standard expectation from guests in luxury adult oriented resorts.  I like to develop this component further at Kagi Maldives Spa Island. For example, I like to bring several times a year an interesting and innovative wellness practitioner to the resort. Finding the right candidates who offer genuine and beneficial experiences is harder than you imagine. The current wellness industry is a bit of a jungle and I want to avoid gimmicky style treatments and practitioners at all costs.  Sustainability efforts in my opinion go hand and in hand with a wellness approach so this is why I like to focus on both.
HM: What advice would you give to hoteliers aspiring to get to your position?
I would say do not try to rush your career progression. I can honestly say that I needed the experiences from previous roles to bring me to the next role.  You need to acquire expertise in so many fields to become a well-rounded GM.  Stay passionate and committed and great opportunities will come your way.  Also I feel a positive reputation and good network are important. This is at times a surprisingly small industry and you often come back in contact with colleagues, owners and industry experts you met years ago. Therefore, your loyalty and reliability are important. Do complete the assignments and operational objectives you were trusted with.