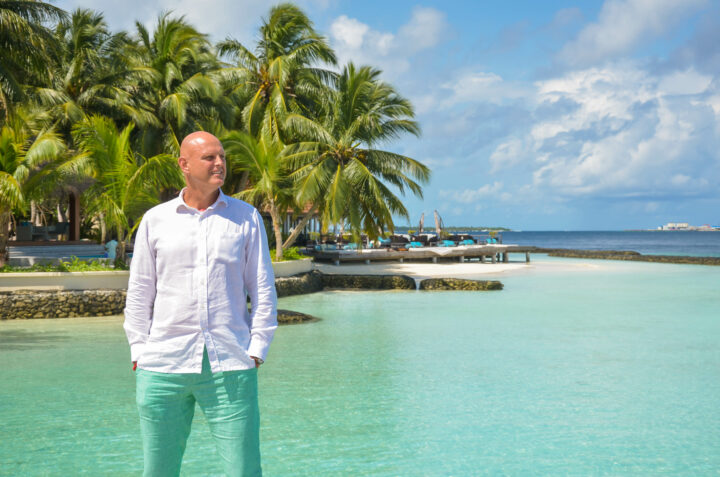 GM's View: Ryszard Majewski, General Manager, Kurumba Maldives
Native to South Africa, Ryszard started his way in the hospitality industry at the age of 14. Passionate to customer service, he has gained his experience in sales and marketing, food and beverage, finance, project management and other areas of the industry across diverse geographic regions. His history includes leadership roles in hospitality operations for luxury four and five star hotels and resorts in the USA, Africa, Middle East, Europe and Asia. Being a pro-active person by nature Ryszard is also passionate about coaching his staff, travelling and sports, in particular tennis and swimming
HM: Can you tell us about your journey in the hospitality industry?
RM: Like many others, my entry into the industry was as a waiting staff at the F&B department at the very young age of 14. I was working and studying at the time. It was then I realized I enjoyed servicing and building relationships with people from various nationalities and diverse cultural backgrounds.
After completing a 2 year rigorous Associate degree programme from the American Hotel and Lodging Educational Institute, I joined the Hotel DUPONT in Delaware, USA, as a TRAINEE from where my hotel career began. In addition, within a ten-year span, I was managing resorts and city hotels in Mozambique and South Africa before relocating to Europe to join Seaside hotels in Lanzarote, Spain—The Hotel Los Jameos Playa.Since then, I have held managerial roles in Club La Costa, Pearly Grey Ocean Club and Fred. Olsen, S.A., Hotel Jardin Tecina in Spain. This was before being asked to open Al Nahda Resort and Spa in Oman. I eventually moved to Da Nang Vietnam to be the General Manager for Vinpearl Da Nang Resort & Villas before being asked to become the General Manager of Kurumba Maldives.HM: You joined Kurumba Maldives in 2016. How did you end up on the sandy shores of Kurumba Maldives?
RM: I like the Maldives because it is a nature destination. Cities are not my thing. While I have lived in several cities, as my career progressed, I gained a deep appreciation towards the serenity found in nature. I also the like stunning landscape of the islands and have always wanted to work near the sea. An opportunity arose, and I decided to take the job at Kurumba Maldives.
HM: What makes the Kurumba Maldives experience unique?
RM: Kurumba has come a long way since its beginning in 1972, and our continual drive for innovation and improvement has made us an icon of the Maldives. I am proud of our unique history and the rich and diverse experiences we offer to our guests, our service culture is led by a genuine Maldivian spirit – rich, charismatic warmth, familial exchanges and an unpretentious attitude that ensures our guests feel at home. Also, many people in the industry, including resort owners did their basic training in Kurumba Maldives – so Kurumba Maldives is widely recognized.
HM: What do you look for when selecting the right candidate?RM: The right attitude and personality is more important than the candidate's hard skills or years of education. This is because Kurumba Maldives is a resort with a strong mentoring and management team that can take the time to nurture and teach skills.As the hospitality industry is customer facing and guest service is critical to business, the staff needs to foster relationships with a warm smile, friendly disposition and strong teamwork.
HM: In your opinion what makes working in the Maldives most challenging?
RM: It is certainly a very interesting time in the hospitality industry in the Maldives where we are seeing an influx of high-end brand names in all-star categories coming in – a number of new competitors are entering the market. One of the difficulties is to acquire trained staff who are instrumental in delivering true hospitality to guests. As tourism is the primary revenue earner for Maldives, the government should conduct staff training and development programmes. While the country is blessed with natural beauty, the people will enhance the guest experience.
HM: Kurumba Maldives has won the Luxury Family Beach Resort award at the 2017 World Luxury Hotel Awards. What is the secret to Kurumba Maldives being one of the most demanding resorts in Maldives?
RM: It is an honour to receive another international recognition for what we do. This achievement is a true reward for our team's commitment to service excellence. With our variety of entertainment, facilities, activities and social events there is plenty on offer for families, honeymooners, couples and singles, in our resort. This prestigious accolade serves as an inspiration for us to continually improve and evolve in delivering unforgettable experiences to our Guests.In addition, Kurumba Maldives was recently given the prestigious ELITE EMERALD award by achieving the 5 million USD milestone in revenue to our partner, Booking.com for 2018. We drew with another resort in the Maldives being the top resort for this achievement. This goes onto show Kurumba Maldives is one of the most demanding resorts in Maldives.HM: You've worked internationally across a variety of properties in Africa, America, Europe, Middle East and Asia. How does this compare to your experience in the Maldives?
RM: The owners of Kurumba Maldives are supportive and professional in every way. And what I've enjoyed is really the teamwork. For me, it is a great position to be in. We all bring a different background and skillset to the table and that makes the team work well. Success is all about working together.
HM: What advice do you have for aspiring hoteliers?
RM: Be happy with your work make the best and most out of it. Life is a University and everyone provides a learning experience. With an influx of supply in the market – if you meet high standards, control your rates, control your guest satisfaction, and look after staff we all have a winning game.